well for the past few months well almost a year ive been set on getting a gen 3 or gen 4 3sgte. a couple of months ago i got to drive Austinc's 7th gen gts (2zz) and i gotta say lift is an amazing feeling. and reving to the sky is also fun. it got my thinking about the direction of my convertiable.

disclaimer: i know you all are biased ...hehehe

i have also been in a 2nd gen 3sgte swaped vert and a couple of alltracs. and boost is just as amazing when it comes on strong and hard.

Ive always had a sweet spot for the redtop BEAMS 3sge, and it being red(VC and intake) colorwise it wolud go perfect with my car. the only problem i run in to with this is with the BEAMS its pretty much drop in and go, not much as aftermarket power makers besides ITB's and maybe an exhaust header. where as with the GTE i could manipulate it to get to where i felt the power needed to be. (want to eventually own an Alltrac also)

ITs my DD in the nice weather months. both would go great in the car imo i just all of a sudden became undecided, i guess price will be the determing factor, not really looking for massive power just usable power and fun power for the highways cruizes and screwwing around in town. also something the honda guys wont expect out of a toyota.

idk thoughts?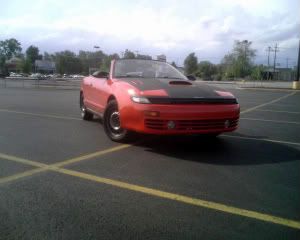 Club Member
Posts: 426
Joined: Tue May 02, 2006 7:53 pm
Location: Toledo, OH USA
---
Established Member
Posts: 1827
Joined: Mon Aug 09, 2004 5:30 pm
Location: - - USA - - Colorado Springs, CO
---
Negative...no v6 but its a good thought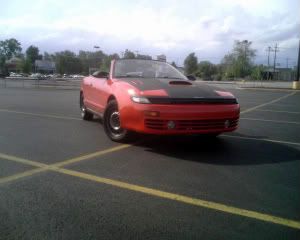 Club Member
Posts: 426
Joined: Tue May 02, 2006 7:53 pm
Location: Toledo, OH USA
---
correct me if im wrong but arnt late model beams engines more expensive then 3sgte?
im sure u could do both lol run a lower compression beams engine on boost, i know an ae86 corolla in drift Australia was doing that
Club Member
Posts: 984
Joined: Wed Apr 30, 2008 12:02 am
---
boost > lift any day
lift has a limit when it stops working, you can always increase boost!
as for the beams motor:
get an aftermarket ems that can control the vvti. then add boost. then you have both.
disclaimer: holy expensive as hell, but well worth it in the end
371whp,355tq w/ 46mm restrictor plate
Sponsors: Redds Automotive, Swift Racing Technologies, Paradise Racing, CRW, ST162.net
It's not a fwd celica with a turbo. It's an awd celica without the rear.
Gold Member
Posts: 5741
Joined: Tue Aug 10, 2004 10:56 pm
Location: Maryland
---
i own both - a car with a 2zz (lift) and 3s (boost) and like them both in different ways. they are just different, so it's a matter of personal preference: so what do you really want? a nice-sounding high-revving motor? or ability to mod/upgrade power (fairly) easily? how much money and time do you have? a 2zz swap will take more work and money than a 3s, so it has a higher probability of you getting discouraged in the middle of it, running out of time, or running out of money.
NYC, NY, USA
Teal '92 ST185 (Current), Black '88 ST165 (Sold)
Founder, Kabiela - DIY & Enthusiast Marketplace (diybuysell.com)
Gold Member
Posts: 1504
Joined: Mon Mar 07, 2005 10:19 pm
Location: Manhattan (NYC), NY
---
mike325ci wrote:i own both
Same.
I myself would sell the vert and buy an s2000 and an Alltrac.
I am pretty much done with FWD cars in general.
Lift is very fun, I very much enjoy it. And I also very much enjoy boost. The type of engine can really change the cars characteristics.
I haven't however, had the pleasure of driving or owning a car with both boost and lift which I hope to try out someday. When my S2K hits 100,000 I want to throw on a super charger, or possibly a disco potato.
If you are bent on putting a new engine in the vert, I'd opt for the Beams. Drop it in, get an exhaust and intake and leave it alone.
Leave the boost for an Alltrac.
Cheers,
-Towels
1993 All-trac
2003 S2000
Gold GTfour God
Posts: 6330
Joined: Tue Aug 17, 2004 4:30 am
Location: 42.70, -71.24
---
oh towels, what you said made me realize i need to correct what i said. i guess i lied: my 2zz is also supercharged, so it's boosted. when i think of "boost" i usually just think "turbocharged". but if boost = forced induction, then that would include supercharged as well, right?
the car sounds incredible when fully wrung. although not as musical as 4ag, which i still miss once in a while...
NYC, NY, USA
Teal '92 ST185 (Current), Black '88 ST165 (Sold)
Founder, Kabiela - DIY & Enthusiast Marketplace (diybuysell.com)
Gold Member
Posts: 1504
Joined: Mon Mar 07, 2005 10:19 pm
Location: Manhattan (NYC), NY
---
heres my thought
3sgte = strong, cheap, but remember to do hg while is out. 5g can get you a 2.3 fully built engine from ats racing too
3sge beams = strong, expensive there is not much aftermarket support for this engine unless you have deep pockets and could custom parts
2zzge = glass engine, expensive. the swap alone going to be a pain. here are all the weakness, oil pump gear explode because they are weak as the oil pan have a bad baffle so during 1g the oil pick up doesn't work and draw air causing air bubbles that destroy the pump gear. the mmc liner in sleeve are great but once they are out of spec you got two option for the block, junk or re-sleeve. valve tend to drop as well. c60 tranny is a weak tranny as well, gear are tiny compare to a alltrac or mr2 tranny.
i own all three and know.
heres my suggestion. if you going to race your car alot 3sgte, if you dd and just want a unique appearance 3s beams, lift is good but not always ;D in the end is up to you. now if you get a yaris 2zzge will be fun in that
Meet up in the left lane.... :D
Club Member
Posts: 97
Joined: Sat Oct 15, 2005 3:49 am
Location: stp mn
---
have both
http://www.se7enmotorsports.co.uk/
Mabs is a top top bloke well respected and provides awesome kit.....

Car Build : [ http://www.alltrac.net/phpBB2/viewtopic.php?f=44&t=26755 ]
Club Member
Posts: 386
Joined: Fri Sep 28, 2007 6:22 am
---
---
Who is online
Users browsing this forum: No registered users and 1 guest