Hey all,
So I thought I'd start this project thread with a bit of detail on various things I've done to the car.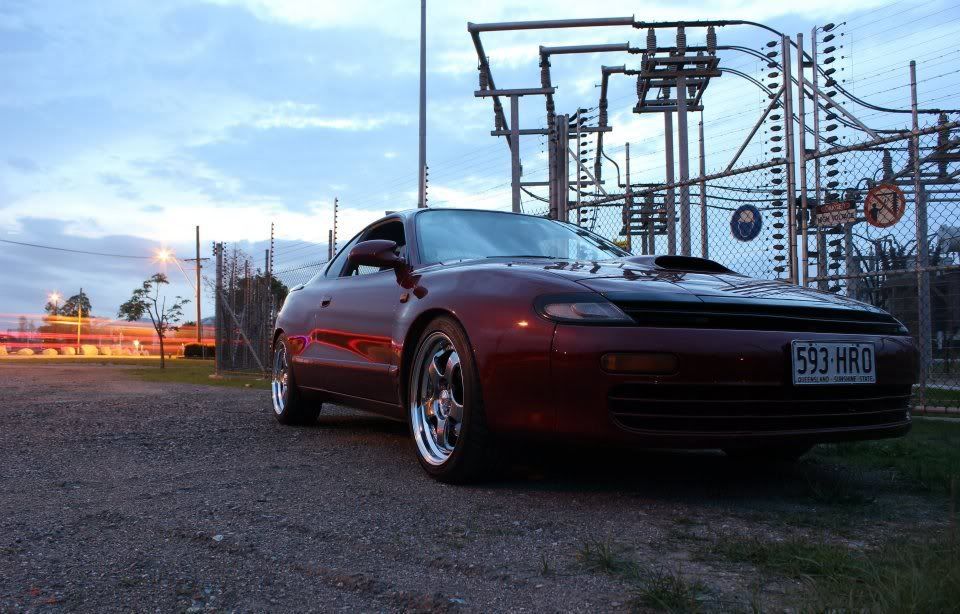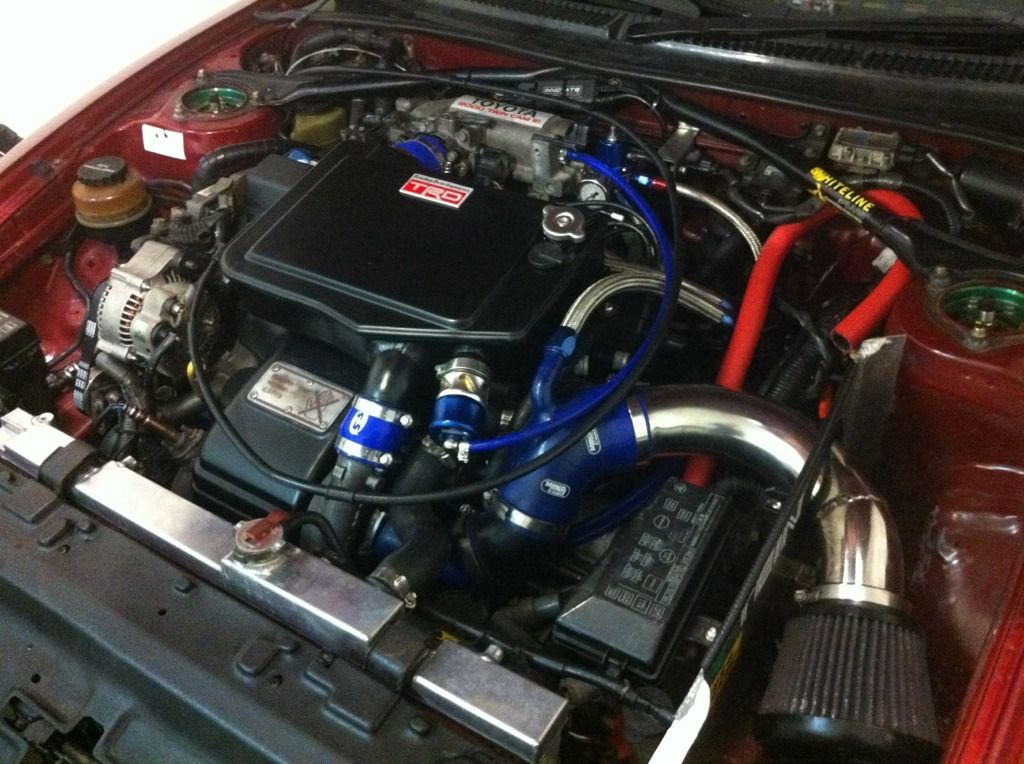 Keen eyes will notice the head is actually a Gen 1, this was done by the previous owner for some unknown reason, although it has been freshly rebuilt and is sporting a good porting and custom cams. Ideally I would like to swap to a built Gen 3 head but that isn't a priority, we'll see what this engine does with the right mapping first.
So, excuse me for copying and pasting but here is my modification list at time of writing, copied over from my New Member post:
- Head has been freshly rebuilt and ported, custom cams, ARP head studs
- Forged pistons, shot peened rods, ARP rod bolts, knife edged crank
- K&N Filter, Samco silicon induction hose and AFM delete pipe, custom cold air intake, Turbosmart Vee Port BOV
- ST205 charge cooler set up
- 3 Port Boost Solenoid, Autometer Pro Comp boost gauge, Innovate LC-1 wideband controller
- Haltech Platinum Sport 1000 ECU, 1ZZ Coil on Plug ignition, MSD Tach Adapter
- Walbro 255 l/hr fuel pump, new braided lines in engine bay with speed flow fittings, Turbosmart Fuel Pressure Regulator and gauge (cold start injector removed and air temp sensor for ECU installed in its place)
- Custom dump pipe, high flowed turbo exhaust housing (to eliminate boost creep from the wastegate not flowing enough)
- Custom 3" mandrel bent stainless exhaust from dump pipe back with high flow cat and single rear mufler
- PWR aluminium radiator
- Exedy clutch, lightened flywheel, ARP flywheel bolts
- TWM Short Shift Kit
- TEIN Super Street coilover suspension
- Whiteline adjustable rear sway bar
- Solid rubber engine mounts
- Whiteline Plus and Superpro chassis control bushes
- Whiteline rear camber adjustment bolts
- Stainless braided brake lines
- SSR Professor SP1 wheels, 17" x 8" +37 front and rear, Normal Disc option front, Super Low Disc option rear
- Dunlop Sportmaxx TT tires, 215/45
- Alpine head unit, Infinity Reference speakers 4" front and 6.5" rear, Sony Xplod 4 channel amplifier
- Hella H4 headlight conversion kit with Phillips Crystalview headlamps and parklamps
- 1kg Fire Extinguisher mounted in front of passenger seat
- New leather shift boot with leather TRD shift knob
- Air Conditioning delete
Installation of ST205 Cooler:
This was pretty awkward, actually. I bought it on eBay, knowing that people can get them to fit with a little bit of work but not doing a lot of research in to it. Upon getting it I decided my best course of action was to use a throttle body adapter from ATS Racing cut shorter with a silicone reducer for the outlet of the charge cooler. I also had this anodized black.
This shot shows how it connects quite clearly:
The intake side took a lot more work. I needed the cooler to sit in a particular spot, factoring in my coil on plug set up and my non Group A bonnet, and I wanted it to sit nice and straight. Upon talking to the guys at A.R.E here in Brisbane we decided to cut the entire side out of the cooler and weld a new section on, moving the entry location and also welding on my V band adapter to replace the standard BOV outlet:
For the heat exchanger I went from one from Frozen Boost, I had already bought it before talking to the guys and A.R.E, they said it is too heavy for the application and that for really good cooling I should go with something a lot lighter, but I'm going to see how this goes once the Haltech is in and I can log intake air temps.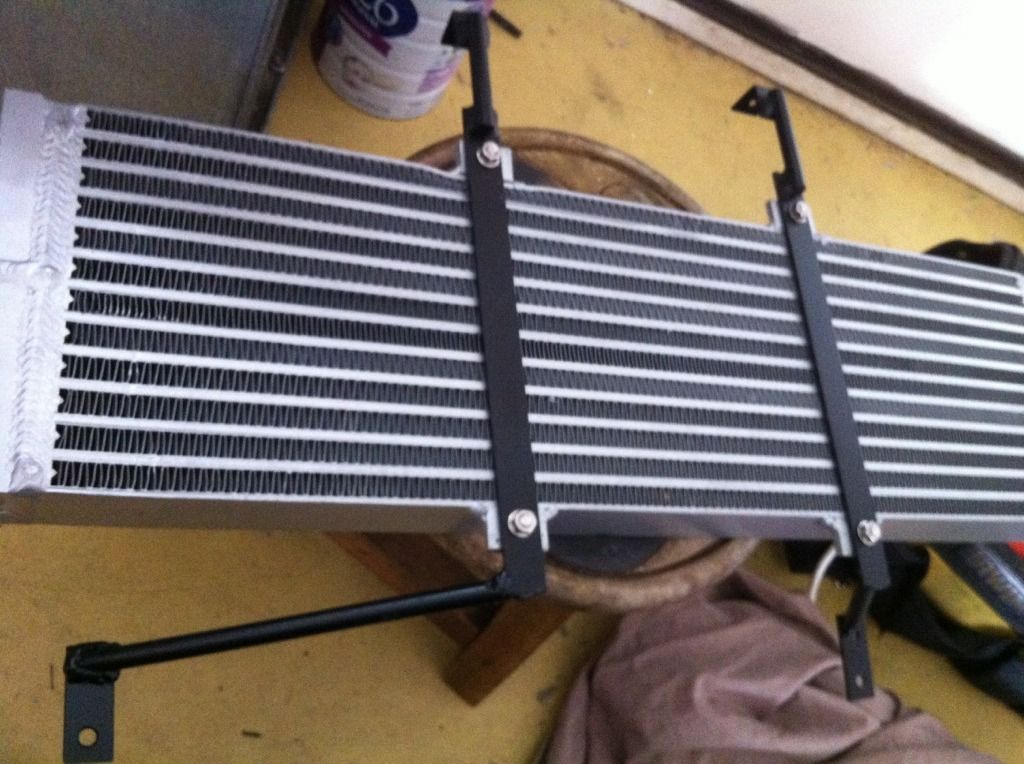 The pump is mounted to the support bar behind the bumper.
After all the fab work, was it worth it and should I have just gone with a front mount? Maybe. If I had the Group A bumper and a side entry manifold then I would have definitely gone with a front mount but with my current set up I thought this would be the tidiest solution while still providing me with a superior flowing and performing cooler.
As you can see from the engine shot above I have also had a new intake pipe made, sans AFM which goes through the heat shield I made. I'm quite proud of that creation
That will do for now, I'll detail my COP and ECU related stuff next post
Last edited by
Punknoodle
on Sun Jul 10, 2016 3:12 am, edited 1 time in total.