Moderator: toayoztan
Hi. My son just picked up a 1990 All-Trac from Arizona. Car is in amazing shape - all original, all the options from that year. Not perfect, but that will be my hobby to get it close for him.

One of the items I saw when I inspected it was low coolant level. I had to add about 2 quarts between the radiator & overflow bottle. Without running the engine, I noticed a very small coolant leak the next day, with a trail ending at the oil pan lip (where the gasket is). I followed that as far as I could, and know it is dripping down from a source between the A/C compressor at the bottom and the alternator at the top. I could see & feel the coolant inlet housing/thermostat housing, and the radiator hose, and that all was dry.

To leak with no pressure causing by a running engine getting the coolant warm is concerning to me.

I've heard there are certain coolant hoses on the 3S-GTE that are called "Hose from Hell" and "Hose from Hell on Earth". The HFHOE is in the vicinity of where I think the source could be (a hose that runs from hear the water pump to a connection on the oil cooler).

Does this hose have a frequency of failure that would want me to consider taking things apart to see it better? How does one inspect this hose for leaks w/o taking a lot of stuff off to see that hose or area around it better?

Any help here would be welcome.
Club Member
Posts: 74
Joined: Sun Jul 12, 2015 11:08 am
---
It's called the "hose from hell" not because it fails frequently, but due to the difficulty of replacing it without removing the engine from the car.
Here's a nifty photo I found on another site that gives a good idea of the cooling system piping and hoses around that area. It's from a MR2, but the All-trac is very very similar. (source:
http://www.turbomr2.com/MR2/HowTo/Engin ... GTE-02.htm
)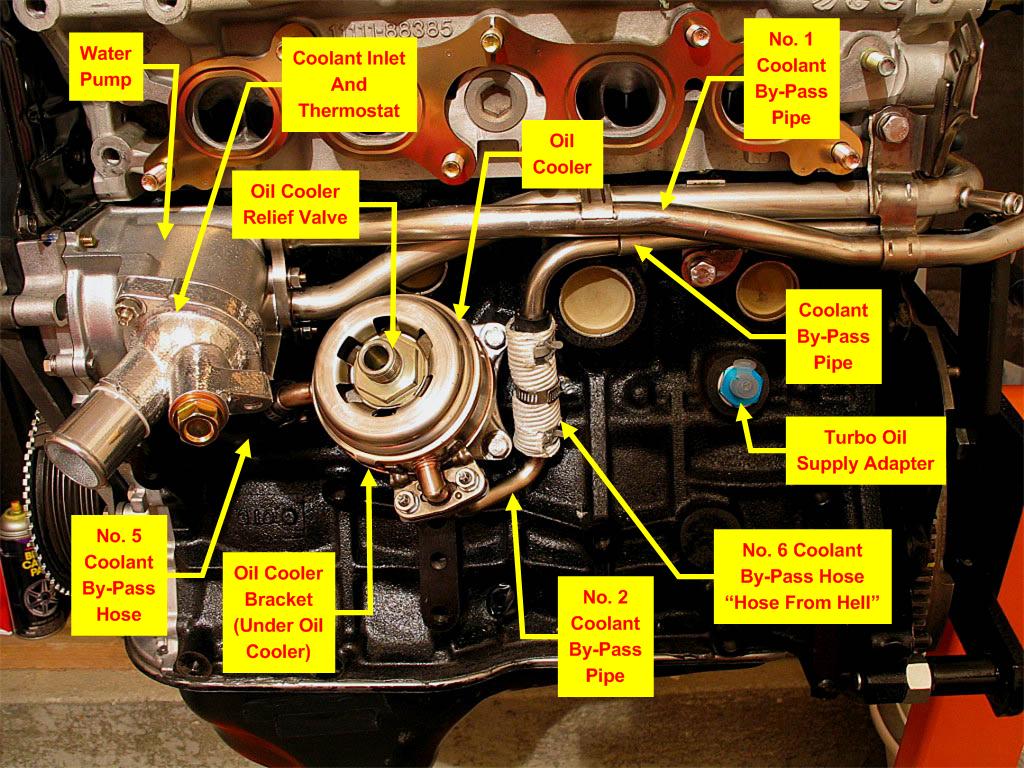 Link to image as the forum has issues displaying the full thing:
http://www.turbomr2.com/MR2/HowTo/Engin ... nished.jpg
The "hose from hell" is labeled, the "hose from hell on earth" is coolant bypass hose No. 5.
In addition to hoses, there are gaskets and o-rings between many of the parts that may leak. Water pump shaft seal is a common leak point. Here's the parts diagram for the o-rings and gaskets:
http://utoyot8.com/Picture.aspx?ccId=30 ... e=&ppName=
"Hose from hell" is 16283. "Hose from hell on earth" is 16282.
1992 Toyota Celica all-trac (the dream car)
1993 Toyota Celica ST (the efficient daily driver)
2012 Hyundai Genesis Coupe 3.8 Track (the fun daily driver)
Club Member
Posts: 264
Joined: Mon Aug 11, 2014 2:02 am
Location: Pennsylvania, USA
---
I'm thinking it is the No. 5 Coolant By-Pass Hose. I know I can't get my hand down there to feel for coolant on the hose. I will need to use a small automotive mirror, I guess. I ordered 2 of those No. 5 hoses, and the No. 6 Coolant By-Pass Hose as well. While I'm inspecting this winter, I might as well replace these and the same No. 5 By-Pass hose on the firewall side all together to ensure no coolant leaks in the immediate future (at least from these hoses).

First, though, is a 100% all fluids flush/replace process. I don't know how long any of these fluids were in this car, but it was rarely used in the last 10-15 years, and I'm betting that, except for engine oil & filter changes, the other fluids are pretty old. This should keep me a bit busy during the winter months.
Club Member
Posts: 74
Joined: Sun Jul 12, 2015 11:08 am
---
---
Return to General Maintenance and Repair
Who is online
Users browsing this forum: No registered users and 1 guest