Moderator: toayoztan
Searched for info on power steering pump info, but nothing came up. My question is, are all 5th Gen Celica power steering pumps identical? My ST185's pump is shot. I have a rebuilt pump from my '93 GT Convrt, that's been on the shelf. When I started looking up seal kits, the oem genuine Toyota outlets had different #'s for both seal kit and ps pump. As for every other auto store (RockAuto, Advance, etc.), the seal kits and pump are all lumped together. Question two, if AllTrac pumps are different, could someone clear it up for me?

Photo: '93 GT pump (left) and '91 AT pump (right)

Thanks for any info.

Peter
NC
'91 AT - Red
'91 AT - Black
'93 GT Convt
Newbie
Posts: 9
Joined: Sun Apr 20, 2014 10:14 pm
Location: North Carolina
---
ToyoDIY and Lithia Toyota are both show two different part numbers. 44320-20281 show for 2.0L Turbo. 44320-20271 shows for the 2.2L.

The 2.2L might work though. If you have both pumps, compare them. Even with the numbers being different, it might work. Some of the brackets show to be the same between the engines.
Mike
92 All Trac - Daily Driver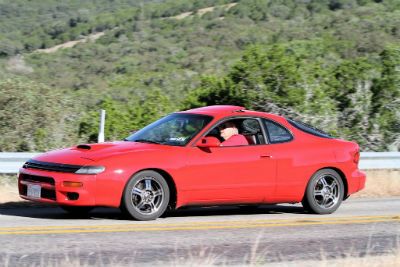 Gold Member
Posts: 1990
Joined: Mon Jun 26, 2006 9:13 pm
Location: Nitro, WV
---
Externally the pumps are the same. A 5SFE pump will bolt in just fine.
I'm guessing the internals are slightly different [possibly just different material in the seals?] due to higher RPMs/heat/slightly higher pressure or flow for a heavier front & wider tires.
How much that matters in real life? Probably not much. I think you'll be fine running the 5S pump.
GTFour God
Posts: 4681
Joined: Mon Aug 09, 2004 9:04 am
Location: Ma
---
That was my thinking as well, thanks. Both measure to exact dimensions. Just thought I'd ask because the second I say, "what's the worst that can happen?" Ka****ingBOOM! The markings at the vane shaft (A & B) is what sent me down this rabbit hole.
Thanks again
Peter
Newbie
Posts: 9
Joined: Sun Apr 20, 2014 10:14 pm
Location: North Carolina
---
Internally there are some differences, but they use the same external housing. I'm guessing these internal differences to deal with the 185's extra weight over the 184. But the differences must be pretty minor as most aftermarket companies list a single part number for the 184 and 185 pumps.
1992 Toyota Celica all-trac (the dream car)
1993 Toyota Celica ST (the efficient daily driver)
2012 Hyundai Genesis Coupe 3.8 Track (the fun daily driver)
Club Member
Posts: 264
Joined: Mon Aug 11, 2014 2:02 am
Location: Pennsylvania, USA
---
---
Return to General Maintenance and Repair
Who is online
Users browsing this forum: No registered users and 1 guest