Gary ST165 wrote:.....quick update.
having just burnt off 18 individual iso / image CDs, (hours of ball ache.) i now have the majority (9.10 GB) of the 2004 Toyota Electronic Parts Catalogue installed and working on Windows Vista Home Premium
The key is to winrar extract all 18 regional files as image files (.ISO file), save to HD, then burn off the ISO files to 18 individual image CDs / DVDs.
then run the setup exe install file to instal EPC to your computer hard drive / Program files.
then open EPC an press 7 CD set up:
Then select the install destination (/C: Vista ) for the necesary 4 / 5 ISO files per region. do this by by pressing "add" to select the data files for each region(s) eg:
all 5
Japanese area version files: JAP A1 > JAP A2 > JAP B1 > JAP B2 > JAP B3
Press F10 execute. The program will then ask you for the install CD's containing the regional ISO optical image files.
Make sure you have already burned the CD's and have correctly labelled the discs with marker pen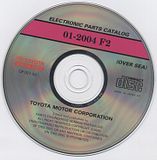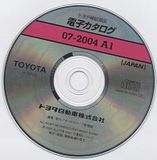 have all the CD's to hand, Simply insert each CD when the install prompts for the CD's in order.
JAP A1 > it will load the data and eject the CD automatically asking for the next CD: JAP A2 > followed by JAP B1 > JAP B2 > JAP B3 etc
repeat this 3 more times to install:
European area version : Euro A1 > Euro A2 > Euro B1 > Euro B2
U.S.A area version etc
General area etc
ip.s haven't bothered to install the USA and GEN files yet, it took ages to get as far as installing JDM and Euro ...
.
Then return back to the start menu and press 8.Initial Setup
Simply choose your region (CD area version). If you want ST185 RC part #'s then select Jap. If you want ST185 Carlos Sainz, then select Euro. If you want U.S.A part numbers select USA etc etc
Press Exe.
Then press Back or Main menu
>>and select: 1. Part number translation....
use the drop down boxes to select vehicle from name / chassis code / model code etc
In this example i have selected Jap area and using ST215 Caldina details to search for fuel injector:
Populate the info, then press F10 Exe and your search will begin !