The problem:
There aren't too many solutions for replacing the 8" speakers in the door of the System 10 equipped vehicles. There are plenty of 8" woofers and subs out there. Most require not only butchering the "Live Sound" door speaker box but grinding door metal as well. Too deep a magnet hits the glass. If you buy a woofer from Partsexpress or similar supplier, chances are it's made for an enclosure and will chuff like hell in a free air installation. Some may say that the door is the enclosure. This is only true if you were to fill every gap, hole, slot, door handle and wire loom with silicone caulk. Then you'd have a cabinet with too much volume for an 8" woofer. These types of woofers installed in free air will also sound like crap and have reduced power handling due to the cone moving without rear resistance of an enclosure. Weather resistance also comes into play with a standard paper cone woofer. We all know that foam surrounds vanish into dust over time in the auto environment. Every sub I've researched the magnet is too deep or is too large a diameter to fit without extensive modification to the box and door. The SWS sub has a unique magnet structure inside the cone for incredible shallowness, however the size of the basket would require cutting the entire back of the hole out of the "Live Sound" box. Every sub I looked at in 8" required an enclosure. I put a set of Kicker SMB 8's in the doors of my Alltrac, but they suck in free air and require too much butchery to do it again. So back to square one.
The Goal:
What I searched for was a poly cone speaker or woofer with rubber surround. Standard basket design. 3" or less depth. 4 ohm. Designed for door or "free air" installation. I didn't want to hack the door. I wanted no or little trimming of the "Live Sound" box. I didn't want to spend a stupid amount of money.
My Choice:
http://www.onlinecarstereo.com/CarAudio/p_23936_Renegade_RX830.aspx
This speaker had almost the perfect compromise. I noticed it had one of those stupid magnet covers which I knew I could remove for clearance. Having removed tweeters and midranges from other speakers before I knew I could remove them from this design if necessary, leaving only the woofer. Heck, they were only $69 for the pair!
Here are the Renegades side by side, the right with the magnet cover removed. The covers were hard plastic and required some destruction to remove. On woofer two I'll try a heat gun.
Here is the Renegade next to the stock System 10 woofer. Similar in design but a little larger basket and magnet. Diameter was spot on.
Here is the woofer set in the hole to approximate clearance issues and trimming requirements. Not a whole lot to trim compared to the SMB 8's I put in my Alltrac.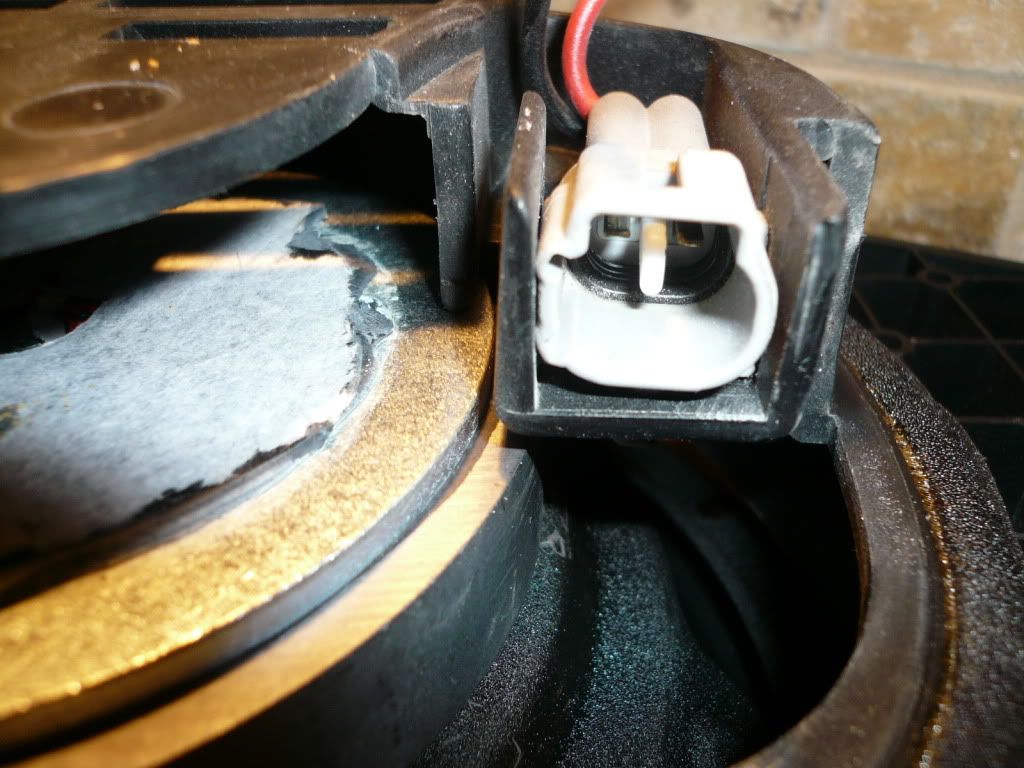 After 15 minutes with my Dremel I easily fitted the woofer into the back of the box. With plenty of clearance for the magnet the woofer would not seat properly around the front lip. There was some interference somewhere. . .
The Renegades have a slightly steeper basket slope hitting the spots pointed out. A quick trim with the Dremel entering through the back of the box but a nice 45 degree shave. . .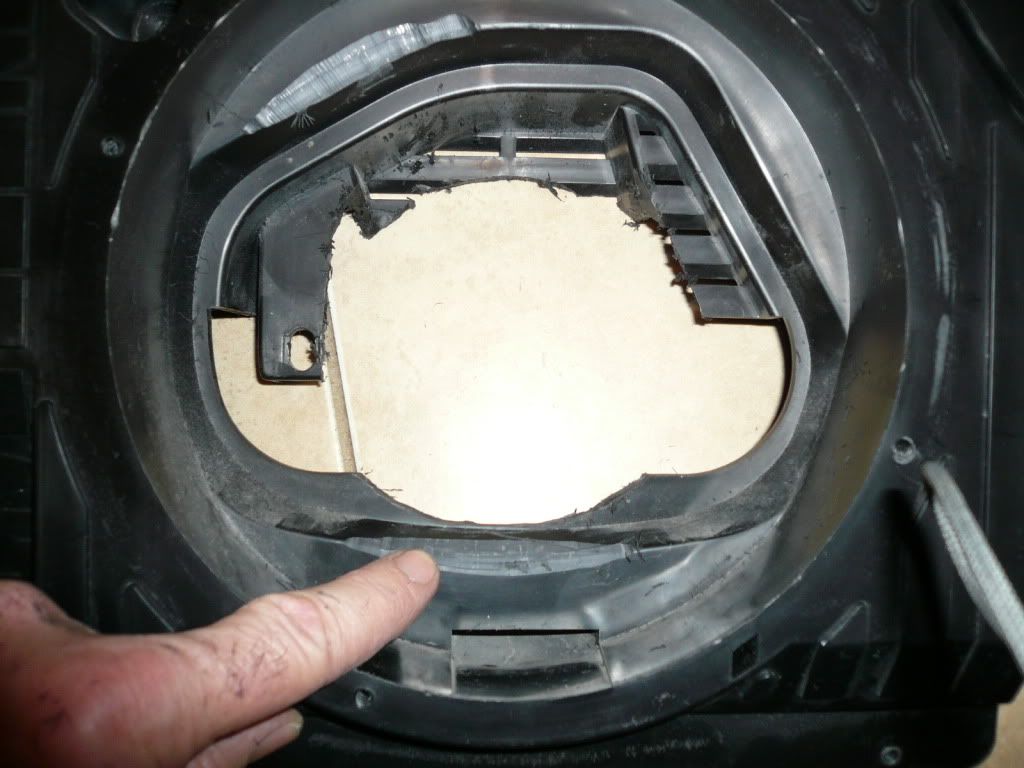 The modified and unmodified boxes side by side.
The finished product!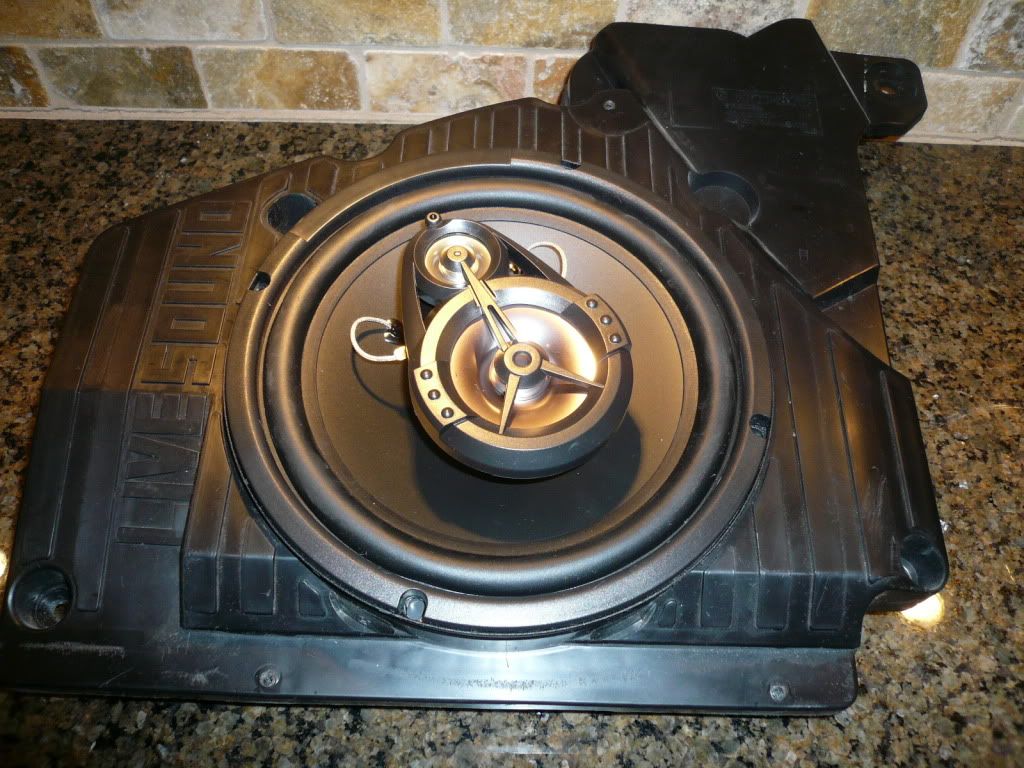 I talked earlier about removing the center drivers. I'm not sure if the mid/tweet will clear the door speaker screen. I don't know how they'll sound. I'll update this when I test fit the door panel and get the stereo all connected.
To remove the mid/tweets:
1st, cut the wires with a pair of dikes close to the woofer. . .
Next, remove the screw under the decal on the back of the big magnet. . .
Although I haven't done this with these speakers, that's the way they've always come apart for me. Next you'd want to buy some dust caps and glue them to the center of the woofer. These are the dome shaped piece in the center of a plain woofer. They keep the dust and debris out of the voice coil. You can find them at a place that does speaker re-coning or sells re-coning kits. Cheap.
Well, I just put them in the doors. Had to trim some metal at the bottom on the door. Also, the mid/tweet does not clear the grill. I removed the mid/tweets fairly easily and will purchase new dust caps.
Last edited by
gt4rcdude
on Wed Mar 31, 2010 9:03 pm, edited 1 time in total.
Club Member
Posts: 517
Joined: Tue Feb 13, 2007 4:58 am
Location: Hotlanta
---
the first detailed w/photos post i've seen for our cars. thank you-- let us know about the mid/tweeters and how they clear...
NYC, NY, USA
Teal '92 ST185 (Current), Black '88 ST165 (Sold)
Founder, Kabiela - DIY & Enthusiast Marketplace (diybuysell.com)
Gold Member
Posts: 1558
Joined: Mon Mar 07, 2005 10:19 pm
Location: Manhattan (NYC), NY
---
mike325ci wrote:the first detailed w/photos post i've seen for our cars. thank you-- let us know about the mid/tweeters and how they clear...
My pleasure. I was quite surprised that no one had done one yet. I searched through that whole "8 inch speakers that will fit" thread and didn't find any speakers I liked.
Heck, a $70 solution is pretty sweet!
Club Member
Posts: 517
Joined: Tue Feb 13, 2007 4:58 am
Location: Hotlanta
---
Been slacking. The tweeters did not clear. Pulled them off and installed a cone dust cover over the voice coil. Bought them from Parts Express cheap. They sound great!
Club Member
Posts: 517
Joined: Tue Feb 13, 2007 4:58 am
Location: Hotlanta
---
nice write up.
Coldiron
92 st185 (205 swap) | 03 350Z Track (sold) | 13 Pilot | 17 Mazda3
www.noritoy.com | noritoy.deviantart.com | http://www.alltrac.net/phpBB2/viewtopic.php?f=44&t=19891
GTSilver Member
Posts: 10417
Images: 7
Joined: Mon Aug 09, 2004 9:12 pm
Location: St Louis Area (IL)
---
Nice John,

The previous owner of mine fitted some JBL's n they sound like dirt. I have many other areas that need to be addressed first but do want some subs that actually sound good without little modification as well. Thanks for the info.
Club Member
Posts: 857
Joined: Wed Sep 15, 2004 11:54 am
Location: Rosedale, MD
---
---
Return to Audio / Wiring / Interior
Who is online
Users browsing this forum: Google Adsense [Bot] and 2 guests