Aights well it's not the newest maxima...

like the 95 model in stick~

statistic says : 1995 Nissan Maxima SE (manual) 0~60 6.6 1/4mi 15.2

So this guy ahead of me was driving like a maniac, so i caught up. It was kinda a hard to follow him since he was 100 ft ahead of me. Finally a red light so i was able to catch up. Then the light turned green before i got there. Man... i had to floor my car just to catch up. Finally caught up and hit another red.

We're both lined up... his car slides back (slight hill). I was like "yes, atleast it's stick." I was thinkin to myself .. maybe he won't race. Light turns green.. he took off.. I was like oh crap.. he's going shoot.. i better start going...

As i went the car didn't sound stock.. atleast exhaust.... he took me all the way to second gear up to 5~6 rpm..i pulled to third . then i stopped... no need to waste gas...
FOR SALE>> CHECK FOR SALE FORUM (IS350)
Established Member
Posts: 1807
Joined: Tue Aug 17, 2004 2:14 am
Location: Los angeles
---
Maxima 3.0 L were very nice motors. A little manifold/downpipe exhaust work and an intake could push the HP up nicely from the 190 stock. Nissan made/makes some nice "family" car motors.
R.I.P. 1992 JDM GT Four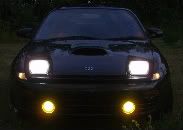 R.I.P. 1990 JDM GT Four
Club Member
Posts: 222
Joined: Thu Jun 30, 2005 10:17 pm
Location: Edmonton
---
that shit was pretty fast... i know it wasn't stock too~~~
FOR SALE>> CHECK FOR SALE FORUM (IS350)
Established Member
Posts: 1807
Joined: Tue Aug 17, 2004 2:14 am
Location: Los angeles
---
---
Who is online
Users browsing this forum: No registered users and 1 guest