$200GT-4 wrote:Stock twins. Don't miss the point I'm trying to make, that the stock GT-R is NOT that fast. Especially when its motor, with ample bolt-ons in a lighter chassis, has similar top end to a supercharged 1.6L (with lots of bolt ons).
You're comparing apples to oranges afaic. 1.2 bar is where the party now starts for a rb26. I'm sure if that skyline was pushing 1.5 bar you'd be smelling his fumes all the way.
Don't take this the wrong way - I'm not a fan of any nissan and I'm very true to my toytota, but I'm a realist. I've seen RB26's put the whoop @ss on 1JZ-GTE powered cars with drivers switching vehicles...we can talk on this all year long about kills but I won't.
ST185 JDM GT-FOUR RC- "White Trash"
[url=http://imageshack.us][img]http://img231.imageshack.us/img231/8264/dynographsmallstretchedmu9.jpg[/img][/url]
GTFour God
Posts: 3151
Images: 5
Joined: Wed Mar 30, 2005 3:22 pm
Location: Trinidad, W.I.
---
You missed the point. A STOCK GTR is slow. Period. Just like a stock GT-4 is slow. Yes, the GTR is faster stock for stock but it's still slow, that's the point I'm trying to make. Almost anything's fast when you boost 1.5.
1993 GT-4 w/FMIC, N/A cams, 3" DP, MBC, AFM tune, and WAI.
Club Member
Posts: 310
Joined: Thu Oct 18, 2007 8:39 pm
Location: Colorado Springs, CO
---
i'm getting a r34 gtr one day, to me that car is speed and looks. to have a rear wheel drive car that lets the front wheels kick in every once in a while is an awesome idea. i'm gonna try to get it in white to match my 185. and if i could find a vspec 2, i'm all over it.
Rafa

1990 White ST185 w/ Carlos Sainz motor, ecu, and tranny
Club Member
Posts: 851
Joined: Wed Feb 23, 2005 3:34 am
Location: Miami, FL
---
A couple of years ago, I tried to follow an obviously modified early '92 R32 onto a highway from a stop light. At first I thought that I had broken all 4 axles on my GT4, but it turned out to be an optical illusion because of how fast he pulled away from me. I actually looked sideways to make sure I was moving and the tach/speedo wasn't lying...

When I reached the speed limit I let off and cruised...that RB26 must have had at least a couple of hundred HP on my stock 3SGTE. I found out who it was later and he had been running low 12s. I know a stock GTR should be handle a stock GT4, but that beast was crazy.
R.I.P. 1992 JDM GT Four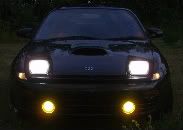 R.I.P. 1990 JDM GT Four
Club Member
Posts: 222
Joined: Thu Jun 30, 2005 10:17 pm
Location: Edmonton
---
---
Who is online
Users browsing this forum: No registered users and 1 guest