Sat Aug 28, 2010 5:25 pm
I ran a 1/8 mile in 10.05 secs... is that good or bad? all i have is a HKS Exhaust system and psi @ 10
Sat Aug 28, 2010 5:36 pm
Its by no means fast, but it sounds pretty average for the 185 with slight mods.
You can compare with times posted on this form.
http://gtfour.ca/race.html
Wed Sep 01, 2010 1:40 am
thanks a lot.. that was a really helpful link. i'm pretty sure i can get a better time because i'm still a noob on the track. I know you, i seen you on Youtube and Cardomain. You are from TN, i'm from Starkville, Ms. just a few hours away from Memphis.
Wed Sep 01, 2010 1:43 am
Memphis is still another 6 hours from me.
Your still close enough to come to the next dragon meet. I am hoping to make some much better videos before the year is over.
Wed Sep 01, 2010 3:56 pm
i still have a little bit of bodywork to do... i got a little bit of body damage to fix and going to repaint black all the way around. but i like the metallic gray and gunmetal route you took, absolutely perfect. i may go one day, but not next year... i'll wait after i finish college and get a real job.
Mon Sep 27, 2010 2:15 am
i took another run at the track today... i upped the boost a good bit... max 15psi. best 1/8 mile time was 9.5 secs
Wed Oct 06, 2010 8:13 am
amp279 wrote:i took another run at the track today... i upped the boost a good bit... max 15psi. best 1/8 mile time was 9.5 secs
Half a second improvement is good! Just for comparison, my stockish (intake/exhaust) '93 N/A MR2 ran a 9.5 also in the 1/8th.
Tue Oct 12, 2010 6:02 pm
5SGTE?
Sun Oct 17, 2010 5:22 am
No, stock 5S-FE.
Mon Oct 18, 2010 2:35 am
pretty impressive for a 5SFE. Another round at the strip tonight and nearly won a 75 dollar pot in my class

lost to a 300 SRT8. my best time was a 8.874... his was in the 8.7 range.

So Far, these are my best times
@peak 8-7psi 10.43
@peak 11-10 10.05
@peak 15-12 9.216
@peak 17-15 8.874

I'm extemely impressed with this car's stock JDM capabilities

This is my car's upgrades right now:
US 3SGTE Head : with EGR
JDM 3SGTE Block w/ JDM ECU
Stock injectors, fuel pump, and fuel rail
Stock Air-Air intercooler (avoid heat sink by putting a bag of ice on the intercooler between runs)
3in HKS Silent Hi Power Exhaust (Cat Delete)
K&N Drop in Hi Flow Air Filter
Manual Boost Controller
TWM Short Shifter with TRD Shift Knob
Pirelli P6 Four Season Plus tires on Scion TC Wheels (less than 10000 miles on tires)

*how does this car handle such high amounts of boost without fuel cut?

Future mods:
935 Intercooler and IC pipe kit, 935 Turbo Manifold, 3in Downpipe

what kind of times do you think i can get from these upgrades? @ what recommended boost?
Mon Oct 18, 2010 7:35 am
I went from 8.9 @ 79mph to 8.3 @ 82mph from changing the stock intercooler and intake to a front mount intercooler and 3" intake. The boost stayed at 12psi for both runs.
Fri Oct 22, 2010 2:18 am
increasing efficiency really does help i see... right now i have just a air to air top mount and a k and n box drop in air filter... what kind of intake kit do you have?
Sat Oct 23, 2010 6:54 am
I just made one myself.
This is the original 3" I made.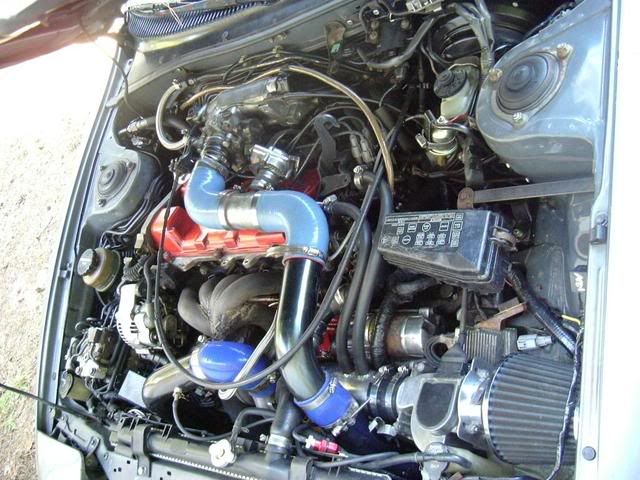 I then made a 4" intake later on.
Sun Oct 24, 2010 6:17 pm
can i still run AFM with those kind of intakes? do you still have the 3in one?
Mon Oct 25, 2010 1:36 pm
I was still using the AFM with the 3" intake. They make adapters for them you can get at pretty much any auto parts store in the "rice" section. lol