Hotrodhendrix wrote:Did you weld in the holes or fiberglass?
welded and the shaved antenna is fiberglass
Club Member
Posts: 56
Joined: Sat Dec 29, 2007 8:21 pm
Location: Québec, Canada
---
I used fiber glass to delete my antenna and rear wiper. Down side is I cant weld. Wonder if I could get away with fiber glass on the holes.
"The more you let life's obstacles slow you down the longer it will take to defeat them."
~Yours truly
GTFour God
Posts: 3480
Joined: Thu Sep 16, 2004 5:45 pm
Location: DFW Texas
---
Could you do mig? Doesn't need to be pretty.

Just put a brass backing like I said in the other post.

Just make sure you either go slow or use an air compressor with air gun to keep it cool as to not warp the area from welding.

Or, you could spot/tack weld up a square piece that's somewhat curved/formed, tack it up in 4 corners on the back side, then fiber over that for support. This can help to ensure no depression/sinking over time.

Bryan
2017 Pilot Elite
2014 Juke NISMO RS
1994 Supra TT 6spd
1993 Alltrac - http://www.alltrac.net/phpBB2/viewtopic.php?f=44&t=37466
1977 Celica GT Liftback
2015 Grom
1977 GL1000
GTFour God
Posts: 6735
Images: 1
Joined: Wed Aug 11, 2004 5:51 am
Location: Oklahoma
---
Kind of a neat picture...I took last year after cleaning out my garage...my red car had the bumps holes welded my mig, up close you can't tell, inside the door...looks like ass. I had taken them off before painting to make sure it come out great, 3 days before taking to body shop, I had them draped across back seat....they contoured to my seats and had horrible look...I still have them...but wouldn't get them painted... I like both ways don't notice either way...

-jr
feb. 1990 alltrac red one: fun machine http://tinyurl.com/Tubasteve
5x114 conversion: http://tinyurl.com/nu3qnez
Established Member
Posts: 1149
Joined: Tue Apr 01, 2008 6:48 pm
Location: temecula, ca(951)
---
Got the body of my CS cleaned while it was rebuilded after I´ve totalled the car last year. Sideguard gone as well as the rear wiper and all water spray nozzels. As a bonus the used fenders I´ve bought came from a US ST185 so they didn´t have the holes for the side indicators. All other holes were closed by welding.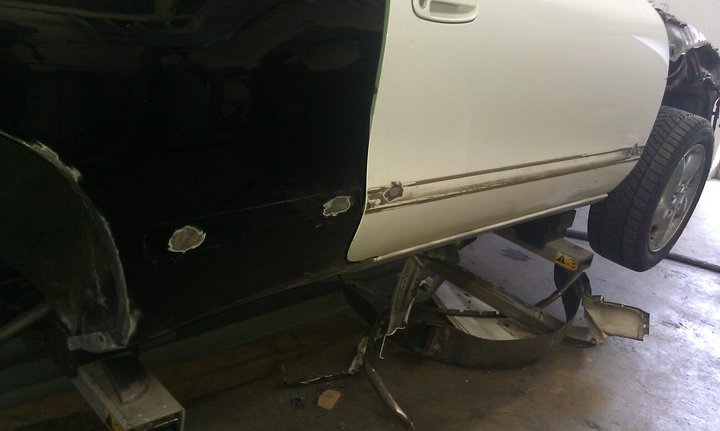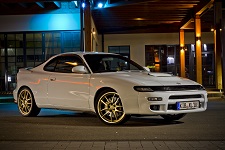 Club Member
Posts: 59
Joined: Mon Jan 24, 2011 9:06 pm
---
Looks great. A buddy of mine ended up welding mine shut. Deleting these clears the way for a whole body line the guards covoered.

~James
"The more you let life's obstacles slow you down the longer it will take to defeat them."
~Yours truly
GTFour God
Posts: 3480
Joined: Thu Sep 16, 2004 5:45 pm
Location: DFW Texas
---
---
Who is online
Users browsing this forum: No registered users and 2 guests