''Water to air Intercooler'' decal, anyone know where i can find it ? like the one shown on the pic: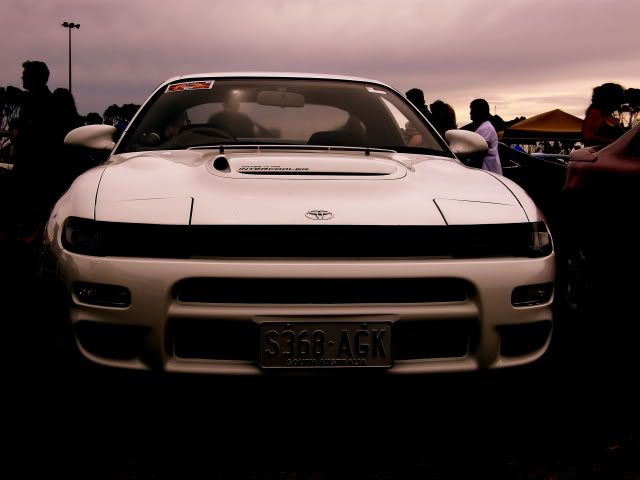 (at the intakescoop)
Club Member
Posts: 234
Joined: Mon Sep 08, 2008 10:00 am
---
Did they come on Alltracs? They came on our Grp A model so maybe an aussie toyota dealership might sell em as a spare.
'91 ST185 GT-FOUR Grp
A
Rallye
Club Member
Posts: 143
Joined: Tue Oct 21, 2008 1:16 am
Location: Adelaide, Australia
---
Im reviving this because Id like to know as well
1991 White st185
eternal project
2006 Silver Metallic RX8 6 Speed
Daily (until alltrac is done if ever)
1976 Copper Metallic Ford Gran Torino
Restomod Muscle-Boat
Club Member
Posts: 562
Joined: Sun May 18, 2008 3:47 pm
Location: Milwaukee, Wisconsin
---
We had a guy replicate these a while back I've got two one black one white. I will see if I can find the thread, I believe it was on celicatech.
93 ST185 2grfe swap in progress
89 ST165
89 SV25
86 AW11 2zzge swapped
86 AE86 1uz swap
89 AE95 sedan
89 AW11 Supercharged
95 Tacoma 2uz swap manual Dually
17 4runner TRD Off Road
Club Member
Posts: 520
Joined: Wed Jan 02, 2008 12:13 am
Location: Fort Edward, New York 12828
---
I believe he mades those decals or had them made. He is a user on this forum.
1990 Turbo4wd - 1990 Corolla GT-S - 2002 RX300
Club Member
Posts: 236
Joined: Mon Apr 02, 2007 12:22 am
Location: GTA
---
I want one for sure, any info would be great
Club Member
Posts: 362
Joined: Sun Nov 07, 2004 9:49 pm
Location: DENVER, CO
---
Thats actually the only decal I want for my car.
Coldiron
92 st185 (205 swap) | 03 350Z Track (sold) | 13 Pilot | 17 Mazda3
www.noritoy.com | noritoy.deviantart.com | http://www.alltrac.net/phpBB2/viewtopic.php?f=44&t=19891
GTSilver Member
Posts: 10395
Images: 7
Joined: Mon Aug 09, 2004 9:12 pm
Location: St Louis Area (IL)
---
Established Member
Posts: 2189
Joined: Sat Sep 10, 2005 12:16 pm
Location: NLD
---
I am a hobby Decal designer. I have a vinyl cutter and vinyl as well. Get me a good pic of the lettering and I can make them.
Newbie
Posts: 16
Joined: Wed Jan 11, 2012 1:49 am
Location: Fort Washington MD
---
Follow my GT4 rebuild on Facebook https://www.facebook.com/groups/EONRacing/
Club Member
Posts: 571
Joined: Tue Jan 11, 2005 11:04 am
Location: Under the car
---
---
Who is online
Users browsing this forum: No registered users and 2 guests