Toyota Syndicate is heading to the Tillamook cheese factory and we would love for any of you who wish to join to come on out. Even if you can't make it for the whole trip - I would love to meet you, so join us at Hometown buffet.
I enjoy this drive as, no matter how many times I go camping at Rockaway or how many times I go to Rod Runs, the amazing beauty of the forests and highways puts me in a state of awe. I am always amazed at the sights that I see along the way, the people traveling and of course, emerging from the forest to the expanding beach and ocean is always a crowd pleaser.
We will start the day with a tasty bite at HomeTown Buffet, after which we will head out to the coast and hit the Tillamook Cheese Factory. I also plan to hit the smoker. Then we will head up the coast and head back via US26 and end the note at the Rogue Pub in North Plains.
Details / Itinerary
Meet up at HomeTown Buffet (7809-b Ne Vancouver Plaza Dr Vancouver, WA 98662) around 9:00am.
I plan to leave around 9:30am, if we need more time to enjoy some food, we can adjust as needed.
We will arrive at the Tillamook Cheese Factory (YAY for squeaky cheese!) around 12:00pm.
I estimate we will spend around 1.5 hours browsing, chit-chatting, sampling, shopping.
We will then head up the coast around 1:30/2ish with a quick stop at the Tillamook Smoker and be on our way.
We should arrive in North Plains around 4:30pm for a meal or farewell at the Rogue Pub (31500 Northwest Commercial St North Plains, OR 97133).
Route Map / Screenshots
Overview:
Start: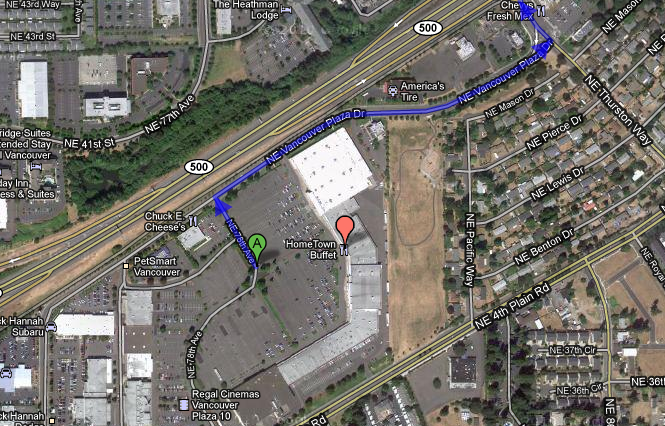 End:
-Terracar
'92 'trac - Demon - currently in need of some reconstructive surgery.
Established Member
Posts: 1553
Joined: Wed Oct 03, 2007 2:47 pm
Location: Battle Ground, WA
---
Who is online
Users browsing this forum: No registered users and 1 guest