Anybody going to the SWAT charity drive tomorrow morning? I will be there with my GT3. Hope to see you guys out there.
http://ferrarichat.com/forum/showthread.php?t=189208
If you want to roll with us this is where we will be meeting up in the morning in order to roll out to Pierce College.
http://ferrarichat.com/forum/showthread.php?t=194770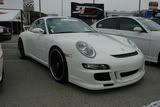 Club Member
Posts: 224
Joined: Tue Apr 17, 2007 1:28 pm
Location: Ontario, California
---
Who is online
Users browsing this forum: No registered users and 1 guest