Hi folks,
Yep, that's right fellow Alltrac fanatics, the Annual Alltrac Meet is back and in full swing. It's been too long since we've had one of these and I think it's about time we pull as many of these fellow owners together, as there seem to be quite a few of them just in the
the DC area
alone, let alone PA, NJ, VA and DE!
Based on the
poll
I recently posted, people are on board with a weekend-long meet with one day being a local get-together and the other being a trip out to
Summit Point
. Unfortunately, the Summit Point portion of this (particularly for karting) isn't so realistic. Rather, making this a full weekend of Alltrac Worshipness is more difficult for the majority of us than a single day. That said, in favor of the best-possible turnout, we'll be holding a local meet on
Saturday, October 13th, 10:00am
with a rain date of Saturday, October 20th.
What's in store? Here you go:
Meeting Place

: Home Depot parking Lot, Frederick MD
Meeting Time

: 10:00am
We'll be meeting in a parking lot adjacent to a Home Depot in Frederick, MD. You can see it
here on Google maps
. The parking lot itself is front and center, just below the Home Depot (which, if you were looking at the Home Depot main entrance, is just to the left).
Here's a screenshot to help: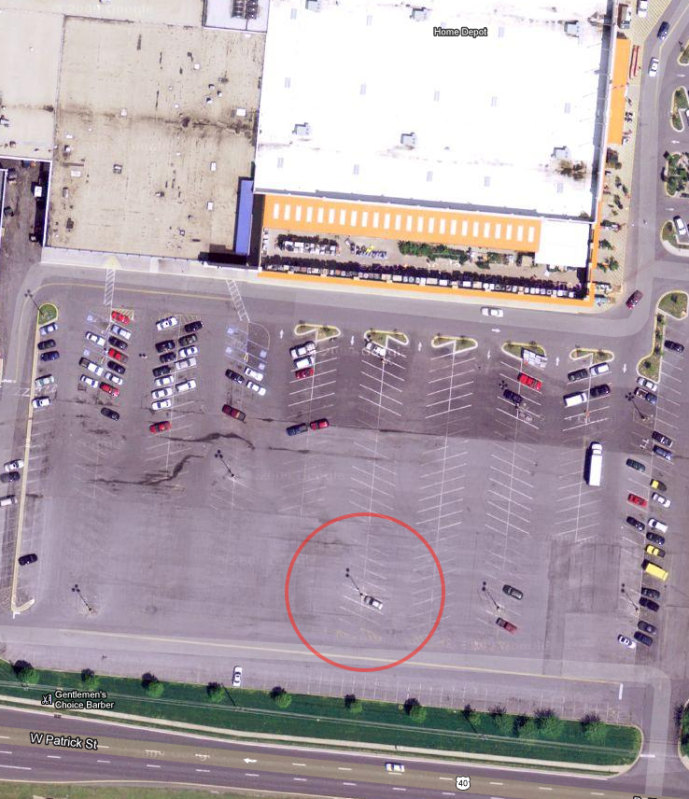 The main reason for this choice is our direct access to (1) plenty of eats in the area and (2) the potential for some pretty awesome cruising routes (to be worked out). The meeting time itself is pretty flexible. I made it somewhat early for those of us who just want to show up earlier. Others may want to grab a late breakfast, or even lunch before showing. That's fine. A local cruise probably won't kick off until 2:00pm.
At any rate, this will give us an opportunity to catch up with those we haven't seen in a while, meet new faces, exchange stories, helpful tips, etc - you get the idea.
Scenic Drive

12:30pm

Updated
Alright! Nothing like waiting until the last minute to get this ironed out. BUT, I think the wait was worth it - we have a nice cruise in store for everyone.
Before getting into the details, you can
view the map here
.
The Route, Start to Finish: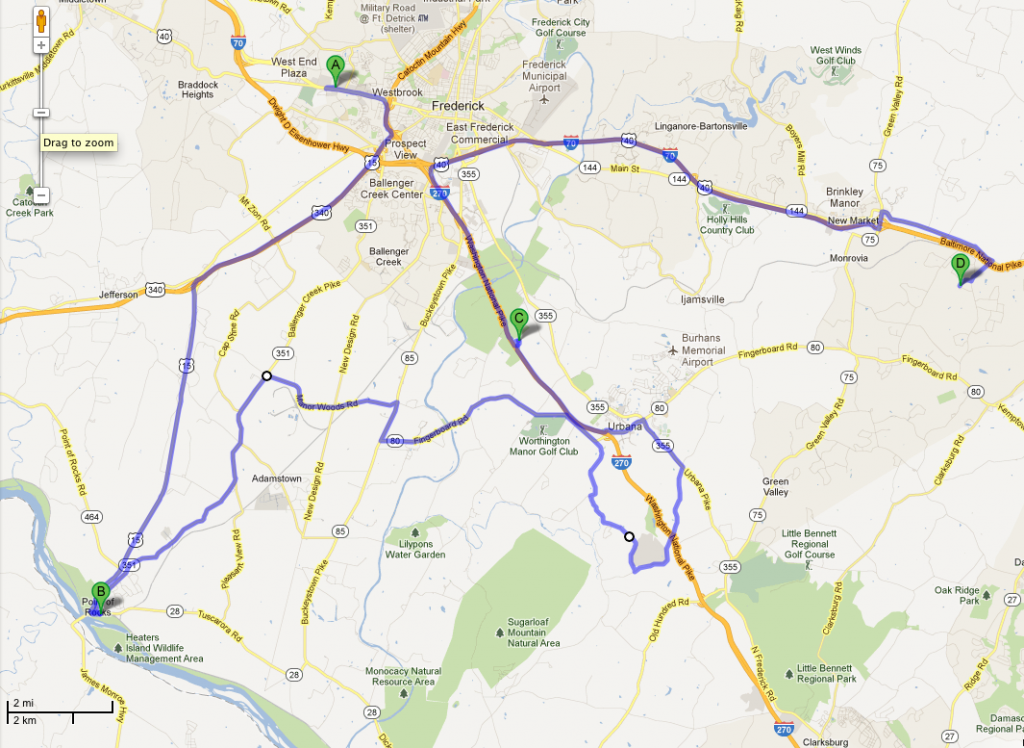 First Leg
We'll be leaving from our meeting point down to the scenic Point of Rocks region of MD. It's pretty much a straight shot with some back roads. A nice drive that gets us into the countryside. There's park down here that I no nothing about other than the fact that it's fairly new (new enough where it's not captured on Google Earth). Supposedly it exists and it's right off the river. It should offer for a nice first stop on the cruise.
Here's a snapshot of where the park 'should' be. Looks like there's some parking in the back:
Turn by Turn directions to Point of Rocks:
Second Leg
This is where things get exciting. I've only been out this way a couple of times myself, but there's some great countryside views and plenty of twisties to liven things up a bit. Just try not to mow over any locals.
We'll be venturing through the back roads to dump us out onto Rt 270 north to our second stopping point. This is a scenic overlook that is poorly marked on the maps (only one way in and one way out). I've driven by it time and time again, but never stopped. I'm thinking this will be a nice stop for a photo shoot of the lineup.
Turn by Turn directions to Scenic Overlook:
Third (last) Leg
On the third (and last) leg, we'll be heading for my place for some BBQ eats and may be a little grease monkeying to fix whatever we broke on our cruise.
We'll be continuing up Rt 270 to catch Rt 70 East. Roads are nice, wide and straight - be great for getting some footage/snapshots of the group. My house isn't far off Rt 70 and is quite easy for people to get back to when heading home for the day.
As for parking, here's an overview of my place. There's plenty of space on the side of the road and some off to the side of the driveway. It will be obvious when you arrive, just keep the cars on my side of the road.
Turn by Turn directions:
Remember ladies and germs, the intent here is to make this a cruise, not an all-out battle in who gets there first. We don't want anybody going home with a ticket, broken car or worse.
Dinner (Late Lunch) 'n Tinker

2:00pm
Lets face it, the majority of the Alltracs on the road require some round-the-clock maintenance of some kind or another. Maybe you have a leak that can't be explained; a tick that's driving you crazy or simply want some hands-on advice from somebody who knows these cars (literally) inside and out. Some of these guys have more experience with these things than they care to admit.
That said, we'll end off our cruise at my house (address below), located conveniently off Rt70 just a few minutes East of Frederick (our first meeting point). I have a decent selection of tools, one open garage bay (maybe two if I roll out the MR2), a perfectly functioning grill and a cooler of beer.
There is plenty of streetside and driveway parking, I'll have the usual burgers n dogs for the grill, beer and soda, etc. I changed our meeting time to an hour earlier (10am instead of 11am) so we can save a bit of time for this new idea.
Address:
4835 Marianne Drive
Mount Airy, MD 21771
So there it is! If you can make it, respond to the post with your details:
Board Name
Name (opt)
Car Year
Car Body Style (or desc)
Car Color
Traveling From
NOTE: I will continue to keep this first post up-to-date. So if there are any questions/changes, no need to dig through the thread, I'll keep the info here.
SIGNED UP
| # | Board Name | Name | Car Year | Car Body Style / Desc | Car Color | Traveling From |
| --- | --- | --- | --- | --- | --- | --- |
| 1. | gt4play | Chris L | 1988 | ST165, 23k miles | Red | Mt Airy, MD |
| 2. | esraceing | Eric S | 1988 | ST165, IMSA GTO | White | Silver Spring, MD |
| 3. | mafix | Willie | 1987 | ST162 | grey-black | Annapolis, MD (pending baby) |
| 4. | 88gt4de | Rob | 1988 | ST165 | Black | Bear, DE |
| 5. | celi_wabbit | Flor | 1991 | ST185 | Red | Quakertown, PA |
| 6. | Alternate.eago | Tim | 1989 | AW11 | Grey | Glen Burnie, MD |
| 7. | Scuba | Steve | 1990 | ST185 | Red/Black | Baltimore, MD |
| 8. | 97JZA80 | Mike | 1988 | ST165 | Grey | Middletown, DE |
| 9. | mx6er2587 | Mike | 1990 | busted ass trac | Grey | Pittsburgh, PA |
| 10. | Jonbonesjones | Max/Josh | 1990 (Jan) | St185 w/ 205 swap | Red | Westminster, MD |
| 11. | boostedbluetoyotas | Tim - aka 'Pless' | 199x | St185 | Blue | Columbia, MD |
Last edited by
gt4play
on Wed Oct 10, 2012 5:43 pm, edited 14 times in total.