Posting here since car is in FL (tons of parts) easier if purchased within state
As title states.....My 1993 Celica Alltrac is near its final stages of being in sell worthy condition. So I decided to post up to gather interest before hand.
Im asking
BEST OFFER SO FAR $10,000
(no low ballers please) car will be in full selling condition in less than a month.
Location:
Palm Coast, Fl 32164
1993 Toyota Celica Alltrac
Engine:
264 Duration HKS Intake Camshaft
264 Duration HKS Exhaust Camshaft
ATS Racing Adjustable Cam Gears
1mm Cometic Head Gasket
86.5/ 0.020 Oversized Wiseco Pistons
Eagle Rods
TVIS Deleted
New Valve Seals from Toyota (I & E)
NGK BKR7E Spark Plugs
NGK Spark Plugs Wires
New Water pump
New Cam seals
New Distributor Cap/Rotor
New Ignition Coil
New Main Seals
New Gaskets All around
Allen Head Valve Cover Bolts
BOSCH B.O.V. w/coupler (Included not Installed)
Manual Boost Controller (12 P.S.I.)
* Spare Head w/ Purchase
Stock Camshaft(s)
Stock Cam Gears
Spare Intake Manifold
Spare Stock Throttle Body
Spare Turbo (needs rebuild)
Transmission:
SPEC Stage 2 Kevlar Clutch Disk w/ Pressure Plate (Est. 9-10,000 miles)
Short Shifter
New Axle Seals
*Spare Transmission
Drive train:
New Front Wheel Bearings
*Spare Front Axles
New Front Brake Pads
Fuel:
ATS Racing Modified Fuel Pressure Regulator (Included not Installed)
550cc Venom Fuel Injectors (Included not Installed)
Exhaust:
3 in. Turbo Back Exhaust Custom Stainless Steel
Wheels:
17 in. Oz F1's (Grey)
* (2) Semi-used Potenza SO2's
Exterior:
JDM Clear Corner Signal Lights
Lowered Suspension
RC/CS Front Bumper (Included not Installed) – Paint & Clear Coat Included to paint
Electronics/Interior:
SAFC II
Lotek 3 gauge pillar
Autometer Boost Gauge
Freshly Bored Block
Freshly Decked Head
* Indicated Spare parts included with purchase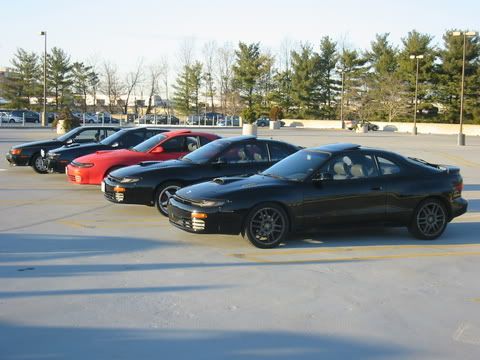 more detailed pictures to come soon after she is in sell condition.
For further info please email or Instant Message
Eusse979@erau.edu
or Ducatichick996 (aim)
Last edited by
MetalliKAT97
on Sat Oct 21, 2006 9:59 pm, edited 1 time in total.
1993 ST185 (Black)
1992 ST185 (Grey) R.I.P.

Club Member
Posts: 738
Joined: Mon Oct 18, 2004 1:33 pm
Location: Homestead, FL
---
It is sad that you are selling. I saw your car in person at the Dave&Busters meet long time ago. Your sign pic got my car on it is the red one.
Club Member
Posts: 655
Joined: Mon Mar 27, 2006 11:49 pm
Location: Fairfax VA
---
oooowwwww... 93's rare... yummy.

To bad you can't hold onto it! Good luck with the sale though.
Club Member
Posts: 268
Joined: Thu Aug 12, 2004 7:23 pm
---
Best offer has come up to $10,000 and the car isnt even finished yet.

Original Post has been modifed as well.
1993 ST185 (Black)
1992 ST185 (Grey) R.I.P.

Club Member
Posts: 738
Joined: Mon Oct 18, 2004 1:33 pm
Location: Homestead, FL
---
---
Who is online
Users browsing this forum: No registered users and 1 guest