anybody plannin on going to these shows?
Import Faceoff is Nov. 1st in Montgomery, AL and
Import Alliance is October 25th in Nashville, TN

Id love to see some more alltracs at these shows, so let me know
Club Member
Posts: 92
Joined: Fri Nov 07, 2008 6:16 pm
---
guess not..Import Faceoff this Sunday
Club Member
Posts: 92
Joined: Fri Nov 07, 2008 6:16 pm
---
I know donteatbugs took his alltrac up there and ran it. I didn't go this time. My alltrac is retired permanently.
Best GT-S STOCK times:
1/4: 14.788 @ 94.98mph 1/8: 9.640 @ 75.87mph
Best Alltrac times:
1/4: 12.2 @ 115mph 1/8th: 7.9 @ 91mph
Established Member
Posts: 1058
Joined: Sat Dec 31, 2005 5:53 pm
Location: Mobile, AL
---
i ran my alltrac with a fucked up coil and a miss fire and got a 12.7 at 106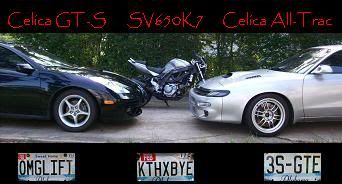 Club Member
Posts: 664
Joined: Sun Sep 18, 2005 4:08 am
Location: Monroeville AL
---
ya i saw you there bugs i didnt really get to talk to you tho you were in the process of tryin to get it to start

whys you alltrac retired permanantly vip09?
Club Member
Posts: 92
Joined: Fri Nov 07, 2008 6:16 pm
---
vip09 blew his tranny at the last ifo so hes getting rid of it. that was his 3rd one in 2 years. yeah, my coil went bad on the way up i guess. i tuned my car the day before with 20+ pulls in 3rd gear and it decides to break on the road going to ifo. its fixed now though and seems faster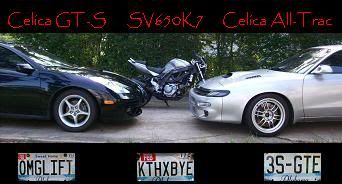 Club Member
Posts: 664
Joined: Sun Sep 18, 2005 4:08 am
Location: Monroeville AL
---
ahhh i see, thats a shame
Club Member
Posts: 92
Joined: Fri Nov 07, 2008 6:16 pm
---
---
Who is online
Users browsing this forum: No registered users and 1 guest