After three 90 gts', I finally found the uber of Celicas!
Newbie
Posts: 2
Joined: Sat Jul 02, 2016 9:03 pm
---
Congrats and welcome to the club. Post some pics and what year model did is it?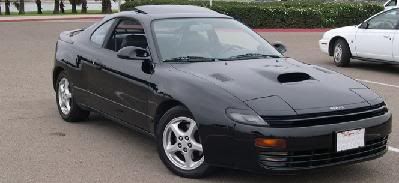 Club Member
Posts: 685
Joined: Sat Oct 29, 2005 6:45 pm
Location: San Diego, CA
---
1990 celica all trac
has a 205 tranny
put in a new deck, amp, speakers
T3/T4 hybrid Turbo
Walbro lph fuel pump,
Fidanza lightened aluminum 3-piece flywheel,
ACT clutch
EGR delete
Battery moved to the rear
TWM short shifter
headers
3" downpipe
3" exhaust
HID headlights mod

It does throw a O2 sensor code
Runs rich (see above) but is punchy and fun to drive

The guy I bought it from said he rebuilt the engine and looks like he made some good choices, but ran out of money (using 9' of marine hosing to run the stock tmic to the bumper) I made a heat shield and put it back. It is a lot more responsive and doesn't seem to heat up to much (it is Alaska though). First time out, the turbo blew off the blow off valve. Fixed it with new set screws and haven't had issues since. I installed the TWM short shifter which needed a slight mod of elevating the shifter so it wouldn't bind. Works great though. Got new seat covers since the seats were super dry and ripped up. Bought some 17" Tenzo R rims. I think it's getting there...

Trying to learn about stand alone ECU to address the O2 code and help it not run so rich. Also would like a CS bumper, but I think everyone does...
Newbie
Posts: 2
Joined: Sat Jul 02, 2016 9:03 pm
---
---
Who is online
Users browsing this forum: No registered users and 1 guest