Greetings all! I just purchased a VERY CLEAN Celica GT. I guess its officially a ST184 (since its a drop-top). Love the car, So far I have fixed an in-operable driver side door handle.

Currently Installing new speakers/deck, shift boot and knob.

It needs: sun visors, a fresh rear plastic window, working cruise, a oil leak fixed and..................... the drive train out of a ST185 hahaha.

I would love to swap in the turbo'd 2.2, and the 4x4 system (differential, suspension, drive line, etc...). All parts are readily available on ebay. Prob. cost 2-3K for all the parts and another 3K to install. Does that sound about right all you experts??? One thing at a time.

Oh yeah, I paid 1700. The previous owner is the original owner of the car. She even gave me the original window sticker, she paid 22K back in 1993. Same price as the BMW E30's were at the time.

She bought new in LA and then moved to Phoenix 10 years ago. ALWAYS garaged and cleaned monthly; it really is the epitome of a cream puff. Its even Toyota "super white".

I am not new to Toyota, I have owned 80 series landcruisers on and off for the last 8 years or so. This is my first Toyota car however.

Is there a newbie checklist to baseline these cars? Yeah I know..."search is your friend". Pictures coming as soon as I figure out how to do that.
Newbie
Posts: 3
Joined: Wed Apr 12, 2017 6:25 pm
---
GTFour God
Posts: 4148
Images: 50
Joined: Sun Feb 11, 2007 12:12 am
---
You won't be able to swap in the AWD into your ST184. Can it be done yes, is it worth it? For me, NO due to cost and frame modifications/customizations. I would just go with a 3S-GTE swap and keep the FWD, in the end it's a cruiser due to the drop top.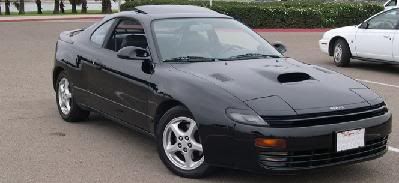 Club Member
Posts: 685
Joined: Sat Oct 29, 2005 6:45 pm
Location: San Diego, CA
---
---
Who is online
Users browsing this forum: No registered users and 3 guests