Sun Jul 12, 2009 1:25 am
Not too sure if anyone knows about this seeing as only 3 were ever made but I came across the Grp. B version of the MR2 which was actually AWD and over 600HP!
http://www.groupbrally.com/toyota.shtml
Sun Jul 12, 2009 1:33 am
news to me...i want one...not for street use...just to kinda have...lol...so cool.
Sun Jul 12, 2009 1:37 am
The fact that its a mk I makes it even better too
Sun Jul 12, 2009 1:55 am
I read about it a long time ago. Didn't they want to rally this before they made the gtfour?
Sun Jul 12, 2009 8:49 pm
yeah read the website below the picture up there... they say that TTE still has one to sell apparently.
Sun Jul 12, 2009 9:06 pm
I really miss Group B rally. The most psychotic cars in the world were spawned from it
Thu Jul 16, 2009 3:31 am
technically, it was not intended for Group B rally. it was designed (engine wise) for Group S rally (ie. 1.2L engine with no power restrictions). Group B was 2.0L class engines, btw.

3 existed in total. 1 was FWD and was horribly crashed during initial testing in Japan. 2 exist currently. 1 in Japan (white) and 1 in Germany (black). both are Mid-Engine and AWD.

it has been commented that, other than SOME body panels, there the Group S Mr2 shares nothing in common with the road going version of the wonderful AW11.

there is a yearly festival in England called the 'Goodwood Festival of Speed' and the black Group S Mr2 has run there recently.

to say the least, i'm a bit obsessed with that car.

and despite the fact that the Group S Mr2 was intended for the 1.2L class, they used the 2.0L engine (*cough*503e*cough*) which can STILL be purchased from Toysport.com - it comes in 3 basic power levels. 600hp (endurance racing), 800hp (hardcore racing) and 1000hp (all out power).

bear in mind, this is technology from 1984 era and its ONLY 2.0L, 16 valves and 1 turbo. to this day, every manufacturer that has attempted to compete with the specs and output of the 503e has failed miserably.

for the detail junkies, the 3SGTE is the 'dumbed down' version of the 503e. to this day, it is STILL very difficult to attain the same power levels of the 503e, while keeping reliability in mind.
Thu Jul 16, 2009 9:35 am
some pics i took at Goodwood Festival of Speed:
http://www.imoc.co.uk/forums/viewtopic. ... highlight=
4WD with the 503e engine circa 350 bhp >>> according to its driver John Day (current Toyota UK)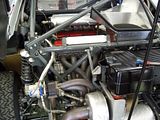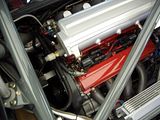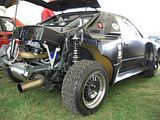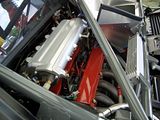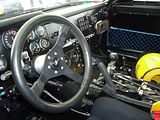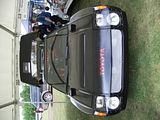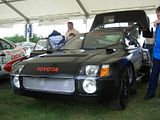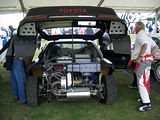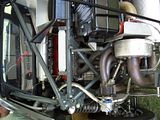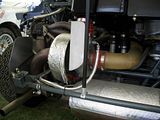 Thu Jul 16, 2009 2:25 pm
Gary - i am truly jealous... you got to see the Holy Grail in person...
btw - i have a book on the history of Group B rally and it does feature this Mr2.
to say the least, the moment i found that page, i was glued to it...
btw - Sega GT 2002 has the Group B Mr2 as a winnable and drivable car.
i admit, i was a bit under-impressed. virtually no torque/acceleration at all & very difficult to control... but, its a video game representation of a car that never once participated in an actual Rally stage/event. so... i can only expect so much to be accurate.
http://www.gamespot.com/xbox/driving/se ... index.html
Thu Jul 16, 2009 2:27 pm
Interesting IC setup on that thing. I would almost suspect it's both WTA and ATA. As well as the header design. Hmm...

Actually, it is WTA-ATA. Weird, but it does explain the lengths they went to in order to control heat back there.
Fri Jul 17, 2009 4:00 pm
I have seen the 503e engine in japan.
That doesnt look like it but its probably a differnt head.

the one I saw had a carbon fibre intake manifold, dry sump and looked nothing like the 3sgte. It was nice though engine was used in a JGTC supra.
Fri Jul 17, 2009 5:07 pm
This was the reason why I wanted an MR2 AW11 in the first place. Some members have dabbled with the idea of the body for our AW11 and the lack of a rear aero package (and front nose).

Beautiful, innovative and crazed... Definately one of those 'holy fugg what did we create?!?' moments...
Wed Jul 22, 2009 11:44 am
this was just posted on gt4oc.net
222D @ Goodwood FOS 2007 :
http://www.youtube.com/watch?v=wNSVmIU6h9o
Tue Oct 13, 2009 12:12 am
i have wood.
the moment i have the cash, i am calling TTE and buying the 222D. the cost means nothing.
Tue Oct 13, 2009 12:59 am
not12listen wrote:

i have wood.

the moment i have the cash, i am calling TTE and buying the 222D. the cost means nothing.
You should see the HD version, not the dribble youtube posts...