---
no, you guys described the same thing, just differently. that is the double clutch method in all its glory.
i need to warn everyone-
ATSAaron wrote:You specifically told Matt that "some kid dumped sand into my motor."

don't let some kid dump sand into your motor.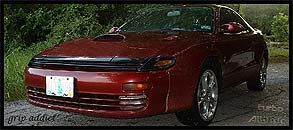 Established Member
Posts: 1229
Joined: Mon Nov 21, 2005 6:13 am
Location: kansas city
---
toayoztan wrote:Haha, dry shifting...similar to power shifting. Power shifting (to my knowledge) is holding down the gas, and slamming it to the next gear up..

In any case, rev matching is also good because not only are you jerking you and the passengers, but you're putting more "shock" to ball joints, cv joints, etc. Rev matching helps reduce the shock to these areas.

Bryan
Hey, i haven't been keeping up with this thread, so i just read all the posts after my reply to this thread. I wanted to edit and clear my comment up. I did mean to say that power shifting was holding down the gas, and slamming it to the next gear up while stabbing the clutch. A lot of honda people do it around here. Maybe that's why some consider it a ricer trick
I honestly can admit i can't stab fast enough. Though since i can't afford trannys and clutches, I really don't like to practice to get better right now heh. I just learn to shift as fast as possible...then again, i dont' race much until my car is faster
Sorry for any confusion, but I agree, powershifting is stabbing clutch. Dry is no clutch. I haven't actually heard anyone around here dry clutching.
Bryan
2017 Pilot Elite
2014 Juke NISMO RS
1994 Supra TT 6spd
1993 Alltrac - http://www.alltrac.net/phpBB2/viewtopic.php?f=44&t=37466
1977 Celica GT Liftback
2015 Grom
1977 GL1000
GTFour God
Posts: 6735
Images: 1
Joined: Wed Aug 11, 2004 5:51 am
Location: Oklahoma
---
StranD wrote:Hey, I have a totally different idea of what double clutching is compared to Simba's description on the last page...
No, you've got it right, you've just got clutch engagement backwards. Pressing the pedal down does not engage the clutch. It disengages it from the flywheel.

Lots of fast, loud things.

Established Member
Posts: 2896
Joined: Wed Oct 12, 2005 10:17 pm
Location: New York, NY
---
---
Who is online
Users browsing this forum: No registered users and 1 guest