So I will be moving to Glendale Arizona in three weeks to start school and was wondering if anyone had experience getting their Alltrac tested? Are they pretty strict? How about the visual inspection? My car is pretty modified and im trying to figure out what I will need to do to get it on the road there. If it is overly strict ill just keep it registered in Canada and just drive it as a student.
93 St185 DD
90 ST185 - Project
Club Member
Posts: 536
Joined: Fri Nov 19, 2010 2:43 am
Location: Phoenix Arizona
---
i had no problem getting passed and i have a jdm 2gen 3s. then i registered it up north and you dont have to worry about it.. what school you goin to?
im out here
transformation has BEGUN!!!
90GT W/ 90 3SGTE/ SOLD
91 ALL-TRAC 215 w 205 swapd
87 Turbo 4runner-DD/ Expedition build
10 Scion Xb-kid hauler
Club Member
Posts: 653
Joined: Wed Jan 25, 2006 3:37 am
Location: az
---
I have not had to get my ST165 tested yet, but I have a 95' toyota truck with a built 22re. It has an LCE Pro Header, cammed, blocked off EGR ports, etc, and it passes. They never look in the engine bay. The most they have done is crack the hood open for improved cooling for the engine while testing. I also unbolt every exhaust flange a bit, in hopes of having the machine read less emissions, and the truck passes. (I have 2 different emissions readouts to prove that it works...
) Needless to say, they have never inspected my exhaust system, or for a cat.
Some testing facilities are more lenient than others. I always use the one out in the boonies (in Goodyear, AZ).
Club Member
Posts: 127
Joined: Mon Jun 17, 2013 3:50 pm
Location: Buckeye, AZ
---
Thanks guys, that was exactly what I was looking for.
celica_gtx wrote:what school you goin to?
I got accepted into Midwestern University's Dental DMD program in Glendale.
Can anyone recommend a specific shop near Glendale? Also do they just do an idle exhaust test?
93 St185 DD
90 ST185 - Project
Club Member
Posts: 536
Joined: Fri Nov 19, 2010 2:43 am
Location: Phoenix Arizona
---
There's a place on West Glendale Ave and Glen Harbor Blvd (just off the Loop 101.) They have 2wd only, so the awd cars just have to rev to about 3k and idle for a few minutes. I was able to pass catless in the WRX. A CEL is automatic fail.

7135 North 110th Ave according to google maps.
1992 Toyota Celica GT-Four CS (#4025)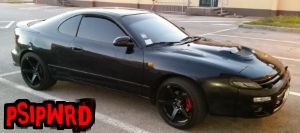 Euro-Spec ST185 CS in Las Vegas
...still working on it...
Club Member
Posts: 225
Joined: Sat Feb 18, 2012 10:02 am
Location: Germany
---
Unless you are planning in staying in the US after school, just keep your Canadian plates while you are here. Unless having the car down here (errr... there) will cause hassles for registration in Canada.

-Charlie
'89 Camry LE Alltrac 3S-GTE - SV25/ST205 hybrid
'99 4Runner SR5 4WD 5VZ-FE
Previous: '88 Camry LE Alltrac 3S-GE BEAMS, '90 Camry 3S-GTE, '90 Camry DX
Established Member
Posts: 1045
Joined: Wed Dec 07, 2005 8:09 am
Location: Pasadena, CA
---
---
Who is online
Users browsing this forum: Google [Bot] and 2 guests