Just would like to see what everyone is using cause I need a clutch for my celica.
Pretty new to this car. I just sold my 99 Lexus gs300 that I did a motor swap on. I put in the twin turbo aristo
In. I ended up selling so I could buy this all trac from my brother in law waiting for 10 yrs and I finally got it.
All I need to do is get a clutch and get the computer put in and get a tune. Anyways what clutch do u guys recommend?
I will be very happy with all opions. Thx HeavyC
Newbie
Posts: 6
Joined: Tue Aug 12, 2014 11:17 pm
---
I went with Exedy for my clutch replacement BUT make sure you buy a OEM throwout bearing from the dealership cause the ones they come with is shit
-1988 Celica Alltrac (white) Sold
-1988 Celica Alltrac (black) new project
-1990 Corolla sedan (sky blue) totalled by my brother
-1990 Celica GT-S hatchback (sky blue) daily driver
•Daniel
Established Member
Posts: 1291
Joined: Mon Feb 28, 2011 4:31 am
Location: NORCAL "Bay Area"
---
Exedy was one I was looking at. If I go with that one I will buy a different throwout bearing
Thank you for the heads up on that.
Newbie
Posts: 6
Joined: Tue Aug 12, 2014 11:17 pm
---
I have an Exedy in mine, installed by previous owner.
BIG
+1 on not using the supplied throwout bearing, the PO used it and now I have to hear this terrible death rattle that sounds like my engine is knocking and/or about to fall out. I want it replaced so bad but I know what I have to do so I'll just deal with it
1992 Toyota Celica AllTrac
1987 Mazda RX7 Sport
1979 Yamaha G1A, rotary powered with Sachs KM24
1976 Hercules W2000, oil injected
Club Member
Posts: 999
Images: 9
Joined: Mon May 20, 2013 7:43 am
Location: Eagleville, TN
---
I had an Exedy crap out on me after a few months in the Talon due to the throwout bearing. Since then I stuck with the ACT HDSS on 3 different platforms. If I need more torque holding, I'd go with an Exedy hyper twin plate.
1992 Toyota Celica GT-Four CS (#4025)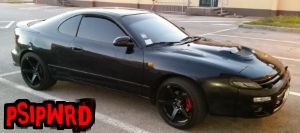 Club Member
Posts: 224
Joined: Sat Feb 18, 2012 10:02 am
Location: Germany
---
Thank you all for the info. I will take all this into consideration.
This all helps me a lot. I want to make sure I do this right the first time especially since my brother in law told
me that it's kind of a pain to do so he will only be doing this one time for me so make sure I pick the right one for me.
Thx again everyone HeavyC
Newbie
Posts: 6
Joined: Tue Aug 12, 2014 11:17 pm
---
ACT for me. Contrary to what others might say, six puck sprung or unsprung aren't hard to drive. very easy to slip.
Rafa

1990 White ST185 w/ Carlos Sainz motor, ecu, and tranny
Club Member
Posts: 851
Joined: Wed Feb 23, 2005 3:34 am
Location: Miami, FL
---
ACT for me also. I've been running an ACT HD with lightweight flywheel with oem throwout bearing for over 30k km in temperatures ranging from -35*C to +15 in the space of a few days during an 8000km trip earlier this year.

Fantastic clutch. Very easy to drive and the lightweight flywheel makes for nice revmatching.
GTFour God
Posts: 4144
Images: 50
Joined: Sun Feb 11, 2007 12:12 am
---
I would like to thank everyone for your replies on what clutch to buy. I ended up buying the ACT clutch and so far I really like it. However it has only been a couple days now since I drove it. Here is the awesome news, Me and 4 other guys have pulled it off. We actually replaced the clutch without pulling the motor but it wasnt easy. Everything U can think of was in the way. We unbolted the trans and it just sat there cause of course we had to find a way to move it to clear the spline. Than the oil pan and much more was in the way but we did it in the end. I got lucky cause the flywheel was still in good shape just needed a buffing. Turns out what happen was one of the four springs on the disc fell out and that was the cause of my problem. After all that omg another issue took it for a test ride and lost the shifter solid as a rock. Fricken shifter linkage cable froze up. Only two left in USA. Now only one 200 bucks for that bad boy and tearing apart the whole inside of the car to get to that. But finally on the road again.
Newbie
Posts: 6
Joined: Tue Aug 12, 2014 11:17 pm
---
---
Who is online
Users browsing this forum: No registered users and 1 guest