2010 CU Sport Car Club Auto Show
Date: Sunday, April 18, 2010
Time: 12:00PM-4:00PM
Location: Lot 436 on CU Campus (Corner of 28th St and Colorado)
http://www.cusportcar.com/forum/Lot436.png
Spectators: FREE!!!
Registration: FREE!!!
Registration Time: 10:00AM
Come and enjoy some sweet cars. We will be giving out trophies and other prizes to show winners. This year we will have professionals from participating shops judging each car in various categories to ensure a great selection!
Categories:
European - 1st, 2nd, 3rd
Japanese - 1st, 2nd, 3rd
Domestic - 1st, 2nd, 3rd
Classic - 1st, 2nd, 3rd
Exterior - 1st
Interior - 1st
Odd Ball - 1st
Best Motorcycle - 1st
Best of Show - 1st
Best Shop Car - 1st
Judging Rules:
- Each participating shop will have specialists judging for all of the categories.
- Shop owned cars will not be judged against privately owned vehicles. (Does not include privately owned employee cars).
- Entrees can win in multiple categories.
- Everything else is fair game, so get those cars ready!
Other Important Info:
- Registrants will enter the open lot and will be guided to a registration table, where they will receive a number and then be directed to a parking spot by CUSCC Staff.
- Spectator parking will be in the covered lot adjacent to the open lot.
- There will be a designated area for trailer parking for those who need to be towed due to street legality.
- Rain/Snow Date: Sunday, April 25th (following Sunday)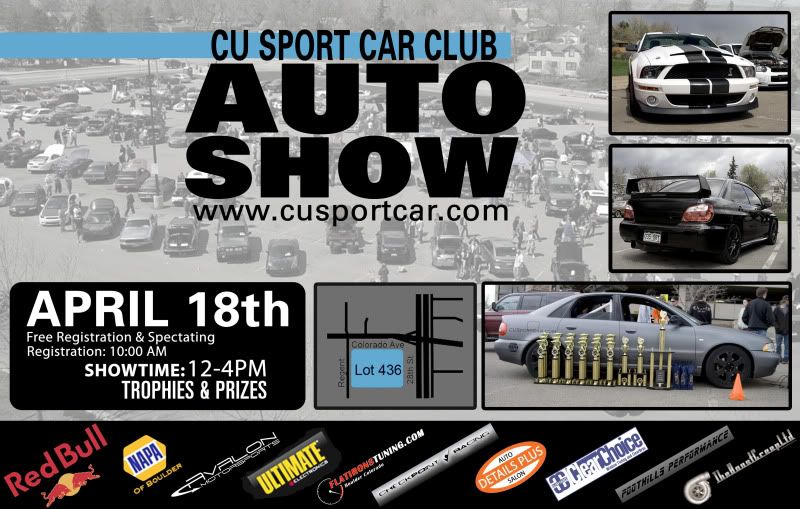 If there are any questions or suggestions we would be delighted to hear them at
cuscc1@gmail.com
Dustin
2008 Legacy GT
1990 Celica All-Trac
1990 Celica GT
Club Member
Posts: 126
Joined: Fri Apr 28, 2006 6:49 am
Location: Colorado
---
Who is online
Users browsing this forum: No registered users and 2 guests