Thu Mar 13, 2008 6:27 pm
to add further confusion....please find attached vin plates from:
'94 JDM ST205 WRC with TorSen limited slip:
and
'96 UK ST205 with TorSen limited slip: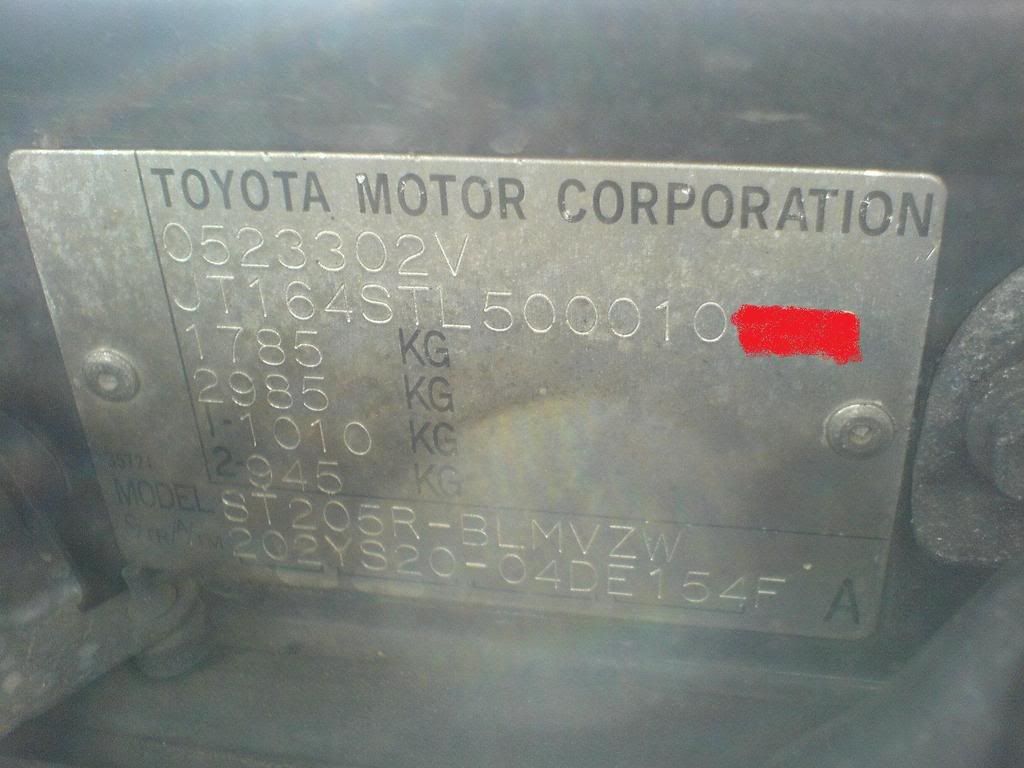 Last edited by
Gary ST165
on Thu Mar 13, 2008 6:37 pm, edited 3 times in total.
Thu Mar 13, 2008 6:31 pm
I'll check mine when i get home.
Thu Mar 20, 2008 7:36 am
plate E151F-767
confirmed its a Torsen, visually inspected
)))
at first i could see nothing and almost lost hope, bet when i turned the driveshaft more, the excitement spread all over my face
I didnt think the worm gears are rotating all around the whole assembly! cool stuff
Sun Mar 30, 2008 11:58 pm
I think I have the below correct, someone please correct me if/where I'm wrong:
92 All-Trac wrote:However my old powertrains teacher at UTI explained that if you spin a VC LSD the other wheel should spin the same direction, but if the clutch plates are wearing out it will spiin the opposite direction.

There are no plates in a VC, its more like a torque converter in an auto tranny and the only 'wearable' part is the fluid that transfers power.
Wouldn't a torsen spin the same direction like a posi since it locks whenever ANY slippage is detected? It is purely mechanical and reacts to direct torque.

Not exactly. A clutch diff will do this for you as it reacts to the presence of torque but a torsen (any planetary type diff) reacts to the differential of torque between the two wheels. If the car goes airborne, or enters any condition where one wheel has zero resistance (black ice under one wheel is a good example), one half of the torque resistance equation will be zero and as such a torsen will act exactly like an open diff. Quaife calls their diff "torque sensing", and that's probably a good description of the behavior.
This is why its not so straightforward to test if you have a torsen; you need to generate some sort of imbalance of resistance at the wheels and see how it reacts.
Fri Apr 04, 2008 6:49 am
just to make things interesting for you all, here is my VIN info
1990 GT4-A (widebody if you didn't know..)
Model: E-ST185H-BLMVZ
Engine: 3S-GTE
Frame no: ST185-0010xxx
Color/Trim: 040 FQ10
Trans/Axel: E150F - 734
and because I know of another gt4's vehicles vin details:
1992 GT4 Widebody
Model: E-ST185H-BLMVZ
Engine: 3S-GTE
Frame no: ST185-0022xxx
Color/Trim: 202 FQ10
Trans/Axel: E150F - 734
Plant/Built: A54
kind of poses more questions on the 734 rear diff doesn't it
especially since Richards site says that all JDM st185s came with torsen rear diffs
http://gtfour.supras.org.nz/differential.htm
Thu Jun 05, 2008 4:57 pm
i found some gold from google!! donno if anyone saw this yet but it may answer a few questions, it made me happy
check it out!
http://www.celica.dds.nl/en/celihist.htm
Thu Jul 16, 2009 7:52 pm
I've been reading all I can on finding out if my rear diff is torsen LSD or open LSD.
The site above says this;
There are ST185 with rear Torsen differential and versions with LSD = Limited Slip Differential.
Codes:

E151F-767 = 5 speed manual with rear Torsen differential.
or
-737/E150F = 5 speed manual with viscous coupling LSD.
Can anyone confirm this? I'm thinking the only way to really tell is by looking inside.
Earlier in this thread someone said the -737/E150F code should be a TorSen diff but I'm not too sure about that. I'm surprised there's no sticky about the whole LSD thing.
Thu Jul 16, 2009 10:58 pm
ST185:
US = non torsen or torsen as dealer option. Need to crack open the pumpkin
Europe = torsen according to EPC
Japan = torsen according to EPC and jap celica tuning mag, though some have countered that info.

personally I think that the 734, 737, 767 codes are bogus. Looking at how other toyota diffs are coded with a 4 digit character code instead of the celica's 3 digit code makes me wary of what has been said in the past.

What model Celica do you have? Japanese or American?
Thu Jul 16, 2009 11:12 pm
Canadian, 1990 Celica Turbo 4wd.

I have the -737/E150F code.

In another thread about this (there are tons) Simba says he has the same code and a torsen rear diff that he was sure was stock. But then I'm pretty sure someone else with the same code said there's was open.

So ya I'm thinking the codes are bogus too. You have to actually look inside.
Fri Jul 17, 2009 3:41 am
actually the information I was looking for was more specific. Is a canadian domestic model, or imported from Japan? I know that there are various imports going in to Canada, so just want to make sure.

BMLVZ maybe?
Fri Jul 17, 2009 11:12 am
It's not a JDM import, its LHD and was sent to Canada back in 1990 when they were being produced.
Fri Jul 17, 2009 11:46 am
I have a Canadian, 1990 Celica Turbo 4wd also.

This might be of some value.
I cracked my rear diff to find it indeed was a torsen, and way back when I bought the car I actually spoke with the original owner,
and she didn't recall ordering any additional dealer options.
She also told me that Canadian models were substantially higher in cost than the Alltracs in the US back in 1990,
and she was looking to get one from the states but couldn't.

So I guess the question is, has anyone with a Canadian model cracked their diff case to find it was non-torsen?
Fri Jul 17, 2009 12:38 pm
I'm really curious and have been meaning to change the oil in the rear diff anyways so ill check after work today or tomorrow some time for sure.

Ill let everyone know what I find, hopefully a torsen..
Sun Jul 19, 2009 1:46 pm
Haven't gotten around to checking out my rear diff. Ended up buying another Celica yesterday so I've been busy playing around with it.

I will check it out and I will give an update eventually.
Sun Aug 02, 2009 10:16 pm
Is it possible that the 734-737-767 is a designation for the front Differential and not the rear. Since the MR2 E153's code refers to the differential inside the transaxle. That could be why everyone is getting conflicting info. Maybe that code has nothing to do with the rear diff at all.