we have dialed in what we feel is absolutely the best shifter cable bushings for the MR2s. (this design was originally from Phoenix Power) this spherical bearing design kicks the crap out of every other replacement bushing on the market.
HOW you ask.... well: the OEM shifter cables do not move in a true linear fashion. when you install the brass bushings or roller skate bearings the natural twist of the cable as it is going through the range of motion is lost. the natural twist is dealt with on the OEM bushings in the rubber material they use which allows the flex in a non linear way... as it should be.
the advantages of these shifter bushings are:
1) proper shift cable articulation
2) advantage of having a bearing to reduce wear on moving parts
3) no rubber to wear out
4) no metal to wear out
5) 100% positive shift engagement
CRW spherical shifter bushing kit includes: spherical shifter bushings, washers and OEM retaining clips (BEST!)
CRW shifter bushing kit fits: all Mk1,all Mk2 NA and TURBO, MK3 and many other FWD toyotas (corolla, celica + all-trac, camry, tercel, matrix, scion TC, etc.) **these do not fit the 93-99 celica, 94+ camry or solara**
there are 2 styles of these bushing kits:
CRW standard spherical shifter bushing kit $40 shipped
CRW PTFE lined spherical shifter bushing kit $50 shipped
--> have the OEM square bushing for $18 shipped with bushings or $20 by itself. pic is of worn squares and new square for comparo: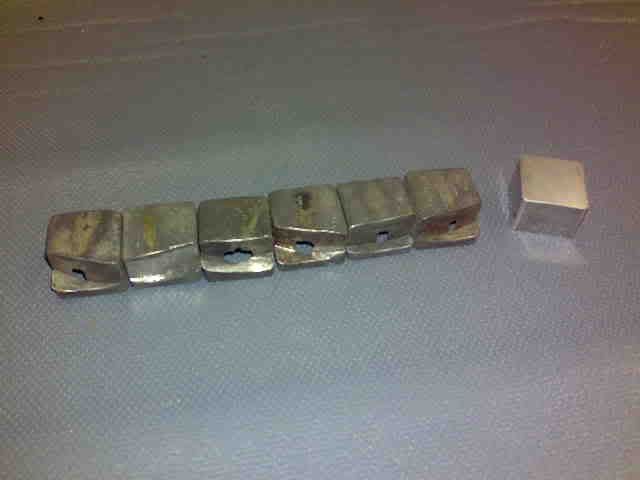 --> **NEW** OEM square replacement roller bearing for $18 combined with something else or $20 by itself. same cost as the square but much less friction and wear involved. just pack this baby with grease and away you go to smoother/precise shifting!
--> also have the solid roller clevis kits to compliment these parts:
http://www.mr2oc.com/showthread.php?t=417544
**these do fit A/T MR2s as well so if anyone wants a single (only takes 1) for the A/T powered MR2 i can accomodate no problem for $20 shipped (standard) or $25 shipped (PTFE lined)
**shipping is to lower 48 states. out of country orders will cost a few dollars extra depending on where located**
**these are finished and in stock ready to ship!!!**
Paypal address
payment@chicoraceworks.com
can email me
josh@garageCRW.com
or text (look at siggy)
**these shifter cable bushings CANNOT cure poorly maintained transmissions, linkages, hydraulics,etc.**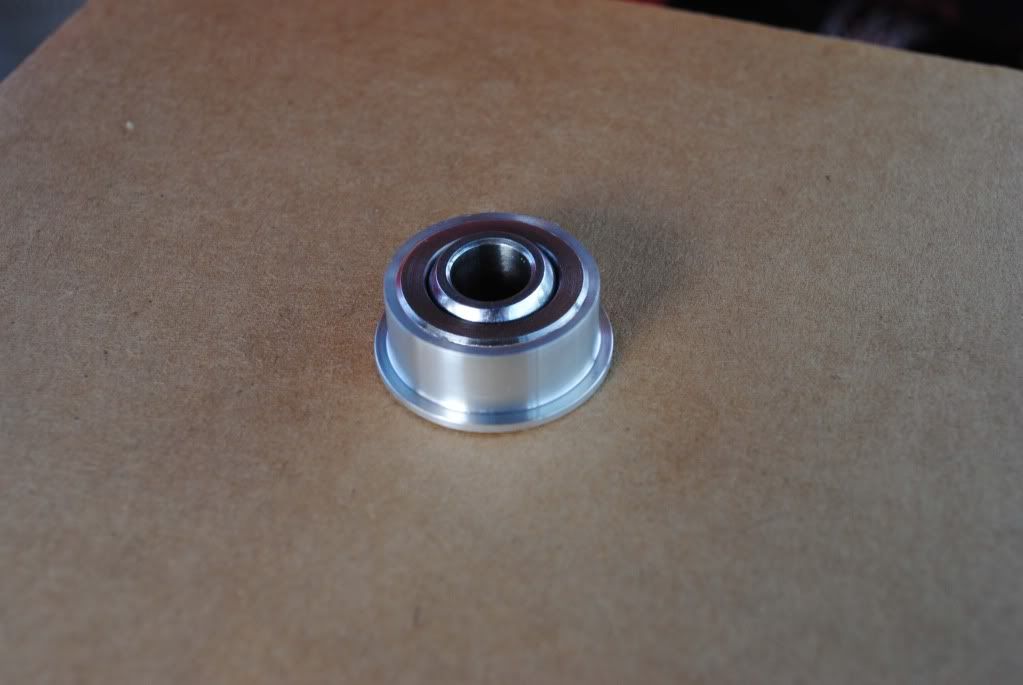 Newbie
Posts: 9
Joined: Tue Sep 14, 2004 6:19 pm
Location: www.chicoraceworks.com
---
these are available now!
--> billet aluminim constriuction
--> roller bearings so no more wear!
--> solid so no more clevis dampener wearing, bending or breaking
--> totally eliminates the clutch pedal squeak from worn components
--> slightly longer for that extra bit of adjustment
--> threaded all the way through for maximum adjustment possibilities
--> fits MK1 and MK2 (not sure about MK3)
--> MADE IN THE USA!!!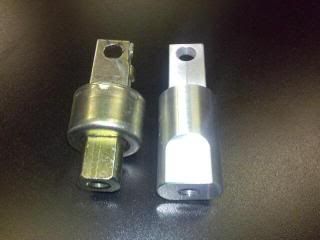 **FINISHED PRODUCT**
keep in mind the clevis pictured in the first 2 pictures is the prototype and doesn't have the roller bearings installed in the forks yet but you get the idea of what it looks like. **UPDATE** finished kit pictures are the last 2
price for the entire kit as pictured is $45
(includes solid roller clevis, pin, clip,washer and clutch pedal roller bearing)
price is $40 shipped w/o clutch pedal roller bearing
for those who have already purchased this part. **whoever got the earlier,thinner roller bearing will get a free upgrade to the wider roller bearing we offer now**

price for just clutch pedal roller bearing $8 shipped
install help here:
http://www.mr2oc.com/showthread.php?t=234491&highlight=clutch+pedal
**shipping is included for all 50 states and PR. international orders please email for additional cost. shipping can be combined with the other products we offer**
can paypal to:
payment@chicoraceworks.com
** modification of the clutch pedal is required to fit the clutch pedal roller bearing. drill bit size to use is either 31/64" or 15/32" either will work but the 31/64" is a little more precise
Newbie
Posts: 9
Joined: Tue Sep 14, 2004 6:19 pm
Location: www.chicoraceworks.com
---
i will be getting good pics of worn components and adding them to my website. these are to show problem areas with the MR2 in regards to poor shift quality, grinding, etc.
for starters i added pics of the shift lever bushing (
ORDER NEW ONE HERE!!
) and a worn one to ogle:
http://www.chicoraceworks.com/gallery/shifting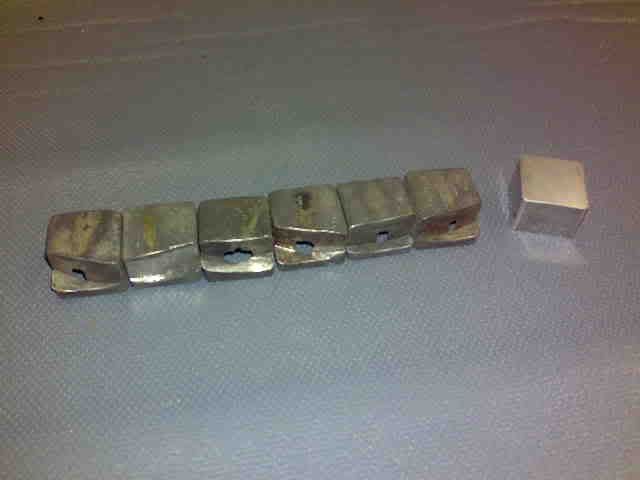 the shifter linkage bushing can be purchased new through Toyota if worn out bad enough or turned 90 degrees to get the better sides in contact with the "groove". when i turn these or replace them i lubricate (synthetic bearing grease) liberally wherever the bushing is touching something to minimize future wear/friction.
i will be adding more pics when i find some good, worn shifter cables to compare also worn clutch pedals, etc.
for shifter cable bushings there are several options available:
http://www.chicoraceworks.com/gallery/shifting/worn_cable_bushing
1) Speed Source brass shifter bushings
2) CRW spherical bearing (replica of Phoenix Power cable bushings)
ORDER HERE!!
3) roller skate bearings (search!)
for the clutch pedal itself when worn out:
1) buy new pedal from toyota
2) have hole welded up and redrilled
3) drill larger for bearing mod (
http://www.mr2oc.com/showthread.php?t=234491
)
4) order CRW solid roller clevis kit = end of problem
http://www.mr2oc.com/showthread.php?t=417544
for the clutch master clevis when worn out or broken:
1) buy new from toyota
2) buy new clutch master which comes with new clevis
3) buy CRW solid roller clevis:
http://www.mr2oc.com/showthread.php?t=417544
the clutch master and slave cylinders do need replaced from time to time and can be worn out and not leak (they do it internally). best solution is to buy and replace both at same time and not rebuild them. they don't cost much... rebuilds generally don't last long or are done incorrectly. so buying new makes the job done right the first time.
bleeding the clutch system properly is another issue most folks have. i use the mity vac and suck the fluid through the entire system and end up with a nice, stiff pedal every time. there are times when it is difficult to bleed with the mity vac but sometimes pumping the clutch pedal manually a few times (slowly) will help jump start it.
as for trans fluid my personal recommendation is as follows:
S54 (NA trans) *ALL*
redline shockproof superlightweight -- can get away with lightweight shockproof also
E153 (turbo trans) *open diff, OEM LSD or Quaife LSD*
redline shockproof lightweight or can use heavy weight shockproof in warmer climates but i prefer the lightweight.
E153 (turbo trans) *clutch style LSD IE: Kaaz, TRD, cusco, etc)*
standard non synthetic 75/90 (GL4 or GL5) gear oil with friction modifier AKA LSD additive ** have heard of someone using the redline shockproof lightweight with the ford LSD additive and having no chattering issues**
as far as other trans fluid recommendations you can search for "transmission fluid" and see what I and others have to say about various brands... just i recommend what i have used for 10+ years with no problems and offers buttery smooth shifting.
Newbie
Posts: 9
Joined: Tue Sep 14, 2004 6:19 pm
Location: www.chicoraceworks.com
---
now all of the above posts were aimed for the MR2 owners but the same parts/issues apply to the celica/all-trac/camry/etc. which run shifter cables and a S or E series transmission.. in some cases (for certain parts) C series as well.
Newbie
Posts: 9
Joined: Tue Sep 14, 2004 6:19 pm
Location: www.chicoraceworks.com
---
---
Who is online
Users browsing this forum: No registered users and 1 guest