Fri Oct 03, 2008 7:09 pm
Last weekend I've finally changed my OEM clutch which started to slip over 1.0bar boost to the Carbonetic twin-disc carbon clutch.
link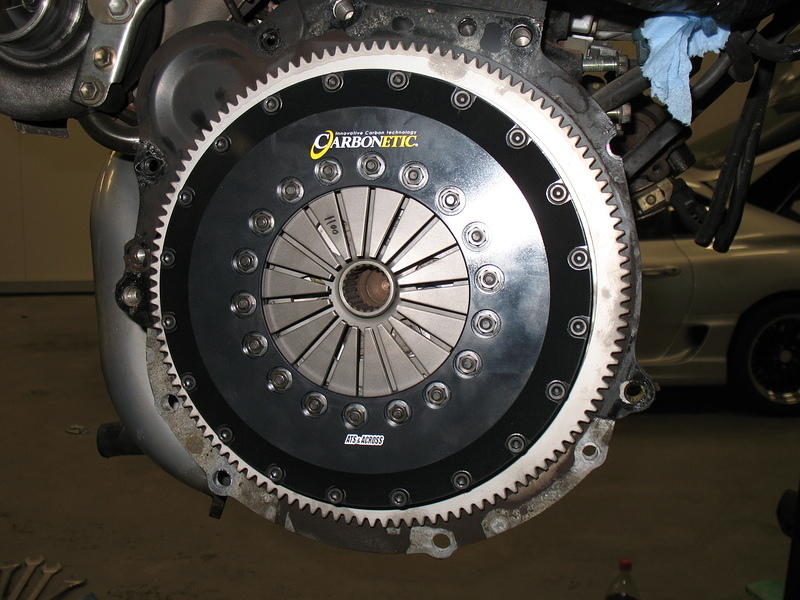 Huge thanks to Andreas (Turbo4WD_CS) for his help!!!
He stayed calm when things didn't go well at first and he didn't try to get the work done as fast as possible without being accurate.
Last edited by
abraxxa
on Mon Jan 04, 2016 10:36 am, edited 1 time in total.
Fri Oct 03, 2008 8:33 pm
looking good
Sat Oct 04, 2008 7:27 pm
more pics of the whole car, engine bay plz!!!!
Sat Oct 04, 2008 8:52 pm
Not too many people have run that clutch yet. Looking forward to a full review once you have a chance to beat on it a little bit.

BTW, isn't this our very first ST205 project thread????!!!

J.
Sat Oct 04, 2008 10:14 pm
@pit_celica: much more on my homepage behind the link!

@lumbercris: i don't think so, about two years ago a crazy Australian posted his ST205.
Sun Oct 05, 2008 1:47 am
At least you had a lift that you could use. That almost always makes things go smoother. I am also awaiting your review on this clutch.
Sun Oct 05, 2008 10:25 am
I only took the car home for an about 30 minutes drive and it was very smooth.
I never stalled it like it happened to me when I drove the IS200 Turbo of a friend with a Sachs sinter metal clutch.
It rattles when disengaged like all multi plate clutches do, but not that loud as metal ones.
Tue Oct 07, 2008 7:18 pm
I know you've probably posted them on other areas of the forum, but a few exterior and engine bay shots in your initial post would be nice. Kinda the "before" pics as your car changes.

j.
Thu Oct 09, 2008 9:21 pm
Just click the link, in the gallery on my homepage are a lot of shots.

I took it for a longer drive yesterday and noticed that the clutch rattles louder than on disengagment, which is normal for multiplate clutches, when I lift my foot from the throttle.
Is that normal too?
Mon Oct 27, 2008 12:39 pm
I've never run a multiplate myself. There's one or two guys that are testing them out on supraforums, but they are waiting on reviews as well.

Re: the noise, you might want to ask over on supraforums or maybe evolutionm since they have a lot more experience with multiplate clutches.

I have hopes for this clutch as a cheaper alternative to a carbon-carbon tilton.

J.
Wed Oct 29, 2008 7:09 pm
Till now it's great.
The noise is acceptable for me (it's quite funny to watch people when you sit at a red light
).
I've changed the front engine mount back from the C-One to the OEM to minimize vibrations but haven't been on the highway to test if the killing hum is bearable now...
Still no exhaust gas suction unit at the new dynojet of a friend so the Haltech still isn't dyno mapped.
Fri Oct 31, 2008 12:18 am
That is a Serious Clutch for a Serious Car.
Where do you plan to go with hp ?
Regards;
Sun Nov 02, 2008 4:03 pm
320PS now when the Haltech is tuned, more when the pistons break and I have to do the engine.
Tue Nov 18, 2008 4:57 am
thanks for taking more pics of your car. I found one of the pics very useful.

Laramie
Wed Nov 19, 2008 7:30 pm
I was finally on the DynoJet of a friend last friday and my tuner finished the mapping...six month late because the OEM clutch started to slip above 1.0bar. ;-(
This is the dynochart from the Maha dyno last year (i've created the graph from the ~1000 values in OpenOffice):
This is the dynochart from last friday:
As you can see the turbo spools about 500rpm earlier thanks to the sharper mapping and boost control (with the stock VSV valve) which is the most noticeable difference to the stock ECU.
The torque stays up longer too and doesn't drop immediatly after the peak.