right, been floating about this forum for a few years now, dont post much and when i do its because im being an idiot!! i picked up my 93 jdm gt4 around 4 years ago, completely stock apart from a hks filter and a set of horrible 18 inch rims
sorry for the quatity, there pretty much all fone pics
the first thing i did was make a photoshop up of how i wanted it to look lol
when i first had it i was VERY disapointed with the performance, couldnt pull on a 3sge fwd uk celica!! so i got a boost gauge and mbc.
the gauge read 3psi!!! so i turned the boost up with the mbc and could only get it to 4psi!
a bit of reading and silly questions on here and it was diagnosed as a blocked cat, so i ordered a xspower dp.
installing it was the biggest job i had ever done on a car and took me the best part of a day! on the test drive i hit fuel cut
over the next year or so i got a motoria 3 inch exhaust, managed to swap the shitty wheels for some rough 16inch oz chronos, a ct20b and the top part of a CS chargecooler. i used a afco upgraded chargecooler rad for a mustang svt cobra for the heat exchanger and a blitz ss bov (well two, both broke haha)
a few months after running just under a bar of boost the HG gave up, typically i blamed everything else, the thermostat wasnt too healthy and the rad blew up pressure testing it!! havent got many pics from the HG job, typical stuff though, fitted it with a cometic 1.4mm gasket
the mess lol
some where around this time i got into a little crash, nice dent in front wing and very minor damage to the bumper, the perfect time to get a CS bumper!! sadly it was my first attempt at painting car parts so it went a bit wrong, the wing was and still is good, but the bumper started flacking a few months after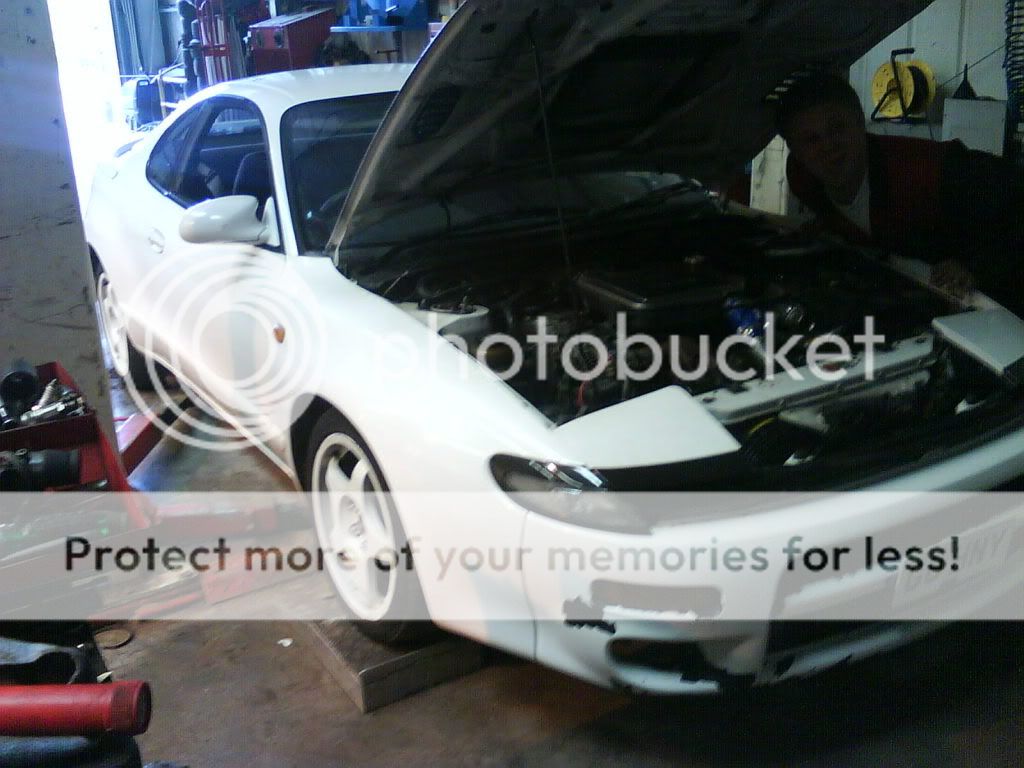 a few months later someone else decided to drive into the side of it!!
not looking to good
took this as a good time to redo the crappy paint on the bumper and give the chronos a mild referb
Club Member
Posts: 153
Joined: Mon Mar 12, 2007 7:42 pm
---
got myself a AEM eugo wideband in the car to keep an eye on afr's and pick up a beeR ecu, which is pretty much the same as a blitz acess apart from it has a 8500rpm limiter!!! which i didnt find out about till later.
the car was running healthy at 1.2 bar for over a year, seemed quicker than it should and was more than a fair match for sti's and fq320's
i picked up a hsk vpc to get rid of the afm, but it didnt seem to agree with the car, the chatter from the turbo was awesome though!!
around the time the vpc came back off, the engine starting having issues, funny noises from the engine on boost and it seemed to be getting hot. i decided the engine had chewed its ringlands and needed rebuilding!! got hold of a full engine with ring damage to rebuild
this was a fairly easy way to drop the engine, although not a easy as when we did my mates clutch in his st205, we used a jcb instead of the red fork lift thingy!! it took us a day to drop the engine and swap everything over, and a few hours the next day to get it back in. although it took a bit longer to get it running propperly lol
so this engine is a gen2 3s, 86.5 bore, wossner low comp 8/1 pistons, arp head, main rod and flywheel bolts, single plate ogura cluch and flywheel (niosy as HELL
) tte head gasket, im sure theres more, ill edit when i remember lol
old engine out
new engine it!!!
Last edited by
hnygt4
on Mon Feb 15, 2010 11:44 pm, edited 1 time in total.
Club Member
Posts: 153
Joined: Mon Mar 12, 2007 7:42 pm
---
i may have missed some parts out, but now the spec of the car is; 8/1 comp bottom end, wossner pistons, arp everything, hks 256 cams, ogura noisy ass clutch, ct20b 3inch turbo back, hybrid CS, svt cobra chargecooler, aem wideband, 16 oz chronos, disables tvis and vsv, air con removed, oh year and Cone coilovers. im on standard ecu and 1bar at the moment, not going to risk it on this engine, going to wait untill its got a propper turbo and management this time rather than just stuffing loads off boost into it blind.
next mods are, CS bonnet (got, needs paint) and bumper support bar
then either a gt2876, td06 20g or holset hy35 turbo, fmic or big cc, ecu and injectors. still indecided on if i want a stripped interiour to save weight in my DD, prob wont make much difference anyway!
got a strange problem, my blitz ss wont work, the piston moves fine and vac pulls it open when i tested it off the car
i did pick up a fake hks one off ebay, worked ok bit did leak slightly, so im currently running a baileys, which everone hates but has been the best one iv had!!
so thats a brief catchup and i plan to keep this updated from now on of my fck ups haha
Club Member
Posts: 153
Joined: Mon Mar 12, 2007 7:42 pm
---
some pics of the four and its new friends
btw, i swear i was the first person i know to have a white jap car!!!
Club Member
Posts: 153
Joined: Mon Mar 12, 2007 7:42 pm
---
Very nice man! I daily drive my gt four... Kinda wishing i didn't lol. I'll be watching this thread!
'94 ST205 GT-FOUR WRC
13.3 @ 101MPH
Club Member
Posts: 807
Joined: Mon Jan 14, 2008 11:44 pm
Location: Kitchener, Ontario, Canada
---
btw, i swear i was the first person i know to have a white jap car!!!
me too
widebodys look sweet in white
>> and your car has come along way
ST165 turbo 4

WD


ST185 GT

-FOUR

RC

Carlos Sainz Limited Edition 825•5000


ST185 turbo 4

WD

Carlos Sainz Limited Edition 2541•5000
Established Member
Posts: 1524
Images: 0
Joined: Sun Jan 01, 2006 10:11 pm
Location: United Kingdom
---
Wow nice work you did there.
I also daily drive my white 165. Its the most high maintenance daily driver I have ever had lol. Its sooo worth it though.
Keep up the good work
Red st165 - Garage Queen turned wannabe track rat
White st165 - slapping back together and hoping for the best
Black st165 - gone
2011 FA5 - Family Truckster
Established Member
Posts: 2362
Images: 2
Joined: Sat May 14, 2005 4:09 pm
Location: Chicago, IL
---
i love the title lol!
nice work man! keep it up! and keep posting pics
GTFour God
Posts: 3640
Joined: Wed May 23, 2007 3:54 pm
---
thanks for the comments guys
i wouldnt mind this engine holding together long enough to see a real turbo and real power, so my next mods are all going to be cooling and oil related. i was tempted to pick up a asi rad off ebay to go with my new trd rad cap, but from doing lots of reading i think im also goin to try to put a swirl pot and header tank in too, as well as a air/oil cooler and relocate the oil filter. the abay oil cooler kits dont inspire confidence, and dont seem to have thermostats, theres some good mocal cooler kits on thinkauto.com, but am wondering where everyone else got theirs from?
also im guessing ebay cant go too wrong with a simple swirl pot. . . can it?
oh and where is a good place to look for water temp gauge, and oil temp and pressure, iv found some decent looking ones on ebay with blue digital display, remind me of innovitive wideband lol, but again, is it safe to trust ebay for this kinda thing?
oh and any pics of these gauges mounted would be cool, as iv already got boost and wideband on the A pillar and a double din dvd so need to find somewhere where they dont look all boyracer/ricer and out of place!!
Club Member
Posts: 153
Joined: Mon Mar 12, 2007 7:42 pm
---
well i think its about time i did a little update on this, the car stopped being a crap dd in 2011, was retired to rotting on the drive for a year, then brought back to life for a year only to be retired again and still isnt on the road. but im working on this so posting this up to inspire myself as well as show what the cars been doin!!
ill try to show what i did with it in 2011.
basically i moved house and got a cheap dd as a temporary car and ended up driving that pos for a few months and somehow managing to swap it for a pretty tidy st202!!! to be fair that was a lovely car and gave mk5 golf gti's a good run!!
thankfully i decided to tidy the gt4 up and get it back on the road.
mosty just maintenance to be honest so nothing exciting to show but i did paint and tidy the engine bay up.
painted pretty much everything i could reach and mask up, moved the battery to the boot and made a straight intake
old pic but basically what it looked like;
and some paint and polish
replaced the stock bar with a rc ally bar
actually used it too! couple pics from a local honda meet, overtaking a load of racing hondas with a s15 silvia was fun!!
was back as the dd for a year then i got a new job which was alot further away and uk fuel prices meant it was just too expensive to drive to work everyday, and there is some nice roads to blast down and i just dont have the self restraint not to give it some!! so it came off the road, had a absolute sitbox of a civic coupe, ek shape, then a vw passat tdi.
back to the celica, last exmas i decided to pull it into the garage and do some work. . . so i tool all the suspension off the front end, polybushed the arms. also cleaned and painted the arms and stuff for a bit of rust protection
the shocks in my C-one coilovers were shot and thankfully gaz shocks came to the rescue and custom made me some shocks that fit in the coilover housing for an amazing price, any UK guys i would recommend them!
luckily C-ones come apart and inserts can be changed
also picked up a set of st205 calipers and scooby 325mm discs from an 04 model i think.
shot blasted
painted
far from a direct fit, but a friend thinks he can make a suitable bracket
no chance of the brakes fitting under the 16" cronos so i found a set of 17x8 lenso d1R's, not the best wheel i know but cheap and i thought they would suit the car painted white.
they were black and red and had some damage, one needed welding because of a deep scrape
so i set about sorting the wheels out
i think they came out pretty well for my first proper wheel refurb
an engineer friend was given a hub, disc and caliper to design some brackets to fit the brakes, sadly due to being busy with work and alot of projects he hasnt quite finished designing them, but i have got an engineering firm with cnc machines capable of making them on standby, maybe if there was interest for more he might be tempted to hurry up???? ha
after a year in the garage with no suspension my housemates have decided im taking the piss with the garage, one of thems now got a s14 200sx so needs the garage for its weekly engine changes haha silly datsun!!
so yesterday i went to the garage and put it all together
got it all done in a few hours and drove it out of the garage, sadly on standard shit brakes, front coilovers as low as they will go too just for shits and giggles.
after a year in the garage, which seems to have become the drunk people smoking are its picked up alot of marks on the paint, oil, rubbed in dirt and stuff, 2 washes later and its still stinking so got the cutting compound out, only done one side so far because the other side need a wing painting and a dent pulling out because my lovely little sister decided to kick it when she was drunk
shes paying for repairs so whatever
so thats pretty much where im at now with it, not back on the road yet thought. my plans first are to take the rear subframe off, completey de rust the underside, because i want to keep it forever!!
redo all the rear end bushes, and input on solid or poly would be great!
its a jdm 93, so should it have a torsen? if not i want to install one as well as maybe a st205 subframe or clean and paint mine, redo brake lines, st205 rear brakes then start on the bodywork. my housemate is a painter so once he owes me a couple of favours im going to lock him in the garage until it looks brand spanking new!
then start on the engine. not going to talk crap about x amount of power but do want to take full advantage of its forged pistons! hopefully a powerful but responsive engine, focussing on torque more than peak power, thinking maybe a old but strong holset hx35?
Club Member
Posts: 153
Joined: Mon Mar 12, 2007 7:42 pm
---
---
Who is online
Users browsing this forum: MacGyver and 3 guests