Got my car back last week. Can not stress how happy I am with the work and turnaround EMS Powered did for me. They've opened a new shop here in town and I was first to get my car in there and try them out. Worked out perfectly, seeing how I was being lazy and had no time.
Full Tbelt/H20 pump/seals, HFH service, new cams, injectors, Custom Welding: catch can, intake, reservoirs, brackets, FMIC piping/ clocked turbo, 3rd gen EFI installed (MR2 ECU, IAC valve vented with filter, IAT sensor in intake, BERK MAT @ CS injector, BERK Harness, 540cc injectors, 3rd gen MAP, ignitor and cams).
These guys went above and beyond-including fresh compression test #s, engine bay condensing, Powder coated valve cover, etc, etc..
Compression tested at 167 across the board!!!
I know some people bag on the 3rd gen EFI conversion but with the cams the car really runs like a brand new car. I could not be happier. I know people also complein about the car falling flat over 5k RPMs, I don't feel that and it's very rare I spend much time over 5k rpms anyway. The ct20b shows to be hitting 17psi and holding all the way to about 6k+ which is still much later than where I normally shift.
Now I just need some paint on the RC bumper and hood (if I keep it)....
Before: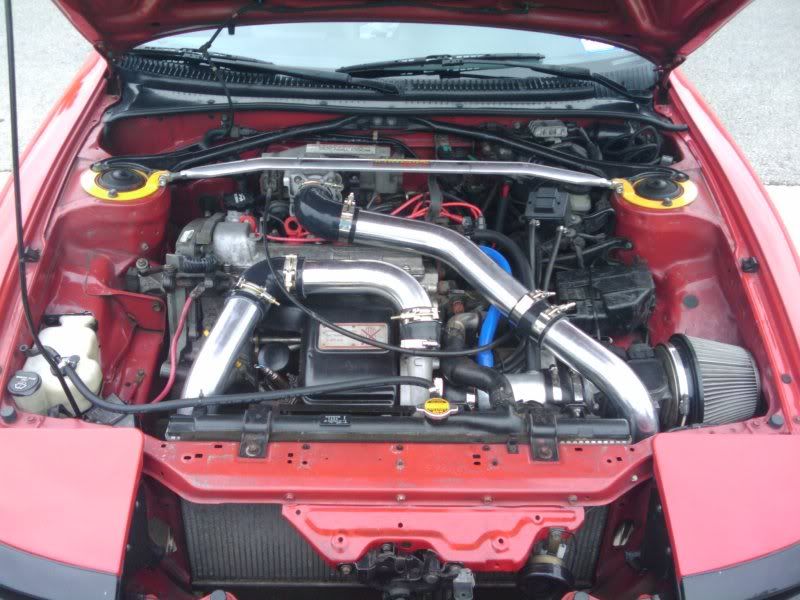 After