Got some work done tonight in prep to separate the engine and tranny.
Can I claim this as "weight reduction" ? Pile of junk is about 5 times larger after i finished.
Engine harness out of the car, going to re-wrap it
Fuel rail, PS pump, bunch of misc brackets and stuff off the engine
Club Member
Posts: 155
Joined: Fri Nov 19, 2010 3:36 pm
---
Before and after shot before I cleaned the other arm. There going to get a bath in a few different things then a nice coat of paint. I think im going to go with paint because its going to be impossible for me to clean these 100% without a chem bath or a sandblaster.
Club Member
Posts: 155
Joined: Fri Nov 19, 2010 3:36 pm
---
Engine and tranny are separated! I didn't even have to pull it off silo method! When pulling we noticed some signs that make me believe the transmission was taken out and worked on sometime in the past, when that was I have no idea as the car has almost 170k miles. The casing was definitely cracked as it had all new sealer and Loctite on some bolts (not to mention some were not torqued down correctly and I unscrewed them with my hand, no breaking required, yes bolts that connected the block to the transmission LOL). Engine is also now on the stand and slightly worked on a bit, we ran into a snag on the head bolts as I don't have the 12 spline hex socket to take them off (will be grabbing one hopefully today).
MOAR PICS!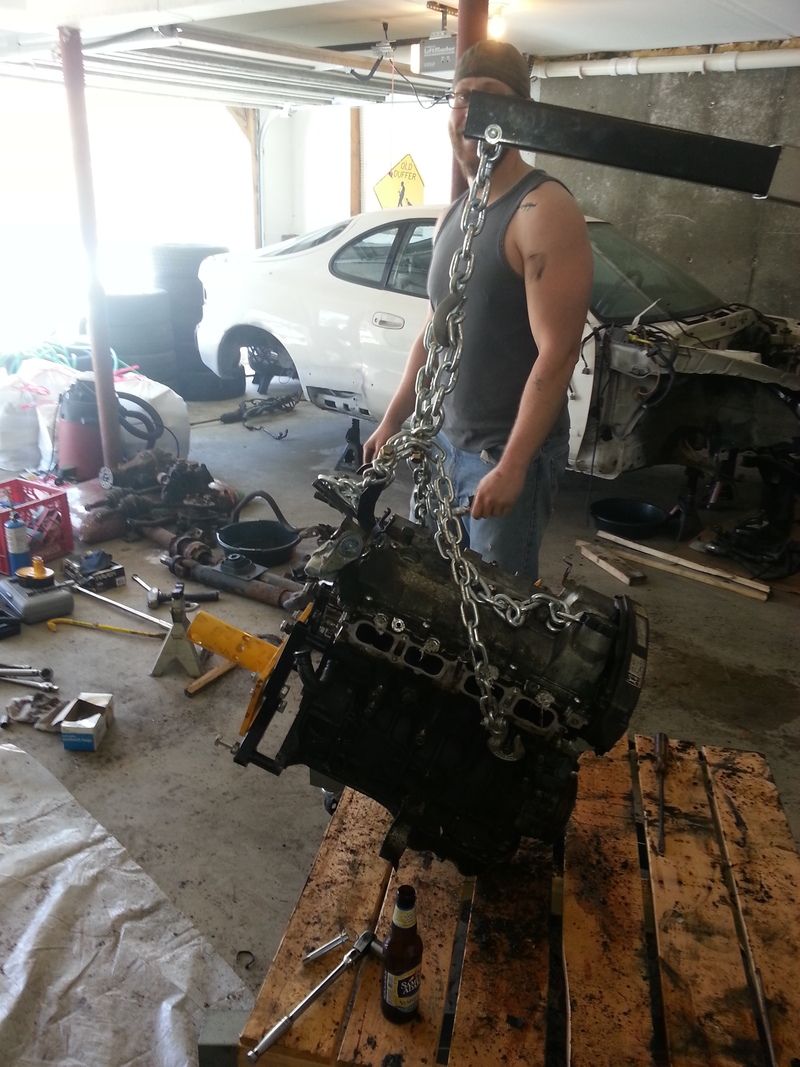 Club Member
Posts: 155
Joined: Fri Nov 19, 2010 3:36 pm
---
Does anyone have any or can take any images of the rear quarter panel infront of the wheel well and behind the doors without any side skirts on or the little plastic stock skirt thing on? I have nothing left on this thing to reference to rebuild the new metal. Thanks in advance!
Club Member
Posts: 155
Joined: Fri Nov 19, 2010 3:36 pm
---
The celica will live! Just finalized a deal for a rust free body to use all our parts in (with a st205 rear end)! Will be picking it up next weekend and the parts swap over will begin.

That pretty much makes the need to do list:
Rebuild engine
Rebuild Transmission
Rebuild calipers
Reassemble the whole car

Still alot of man hours but with the body taken care of I can safely say im saving myself probably over 200+ man hours on the body repair alone. I will be keeping the 92 as a parts car so we can make sure this one (its a 93!) stays on the road for a very very long time.
Club Member
Posts: 155
Joined: Fri Nov 19, 2010 3:36 pm
---
Congrats man, that must make you feel a whole lot better. It's definitely much easier to start with a good body.
Now you just have to make sure it doesn't get rusty. Lots of oil inside.
GTFour God
Posts: 4681
Joined: Mon Aug 09, 2004 9:04 am
Location: Ma
---
it will be getting a nice full under coat to protect and an oiling after EVERYWHERE! I dont plan on driving it in the snow / salt / or maybe even rain once its all completed so shouldnt have to worry too much. Also will be getting a garage spot all to its own.
Club Member
Posts: 155
Joined: Fri Nov 19, 2010 3:36 pm
---
2003 S2000
1985 300TD
Gold GTfour God
Posts: 6443
Joined: Tue Aug 17, 2004 4:30 am
Location: I live in a garage.
---
had to man handle it but the turbo finally came off the exhaust manifold with a little persuasion. So thats all ready to be rebuilt, considering looking into aftermarket exhaust manifolds to replace the stock one or I might just get this one ceramic coated or something. Anyone know of any decent aftermarket options that dont cost a arm and a leg and are also not ebay junkers?
Club Member
Posts: 155
Joined: Fri Nov 19, 2010 3:36 pm
---
Cleaned up all the engine mounts/ tranny mounts and got some 3M urethane to do a solid mount fill. Lots of updates and work to come after this weekend when I get the shell.

Also picking up a RC transmission, full nearly mint condition interior from the Mr.Towels himself. Tons of other small bits an parts, I will make sure to post all the progress.
Club Member
Posts: 155
Joined: Fri Nov 19, 2010 3:36 pm
---
Did 1/2 the reconditioning on the engine bay wiring harness. Re-wrapped everything with new tape. Only found 1 break in wires so far that I will have to fix, looks like i may have damaged it coming out or something. They are really small cuts and not all the way but ill be soldering and shrink wrapping it to make sure.
Club Member
Posts: 155
Joined: Fri Nov 19, 2010 3:36 pm
---
If I end up getting rid of all my gen 2 stuff I have a really nice cast iron toyomoto t3/4 manifold with a 2 bolt 38mm external port. It's the same shape as stock for the most part. Congrats on the car, it looked realllllllllly clean!'
90 ST185~205
04 Tundra V6 5spd 2wd
TOYOTA JUNKIE
Club Member
Posts: 250
Joined: Wed Aug 01, 2012 12:33 am
Location: Windham, Maine
---
---
Who is online
Users browsing this forum: No registered users and 1 guest