Hello everyone,
I just saw I posted to the wrong forum.....oops (sorry)
I just recently brought home (Texas to WV) a 1990 Alltrac that I'm pretty excited to finally have as part of the family. I bought the car from a forum member, Don, who was the second owner and aside from the wheels, is entirely stock. The car has been well cared for and I'd like to keep it intact.
I'm hoping to keep the car pretty stock and focus on wear items that may need attention after 21 years...and for the moment have an order for struts, mounts, balljoints (to start).
my list of "little things"
* cup holder doesn't lock closed
* changing battery in key fob ...didn't help, still no love
* hatch struts are a little weak
* front strut mounts showing age / dry rot
* some rattle/clunking in left front at low speed going over uneven surfaces
* paint is a little pink and needs some TLC
I'd appreciate any suggestions or pointers to watch out for!
Ken
Club Member
Posts: 30
Joined: Sat Oct 29, 2011 7:23 pm
Location: WV
---
Your on the right track. The paint you can polish back but will require lots of wax to keep it for long. Basically anything rubber after that many years needs some love. Take a look in the how to section on restoring plastic parts for the exterior.
Last tip is replace the door seals and hinges if needed. I love that new shutting door feel.
"The more you let life's obstacles slow you down the longer it will take to defeat them."
~Yours truly
GTFour God
Posts: 3480
Joined: Thu Sep 16, 2004 5:45 pm
Location: DFW Texas
---
Beautiful car!

A wet-sanding from a qualified detailer might bring the paint back to life.

Otherwise you're on the right track! Get is going perfect in stock condition and she'll treat you right for a long time.

Post up in the regional forums if you need any help with it.

J.
Caldina powered...
Gold Member
Posts: 2346
Joined: Fri May 13, 2005 4:52 am
Location: Washington, D.C.
---
thanks guys....I'll focus on the wear items, looking forward to when I get to the weatherstripping!
My little shipment from 1st Toyota came in and so I took a half day off today and started into the front. The outer tie-rod looked a little greasy ....
Oh, first bit of treatment to the car:
and her driveway buddy:
Club Member
Posts: 30
Joined: Sat Oct 29, 2011 7:23 pm
Location: WV
---
sooo I met up with Toyota_Todd over Thanksgiving weekend and he hooked me up with some goodies while I drooled over his toys!
The cupholder is fixed thanks for the clip Todd!
bad one on left, good one on right
Club Member
Posts: 30
Joined: Sat Oct 29, 2011 7:23 pm
Location: WV
---
Club Member
Posts: 30
Joined: Sat Oct 29, 2011 7:23 pm
Location: WV
---
Where are you in WV. I live in Texas now but I'm from around Charleston.
Mike
92 All Trac - Daily Driver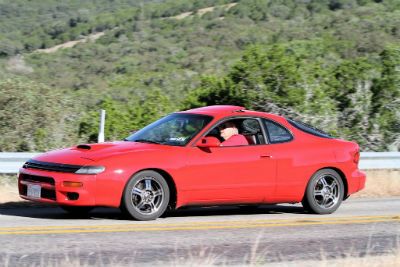 Gold Member
Posts: 1990
Joined: Mon Jun 26, 2006 9:13 pm
Location: Nitro, WV
---
---
Who is online
Users browsing this forum: No registered users and 1 guest