I never thought of putting RPF1 but damn I might need to reconsider cause it looks nice
-1988 Celica Alltrac (white) Sold
-1988 Celica Alltrac (black) new project
-1990 Corolla sedan (sky blue) totalled by my brother
-1990 Celica GT-S hatchback (sky blue) daily driver
•Daniel
Established Member
Posts: 1291
Joined: Mon Feb 28, 2011 4:31 am
Location: NORCAL "Bay Area"
---
Oh , and how trashed are the seats from the red car ?? fronts mainly ...
Rob
1988 ST165 - 78K - Project ---> http://www.alltrac.net/phpBB2/viewtopic.php?f=44&t=31483&start=240
2000 Toyota Tundra SR5 - 165K - DD - Thanks 97JZA80
2007 Toyota Rav4 - 130K - My girls DD
2001 Toyota Camry - 276K - Highway Runner
Established Member
Posts: 2673
Joined: Tue Nov 25, 2008 2:44 am
Location: New Castle , DE
---
Awesome-Trac wrote:I never thought of putting RPF1 but damn I might need to reconsider cause it looks nice
Thanks man!! I have always liked these wheels and I found them for a crazy good deal locally, so I picked them up. They need spacers for the rear, but those are ordered
.
88gt4DE wrote:Oh , and how trashed are the seats from the red car ?? fronts mainly ...
The black leather fronts? The passenger side is unripped but worn pretty thoroughly, but the driver's side has several large rips. I'm going to take them to a local upholstery shop and see how much it would cost for them to recondition both of them. The black rears are in mint condition though, so I'm pumped about that.
Also, I contacted a company on eBay that makes ST185 and ST205 seat covers and they told me they would make front covers for me if I sent them an original cover. They only wanted $170 plus the factory cover, plus shipping. I didn't think that was too bad.
Thanks for the comments! I should have some more regular additions to this now that it's in my garage! I have front and read brakes on the way, as well as a stereo, speakers, turbo timer and boost controller install soon
. Too many parts and not enough time!!
Club Member
Posts: 38
Joined: Thu May 24, 2012 2:44 pm
Location: Indianapolis, IN
---
Hey guys!
Quick update: I threw some new front speakers in yesterday and replaced my heater controls with a spare set. The front speakers were terrible, so I threw some Kicker 3.5" replacements that weren't too expensive, but they sound really great!
Here are the old ones:
And the new ones:
I also threw some cheap 5mm spacers on the rear so that they wouldn't rub anymore: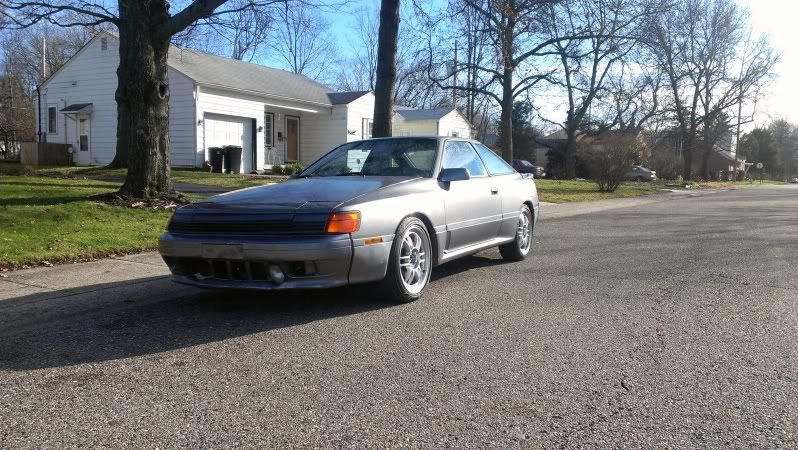 I think 10mm spacers would look better, but they at least don't rub anymore
. The heater controls weren't any better, so it looks like I'll have to solder the connections on the circuit board to see if that helps. I need to take the lower dash apart again to put a new stereo in, so that's not too big of a deal. I have 3 extra heater controls, so hopefully I can fix one of them!
Alright, that's it for today. I have new brakes on the way, but they won't be here for another week. Just some rotors and pads, but I think they'll make a big difference since these have just been sitting for 7 years without use!
If anyone has any suggestions for the heater controls, I'm all ears. I found the write up that someone did on the re-soldering, so that's the plan so far. Any input is greatly appreciated!!
Club Member
Posts: 38
Joined: Thu May 24, 2012 2:44 pm
Location: Indianapolis, IN
---
---
Who is online
Users browsing this forum: Google Adsense [Bot] and 3 guests