Nice work on that bracket, looks good!
1992 Toyota Celica AllTrac
1987 Mazda RX7 Sport
1979 Yamaha G1A, rotary powered with Sachs KM24
1976 Hercules W2000, oil injected
Established Member
Posts: 1013
Images: 9
Joined: Mon May 20, 2013 7:43 am
Location: Eagleville, TN
---
FC Zach wrote:Nice work on that bracket, looks good!
Thank you! It was actually a bit of a pain to get right, but after a test fit it looks like it will work nicely. I'll paint the compressor housing once it's been welded so the turbo will look a bit nicer.
Club Member
Posts: 99
Joined: Fri Mar 19, 2010 7:45 am
---
Over the last week or so I've turned my attention on to the interior. I've stripped the sound deadening, it was a complete pain in the ass, but I'm happy now that it's done. I also removed all of the ventilation gear from behind the dash. This is made a LOT more room and removed a fair bit of weight. I'm going to re do the ECU connections and all of the wiring I've added for the water pump ecu and also remount the ECU in a more accessible location. I want it to look a little more presentable and easier to work on, and with no interior it makes it really easy to get at and loom nicely etc. I will be making the factory fuel pump wiring redundant. The new pump draws more current, and it's an important circuit so I'm going to run a dedicated feed directly from the battery which is in the boot anyway, via a fuse and relay, which will be controlled by the ECU as well as a manual override switch in case I need to run the pump manually for testing etc.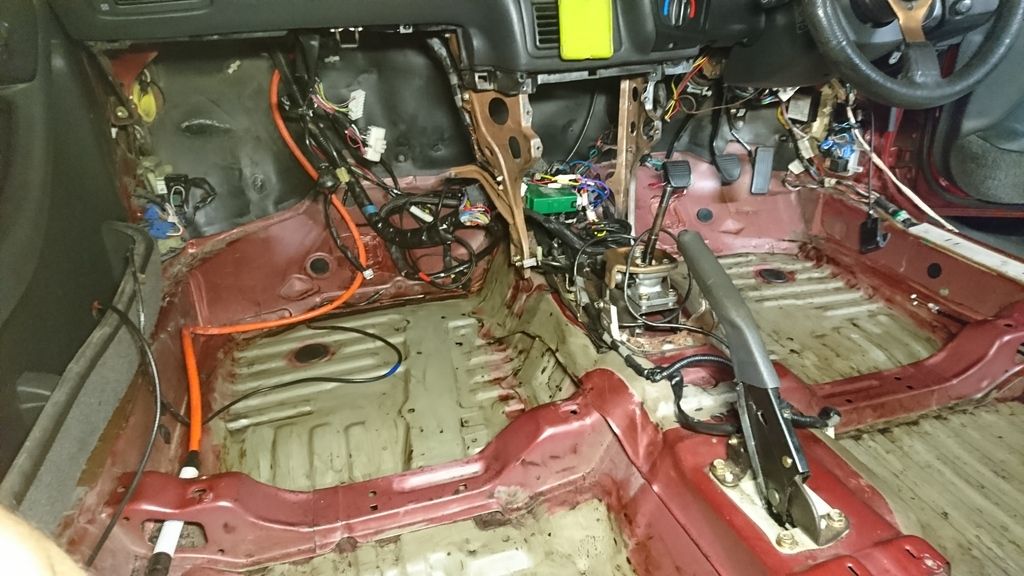 I'm also going to remake the battery bracket in the boot, and weld it directly to the floor, to simplify it and make it easier to work on. Previously it was bolted through the floor and so I needed to drop the tank if I ever needed to tighten the bolts. It's all about trying to simplify things. Once that's done, and the roll cage is done and welded in, I'll be painting the entire floor and cage. At the moment I'm thinking it will be Gunmetal Grey.
I sold my SSR wheels, too. I'm intending on getting some RPF1s, as they are more suited for track work and I can fit big brakes in behind them. Will be buying new tires, too. I'm thinking I'll go with the Federal semis again, but this time the RS-RR model, in a 235/40.
Also in among all the little jobs going on I dropped the rear sub frame. I wanted to do it anyway to make it easier to work on the fuel lines back there, plus it's a good time to get around to installing the XIII Motorsports solid diff bushes I have had sitting in my tool chest.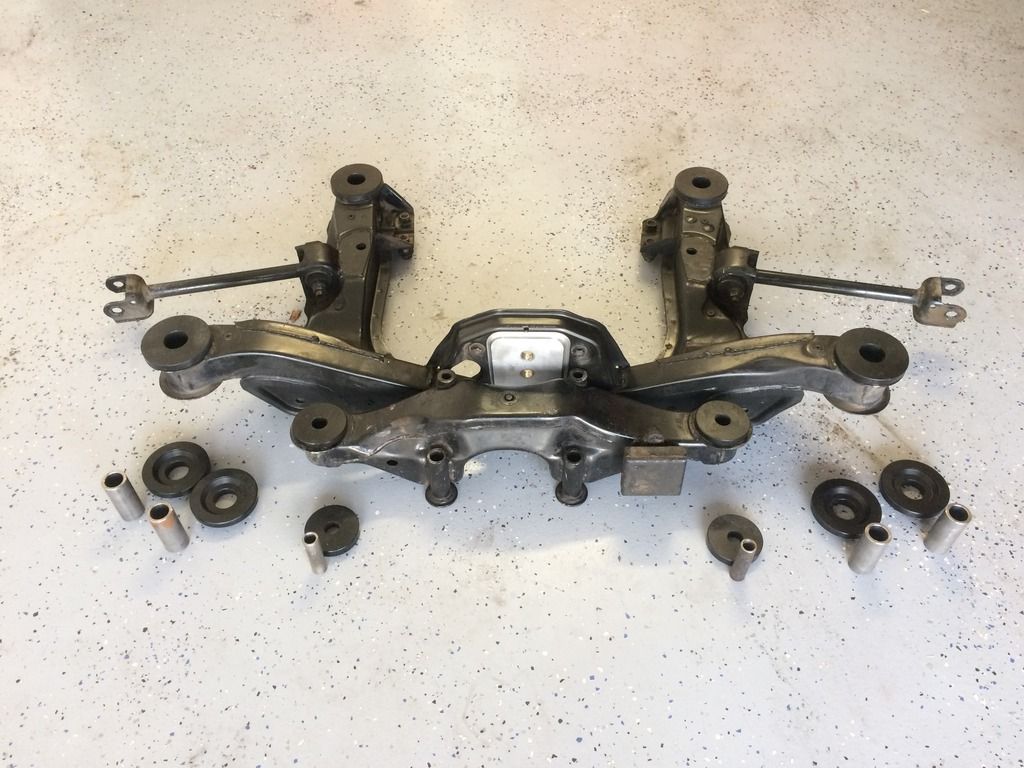 The aluminium diff plate is installed using loctite. The old bushes were really easy to get out, I just used a little heat and pried them out. New ones installed using grease. I'm looking forward to seeing how this feels. I'm also going to drop the drive shaft and give the centre bearings a freshen up.
That brings us up to date.
Club Member
Posts: 99
Joined: Fri Mar 19, 2010 7:45 am
---
Hi all, it's been a while since I last updated here. I've been making process, albeit fairly slow, but some interesting and cool stuff has been done since the last update.
Before I go on, you'll notice my old photos are all broken... You can blame stupid Photobucket for that! I've since started using Flickr but I haven't bothered to move over old photos and fix links...yet...
Anyway since the last update I installed the new Walbro 460L/hr pump in to the tank. I had to modify the bracket a little to make it fit, then get a little creative regarding how to support it in the tank but I think it works well.
The fuel lines at the rear of the car were swapped out with new Gates Barricade hose along with the low pressure ones at the front. For the high pressure lines up front I used Aeroflow 200 Series -6 Teflon braid. There is also a new Haltech flex fuel sensor in the mix as well as a fuel pressure sensor remote mounted via some -3 Teflon braid.
I'll be buying some new injectors to install immediately before it gets retuned on Ethanol, probably ID1050x's. Currently just have the old 740cc's in which will do until it goes on to E85.
When it came time to put the subframe back in with the new solid mounts, I decided I really didn't want to reuse my original toe arms with their horrible cam adjustment. Instead I designed some new arms and my friend Josh drew them up for me in CAD and organised to have them machined. I made the connection point on the subframe static by welding plates over the slots with just the round bolt hole in them.
The other components looked like this after being machined.
After welding the thread inserts to the existing tubes and giving them a bit of paint and a healthy dose of anti seize compound, they end up looking like this, complete with FK JMXL rod PTFE lined rod ends, installed.
There is enough adjustment on them to allow to be shorter than stock right up to longer than ST205 length. I bolted back the subframe and fitted new poly bushes to the inner LCAs and 4x new spherical bearings in the hubs for the arms. The trailing arms already had new poly bushes from last time I was working on the rear. Now every bush and mounting for the suspension in the car is new. The arms all bolted up beautifully, it's all really solid and the on car adjustment for the rear toe is really direct and simple, no more cam adjustment!
I've painted the floor and remounted the fire extinguisher so I can get to it whilst strapped in to my harness. I also tidied up my wiring in the passenger footwell and made a new bracket for the ECU, to make it more accessible. You can also see the new battery location. The wiring for the fuel pump is all new, direct from the battery via a new fused relay block.
The switches you can see are for, from left to right:
Electric Water Pump Manual
Thermo Fan Manual
Fuel Pump Manual
Datalog Enable
When the switches for the manual control are left off they just run automatically as per usual controlled by the ECU and EWP controller.
I have all the little random bits and pieces I need for the intercooler piping now, like weld on bosses for the temp sensor, weld on hose barb for idle air valve hose, couplings and clamps, new BOV with weld on V-Band fitting. I just need to get the aluminium pipework fabricated now.
I also snapped up a set of ST205 rear calipers. I'm not going to use them yet but they are good to have for later. I gave them a freshen up.
That's it for now
Club Member
Posts: 99
Joined: Fri Mar 19, 2010 7:45 am
---
Since the last update:
Finished off the aluminium intake piping
I then made some ducting to suit the new intercooler
Then I focused on how the air leaves the coolers. I figured with the standard bonnet, the scoop forces air in to the engine bay which creates a high pressure zone, limiting air through the radiator. The Group A bonnet is good in this scenario as it has a vent rather than a scoop, but they are incredibly hard to find now days and they demand a premium, as do the carbon fibre versions by the tame you take postage to Australia in to consideration.
I decided to make my own vented bonnet. I sourced a clean (it was actually a brand new, unpainted bonnet) for an ST184. I then bought a universal fibreglass vent then set about attacking the bonnet with an angle grinder. Because I had to cut some of the main reinforcing for the bonnet, I decided I would also add some latches to the bonnet to ensure it stays put at high speed.
I then smoothed in where the vent met the bonnet using filler, and primered it up
I then painted it a metallic charcoal colour with clear coat and this is the result
To tie it in with the rest of the car, I've ordered some vinyl which is a pretty close match to my car's colour. I intend on doing 2 stripes down the bonnet, one wide and one thin, beside each other and running down offset to one side (think AMG GT3 Mercedes).
Pretty happy with the result, I think it will help with temps by being able to draw out the air from the radiator and remove some of the heat from the turbo/exhaust from the engine bay.
I've refitted the bumper etc now, next step is getting the car over to the fabricator to get the 4 point cage installed.
Club Member
Posts: 99
Joined: Fri Mar 19, 2010 7:45 am
---
Since the last update the car has gone to the fabricator and had it's half cage built. Here are some photos from during the build:
And the finished result (after I painted it):
And the racing seat and harness installed:
I'm really happy with how it came out and how it feels now to be strapped in to the racing seat with a proper harness. I'm really looking forward to getting the car back on track and seeing how the extra rigidity feels. On that note, I've also ordered the new track wheels for the car - Enkei PF01 in 17x8 +35, and I intend on running the Nankang AR-1 semi slick on these in 235/40/17. Here is what the wheels look like:
Club Member
Posts: 99
Joined: Fri Mar 19, 2010 7:45 am
---
Looking good. I like your air guide under the FMIC. I plan on doing something similar with the toe adjustment on the rear. I'll be cutting a set of 205 arms though, and adding threaded tubes to them.
Coldiron
92 st185 (205 swap) | 03 350Z Track (sold) | 13 Pilot | 17 Mazda3
www.noritoy.com | noritoy.deviantart.com | http://www.alltrac.net/phpBB2/viewtopic.php?f=44&t=19891
GTSilver Member
Posts: 10395
Images: 7
Joined: Mon Aug 09, 2004 9:12 pm
Location: St Louis Area (IL)
---
Thanks, looking forward to seeing how well it actually helps with cooling when I do some testing.

With the rear arms, I just designed the thread to have adjustment to suit either the 185 or 205. Just adjust to suit.
Club Member
Posts: 99
Joined: Fri Mar 19, 2010 7:45 am
---
---
Who is online
Users browsing this forum: No registered users and 3 guests