*First couple posts have been copied from my local motorclub forum* I picked this celica up from platinum shift(was a customers car in the shop for a blown motor) somewhere around 2004-2005. I swapped the motor and got it on the road, drove it for a very brief period and then sold it to my mom a couple years later she over boosted and blew up the engine again. a new engine was put in (not by me), after this swap the car had many various issues and engine codes from turbo pressure sensor, knock sensor, water temp sensor, as well as none of the running lights or gauge cluster lights working and a nasty oil leak from the oil pump. At this point(late 2008) my parents moved to BC and did not want to bother with the headache of trying to repair everything and get the car through a safety they put it out at our farm to sit and rot, that pretty much is the entire history of the car that I know. Now for some pictures!
How it has sat for the last 5 years, unwanted and abandoned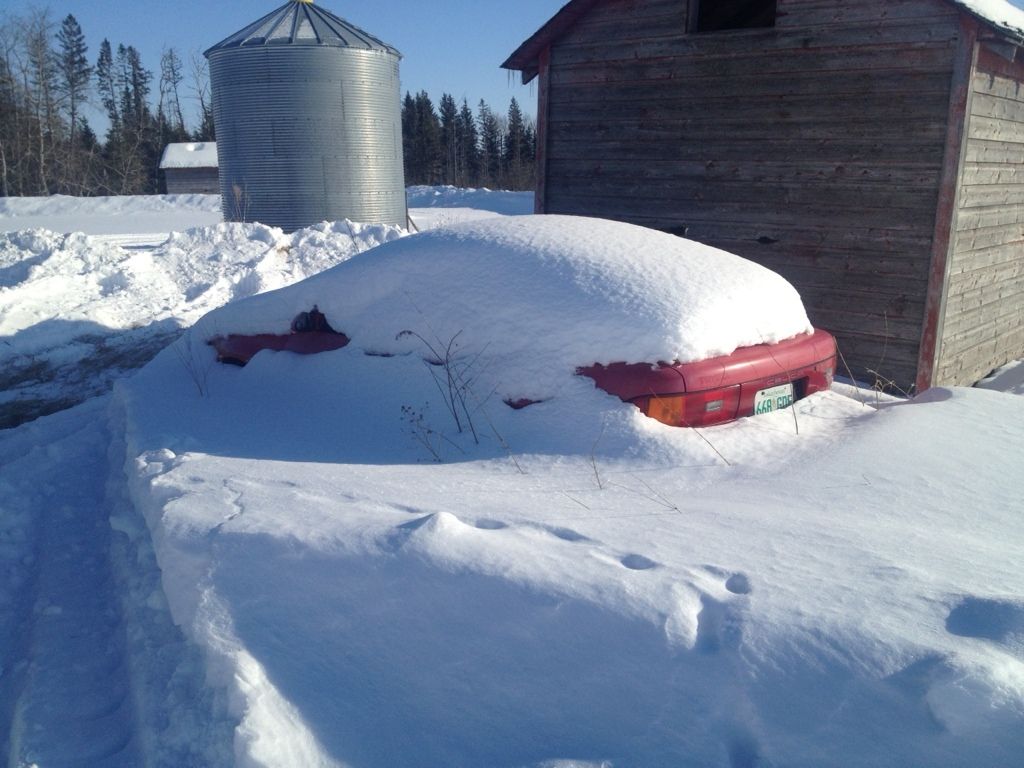 Loaded up and ready to go home
Back in the garage, extremely faded paint
interior removed, drivers floor pan rust repaired and por-15'ed, running light/ cluster light and charging issue all sorted out at this time as well
Carpets and plastics all pressure washed and sound deadening removed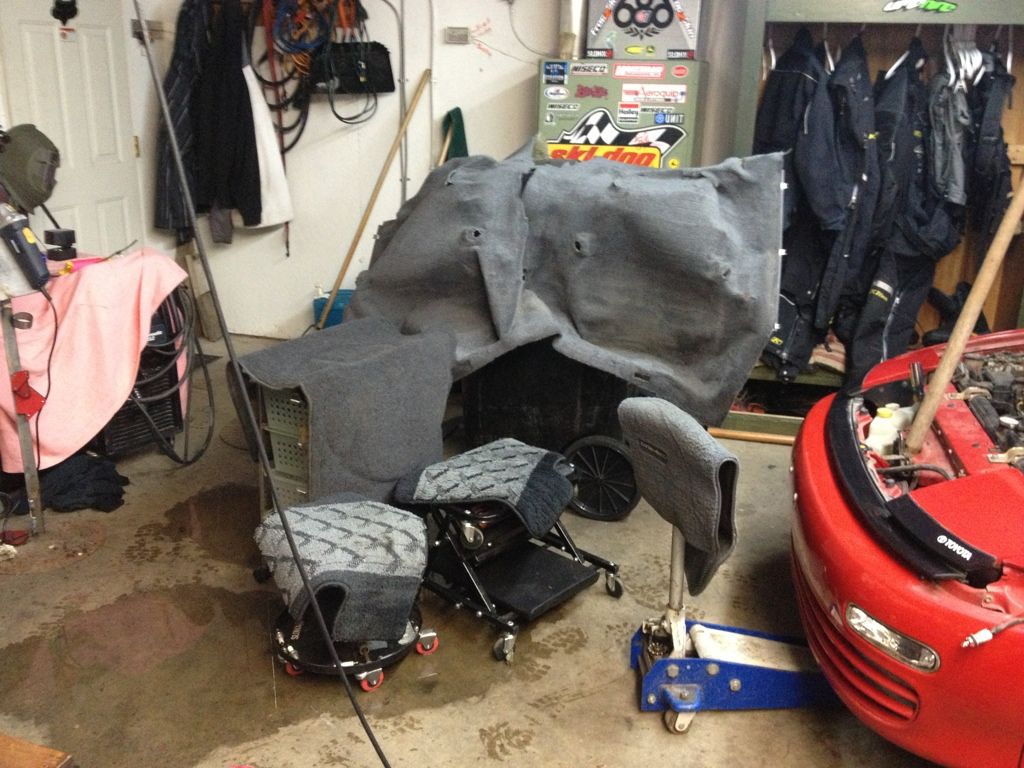 Nice clean carpet re-installed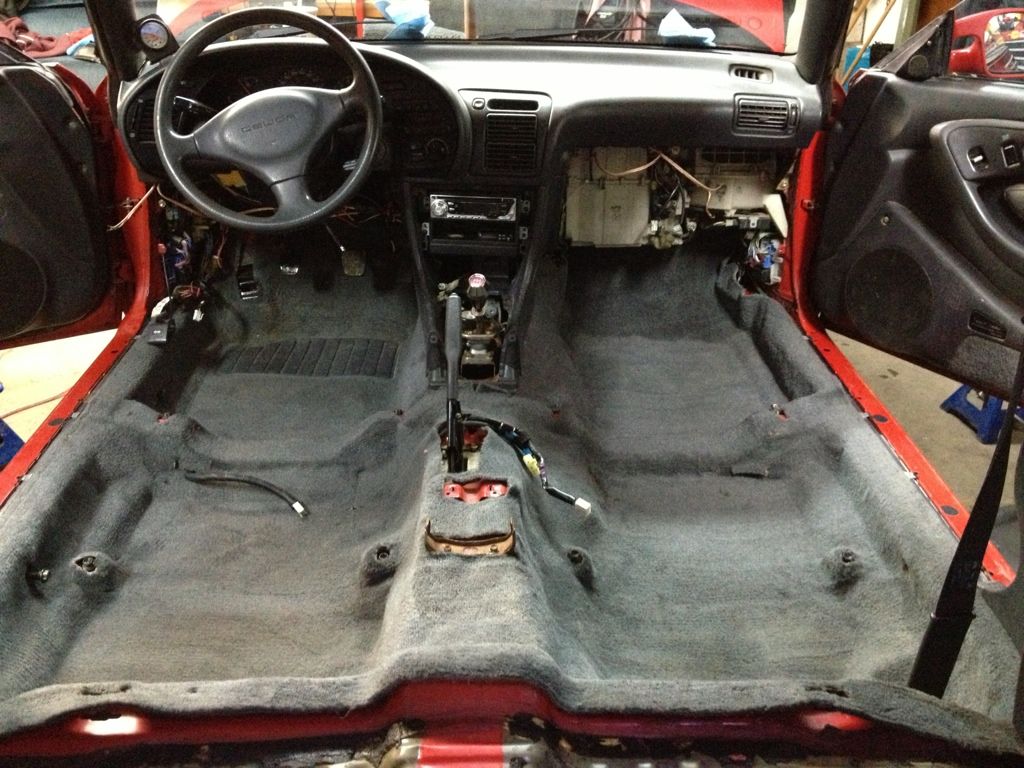 Seats and dash installed
Timing belt covers off and pass side motor mount removed, not much room to work in here!!
Timing belt removed ready for oil pump removal
Newbie
Posts: 18
Joined: Sun Nov 06, 2005 9:12 pm
---
Oil pump removed, cracked seal causing leak visable in top left corner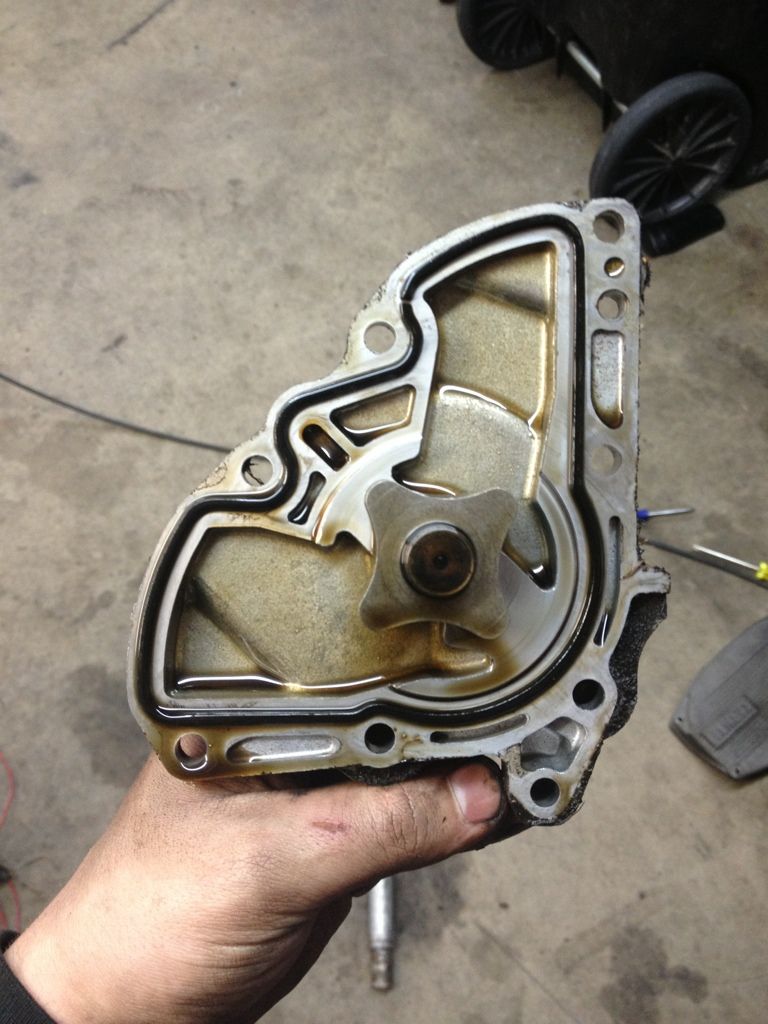 There is still lots to do, but I am not very good at remembering to take pictures
so updates may be sporadic
Newbie
Posts: 18
Joined: Sun Nov 06, 2005 9:12 pm
---
Waiting on the seal for the oil pump, can't get one untill Tuesday. While I am waiting I decided I should relocate the battery from the extremely crowded mess of an engine bay to the trunk
Had to do some surgery on the harness to get the factory battery cables out, ran the new power wire to the starter and a lead into the body harness from there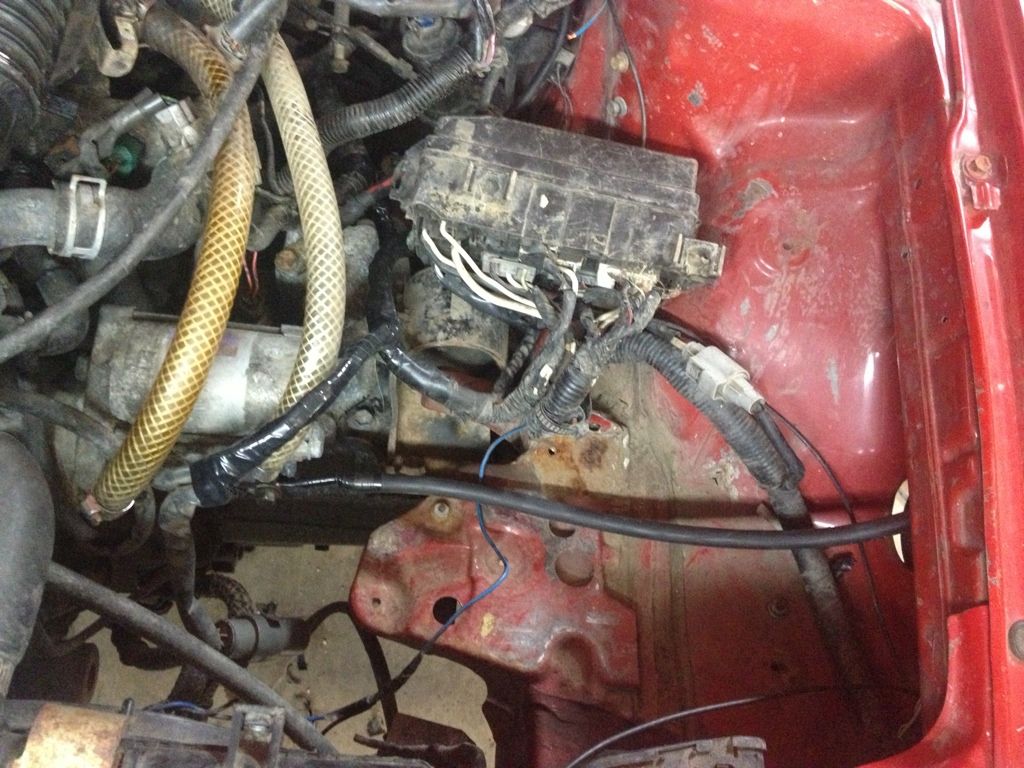 Found a nice unused grommet in the fender well to run power wire into the car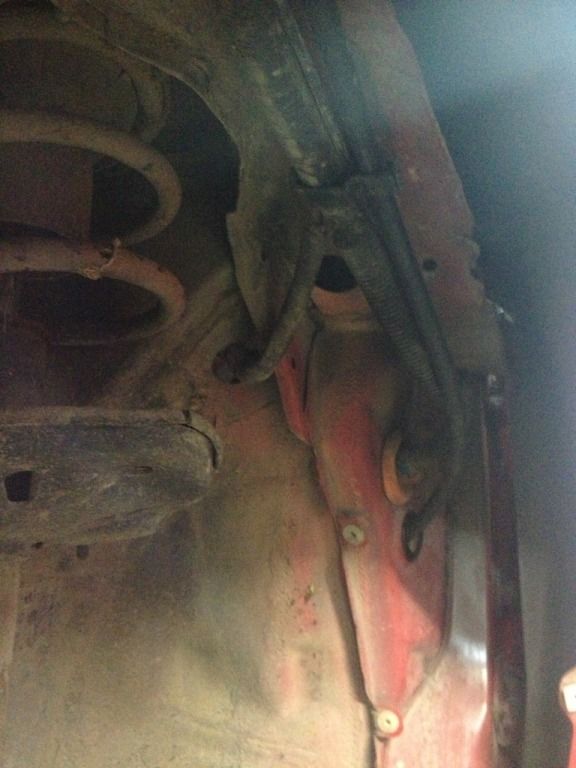 Final install will be over top of trunk carpet, possibly in a different box.
Newbie
Posts: 18
Joined: Sun Nov 06, 2005 9:12 pm
---
Got the oil pump back together and timing belt re-installed, car is running again! No visible leaks anywhere, $12 fix... 5 hours of work
Moving the battery into the trunk allows me to run my intake straight to the fender, eventually I will build an intake box in this corner
Got a 60 durometer urethane putty and filled the front and rear torque mounts as they were extremely sloppy, didn't want to go with any harder of a urethane as this is still going to be a daily driver.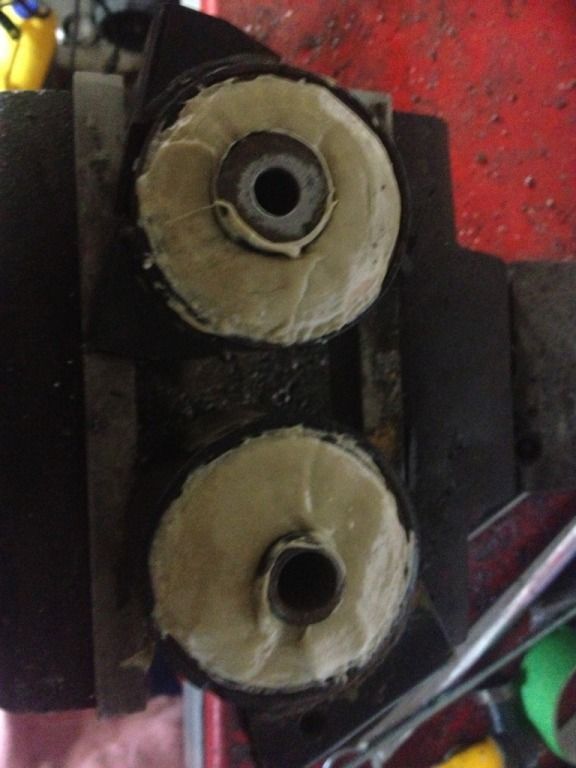 Newbie
Posts: 18
Joined: Sun Nov 06, 2005 9:12 pm
---
Looks like a great start!

Quite surprised you got it running so quickly after 5 years outside!

-Towels
2003 S2000
1985 300TD
Gold GTfour God
Posts: 6443
Joined: Tue Aug 17, 2004 4:30 am
Location: I live in a garage.
---
The moisture and condensation must've been a killer. Good work
'88 ST165...All-Trac

http://www.toyotacelicaonline.com/112rick.htm
'89GTS...Old Faithful
http://www.toyotacelicaonline.com/067rick89gts.htm
GTFour God
Posts: 3773
Joined: Sun Aug 08, 2004 6:28 am
Location: Great White North, Canada
---
Poor car
it seems to have held up extremely well considering how it sat, was it frozen inside a glacier or something
★ 1991
GTFour
RC
~ "Rebel Scum" ★
It's for sale!
http://www.alltrac.net/phpBB2/viewtopic.php?f=64&t=52181
Build thread http://www.alltrac.net/phpBB2/viewtopic.php?f=44&t=44216
GTFour God
Posts: 3938
Images: 0
Joined: Mon Apr 09, 2007 11:29 pm
Location: Kelowna, BC
---
Nice save man, keep it up!
ALLTRAC AT FIRST SIGHT
Established Member
Posts: 2029
Joined: Fri May 05, 2006 1:47 pm
Location: ATX
---
Hey Tyler, Didn't notice 'till now you had a thread on here too. Did you find anything you needed at Brock salvage? There is 2 other 5th gens at Bucks as well if you still need some parts.
Bryan B.
2014 Ford Fiesta ST
1992 Celica GT-Four

1992 Celica GT-Four-Sold
1989 Celica turbo 4WD-Gen III swap, Sold
1988 Celica turbo 4WD-Rotted away
1988 Celica turbo 4WD-Parts
Club Member
Posts: 125
Joined: Sun Aug 08, 2004 11:27 pm
Location: Prince Albert, Sask, Can.
---
---
Who is online
Users browsing this forum: Google Adsense [Bot], pelonbot15 and 3 guests