a log book i'm starting to see how many ST165s are left.

-Ryan
Template below.

Location:

Chassis number:

color/colour:

condition:

specs:

pictures:
Club Member
Posts: 116
Joined: Mon May 02, 2016 2:18 am
---
Location: Oakville, Ontario, Canada

Chassis number: ST165~0002795

Color/Colour: Red/originally black

Condition: I'd call it survivor 6.5-7.5

Specs: All original, tear-away spec, red int, no sunroof, no a/c

Pictures: Non ATM hope to get some nice shots soon


Ryan
Club Member

Posts: 25
Joined: Sun May 01, 2016 10:18 pm
Top
Club Member
Posts: 116
Joined: Mon May 02, 2016 2:18 am
---
Location:California
Chassis number: unavailable at the moment
color/colour: red
condition: 7.5-8
specs: Gen 1/3 hybrid with forged bottom end, 800cc injectors, pump, front mount IC, garrett gt3071r turbo, and hydra nemesis standalone. currently at 318awhp on e85..
pictures:
Last edited by
monkey8oi
on Tue Aug 02, 2016 7:48 pm, edited 1 time in total.
Club Member
Posts: 780
Joined: Tue Aug 31, 2004 5:11 pm
Location: South San Francisco
---
Club Member
Posts: 780
Joined: Tue Aug 31, 2004 5:11 pm
Location: South San Francisco
---
Location: Anchorage Alaska
Color: originally white but now has horrible yellow paint and orange flames. At least it was done well.
Number: 002525
Condition 6 out of 10. Working on that.
Specs: stock 88 celica all trac. Swapping 3rd Gen drive train this winter.
No current pictures I want to put up due to embarrassment.
Edit: here is the ugly paint job. The front also had a car bra thing for years, so the bumper is a bit crunchy. But if you look past the ugly paint you'll see that it was at least sprayed pretty smooth. It will get a white plasti dip job in the future.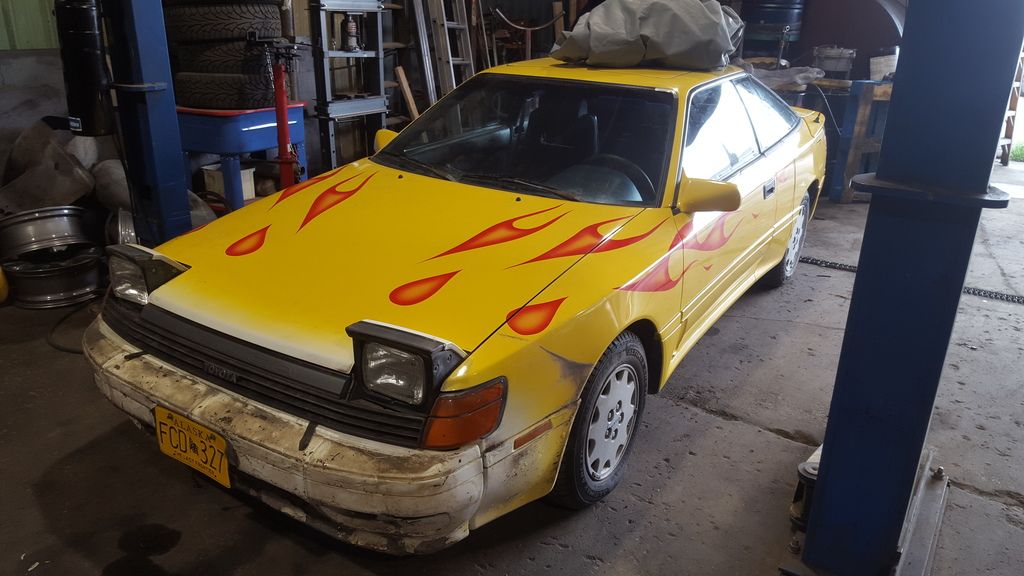 Last edited by
JRWperformance
on Fri Aug 19, 2016 6:36 pm, edited 1 time in total.
88 Celica Alltrac
78 Honda GL1000
04 Volvo S60R (Now Dead)
91 VW Jetta Turbo Diesel
Club Member
Posts: 71
Joined: Mon Apr 11, 2016 7:24 am
---
Location: Ottawa, Ontario, Canada
Chassis number: ST165~0005239
Colour: 040 White/Blue Leather
Condition: Very nice/Original - 8/10
Specs: All original, bone stock, no sunroof, Ice Cold A/C
Right Click "View Image" for full size - Firefox...
Dave MacLaurin
- 1999 Toyota 4Runner SR5 V6 (5mt)
- 1971 Datsun 240Z (Series 1, EFI, 5mt)
- 1972 Toyota Celica ST (4AGE Bluetop, 5mt)
- 1988 Toyota Celica Turbo 4WD
- 1989 Toyota Celica GT-S
Club Member
Posts: 28
Joined: Sun Sep 08, 2013 6:38 pm
Location: Ottawa, Ontario, Canada
---
Two St 165's in Dayton Ohio
condition for both is one rust free but needs a new paint job. The other has bubble rust on right rear on the front of the wheel well. Other than that, it also needs a new paint job.

Names of cars are "The Black" named after the show of The Black Stallion and the other is "Blue"
"The Black" has been modded by brute killer and is currently at his house being put together in N.Y.
The "Blue" has a bearing knock and is waiting for a new complete rebuild this winter. No mod's just back to stock with all damaged part replaced.

Since this is only for St 165's I won't mention the St 185 that is going to Brute Killer as payment for his work on "The Black"


buffalohunter7321
Club Member
Posts: 443
Joined: Thu Jul 10, 2008 10:59 am
Location: Dayton Ohio
---
Location:Hayward California

Chassis number:don't remember but will get it later

color/colour:Black

condition:7 out 10

specs: -1st Gen 3SGTE -326mm "STI rotors"
-Brembo Calipers "Porsche 911"-KO downpipe 2.5in
-CT26A 50Trim 7MGTE Turbo-SSR GT-2 18x8 42 offset
-25mm spacer/adapters-Power by Max neo-chrome luguts
-HKS Blow off valve -ST185 2nd Gen transmission
-JDM Rear Vented Post-facelift tails-Exedy Clutch Kit w/OEM Throwout Bearing
-JDM Folding mirrors -Custom Rear Deck Lid Spoiler
-Quick Release Steering Wheel-Hella H3 Headlight Housing
-Rally Armor Red UR Mud Flaps-Yakima Gutter Roof Rack w/Basket
-Subaru Lamco Boost gauge-Apexi Turbo Timer w/HKS harness
-Megan Racing Coilovers Street series -Cusco Catch Can
-Prius inverter Radiator "water to air setup"
-Hayden power steering cooler-Mishimoto 12" slim fan
-Blox 12" slim fan-Low Temp Thermostat 170 degree
-ASI aluminum Radiator -Energy Front sway bar bushings

pictures:
-1988 Celica Alltrac (white) Sold
-1988 Celica Alltrac (black) new project
-1990 Corolla sedan (sky blue) totalled by my brother
-1990 Celica GT-S hatchback (sky blue) daily driver
•Daniel
Established Member
Posts: 1291
Joined: Mon Feb 28, 2011 4:31 am
Location: NORCAL "Bay Area"
---
Location: Kenai, Alaska

Chassis number:0003436

color/colour: gray hardtop

condition: 8.9/10

specs: 130k on factory gen1 then went down 2013 (30 year old plastic radiator finally popped)
basic run down whats happen
gen 1 with a 3sge head (factory specs) but shimover buckets conversion
gen 1 block fully built
5858 .64 vband turbo
haltech platiuam 1000 (racepak)
ID 1000cc
044 bosch pump
xiiimotorsports soild rear diff kit & motor mount kit
racer x side feed intake
racer x C.O.P & trigger wheel
(hope a C.F. drive shaft)

pictures:



Club Member
Posts: 247
Images: 13
Joined: Fri Oct 23, 2009 9:45 pm
Location: kenai AK
---
Location: Vacaville, California

Chassis number: ST165-0003786

color/colour: Black/sunroof model

condition: 6.3/10

specs:1st gen 3sgte original motor I do not know if motor work was done so far Plan for a gen 4(<---most likely this)or 3 swap when it goes if it doses.
120 amp alternator

Previous owner work
EMUSA intercooler
G reddy BOV
Custom exhaust and header
Battery relocated to trunk (horrible installation)
Wish she was tuned for the BOV
welded rear diff (-_-)
25mm rear spacers (no fender roll -_-)
Stock ct26 but suspicious its from a supra mk3 (exhaust is damn horrible to remove)

Later down the road (waiting install)
2nd gen transmission
st205 rear differential and crossmember


Pictures no pics as of this moment for this but My instagram has some. Its down below.
Instagram: Oddball_8
1988 Celica Alltrac
2004 Mazda Rx8
1990 4X4 Dodge Dakota
Club Member
Posts: 28
Joined: Wed Jun 29, 2016 12:54 am
Location: San Franciso Bay area California
---
---
Who is online
Users browsing this forum: No registered users and 4 guests