Figured I would also post this here as well as not everyone will check the project forum:
This weekend I did my first rallycross with the new alltrac. I think I mentioned before, RallyX and Ice racing are among the main reasons I bought this car. I am impressed with how nimble it is despite the weight and how it feels very much at-home on dirt. It was very easy to get the car to rotate, perhaps too easy as off-throttle oversteer was an issue in some spots of the track. I wish I had installed some better tires to run on though, as the old dry-rotted firehawks were less than spectacular in the dirt. Next event it will be time for some snow tires so I can be a little more competitive and stay in stock class (for now).
Oddly enough, the car got some attention because very few people had seen a 165 before. It was kind of a nice feeling parking next to a *yawn* STi and having people pay attention to the Celica instead. I actually had a few people ask me if it was AWD, despite the obvious all-trac decal on the back and SA (Stock AWD) class on the window. Overall I did alright... This was a very well set-up coarse IMO, just a few wet/rutted spots that were easy to mess up if you got off the line. Later in the day the coarse is run backwards, and it was MUCH faster. It was a 3 hour drive for me so I left before the trophies, but based on comparing times I beat a couple of the WRX's, a DSM and an STi (by 2+ seconds) that were also in the stock AWD class. I could say it was because I had better equipment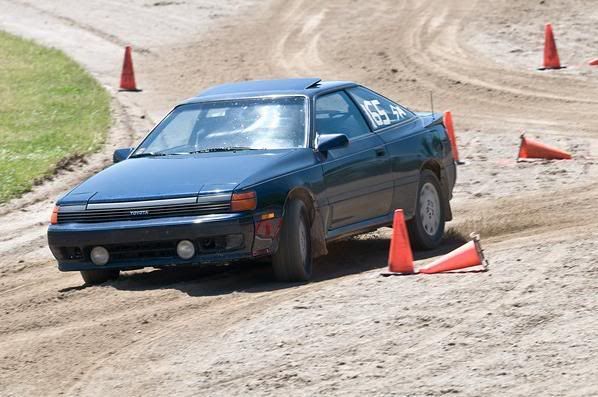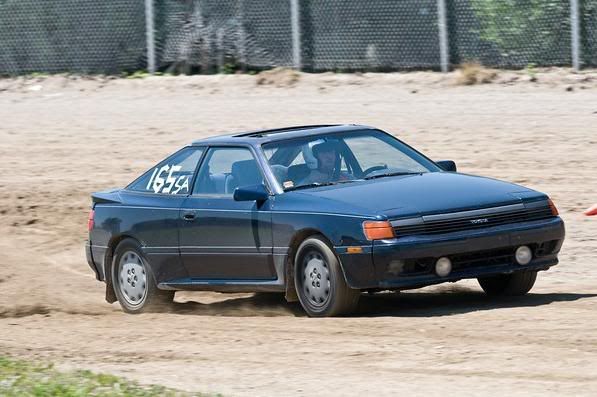 I'm actually very much sideways in this pic:
White 88' ST165 :: Blue 88' ST165
Club Member
Posts: 258
Joined: Sun Oct 14, 2007 3:35 pm
Location: Peoria, IL
---
Hey, cool thread. Looks like fun, nice pics.
'88 ST165...All-Trac

http://www.toyotacelicaonline.com/112rick.htm
'89GTS...Old Faithful
http://www.toyotacelicaonline.com/067rick89gts.htm
GTFour God
Posts: 3773
Joined: Sun Aug 08, 2004 6:28 am
Location: Great White North, Canada
---
granted its not WRC...but your still living my dream!....awesome bro...i love the pics!
GTFour God
Posts: 3640
Joined: Wed May 23, 2007 3:54 pm
---
cant wait till i get to do that in my white one, still a work in progress though.

awsome pics.
Red st165 - Garage Queen turned wannabe track rat
White st165 - slapping back together and hoping for the best
Black st165 - gone
2011 FA5 - Family Truckster
Established Member
Posts: 2362
Images: 2
Joined: Sat May 14, 2005 4:09 pm
Location: Chicago, IL
---
---
Who is online
Users browsing this forum: No registered users and 1 guest