Probably not news to some of the alltrac gurus, but I didn't know Jason Priestley raced an alltrac. I know he raced and had the big crash a few years back, but I had never heard of him in rally.
http://www.specialstage.com/forums/showthread.php?t=31036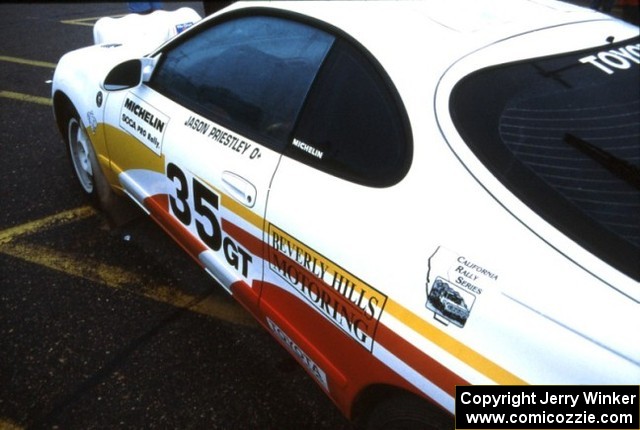 1990 Alltrac -white: Garage Queen

-James
Club Member
Posts: 766
Joined: Sat Sep 01, 2007 1:39 am
Location: British Columbia
---
hmm interesting... on another note, cool site. thanks for the link
-omar
my car doesn't leak oil, it just marks its territory
rally tarmac 1990 st185
GTFour God
Posts: 3025
Joined: Wed Sep 27, 2006 8:34 pm
Location: central coast, ca
---
I just saw that car on a Vh1 show about teen celebs as I was flipping through the channels. They showed him in the driver seat.
Coldiron
92 st185 (205 swap) | 03 350Z Track (sold) | 13 Pilot | 17 Mazda3
www.noritoy.com | noritoy.deviantart.com | http://www.alltrac.net/phpBB2/viewtopic.php?f=44&t=19891
GTSilver Member
Posts: 10396
Images: 7
Joined: Mon Aug 09, 2004 9:12 pm
Location: St Louis Area (IL)
---
haha, those are some great stories to read through
-Avi-
'88 ST-165(Black) - Sitting... Waiting... Quietly... in the garage under 2 inches of dust...
'88 ST-165(grey) - gone to rusty Celica heaven
'91 MKIII Supra - 98% completion!
Gold Member
Posts: 1682
Joined: Mon Aug 09, 2004 12:13 am
Location: Silver Spring, md
---
That's pretty funny. I was there when he wadded his black All-Trac at a rally in Shelton, WA (if memory serves correctly). He never made it into view...
1988 - ST165 - RallyCross #3
1996 Mazda Miata - DD/Track Toy
Club Member
Posts: 165
Joined: Fri Dec 09, 2005 7:37 pm
Location: Vancouver, WA
---
Well whaddya know!
ST185 JDM GT-FOUR RC- "White Trash"
[url=http://imageshack.us][img]http://img231.imageshack.us/img231/8264/dynographsmallstretchedmu9.jpg[/img][/url]
GTFour God
Posts: 3151
Images: 5
Joined: Wed Mar 30, 2005 3:22 pm
Location: Trinidad, W.I.
---
---
Who is online
Users browsing this forum: No registered users and 1 guest