Sandblast Rally is back on March 2nd, 2013 with over 37 cars and another 38 bikes already signed up. Come check out Rally Racing in the woods around Cheraw, SC.
The whole event is on Saturday with night stages and several opportunities to check out the cars and talk to the drivers. Spectating is free and volunteering will get you the best views, a chance to party and hang with the drivers at the awards banquet and more than likely get you some free stuff. You can sign up to volunteer here:
http://NASARallySport.com/nrsdb
The event website with the schedule, entry list and directions is at:
SandBlast Rally - Cheraw, South Carolina
Newbie
Posts: 13
Joined: Fri Aug 26, 2011 10:25 pm
---
I'll be out there again as a course opening car, and czwalga is signed up to compete in his 4wd Celica as well. If you can make it to the Dragon, you can make it to Cheraw. If you volunteer, you are almost guaranteed to get to drive your car on a rally stage...not at speed, but still fun. If you come out, try to get to the service park so you can check out the cars.
A shot of me from last year: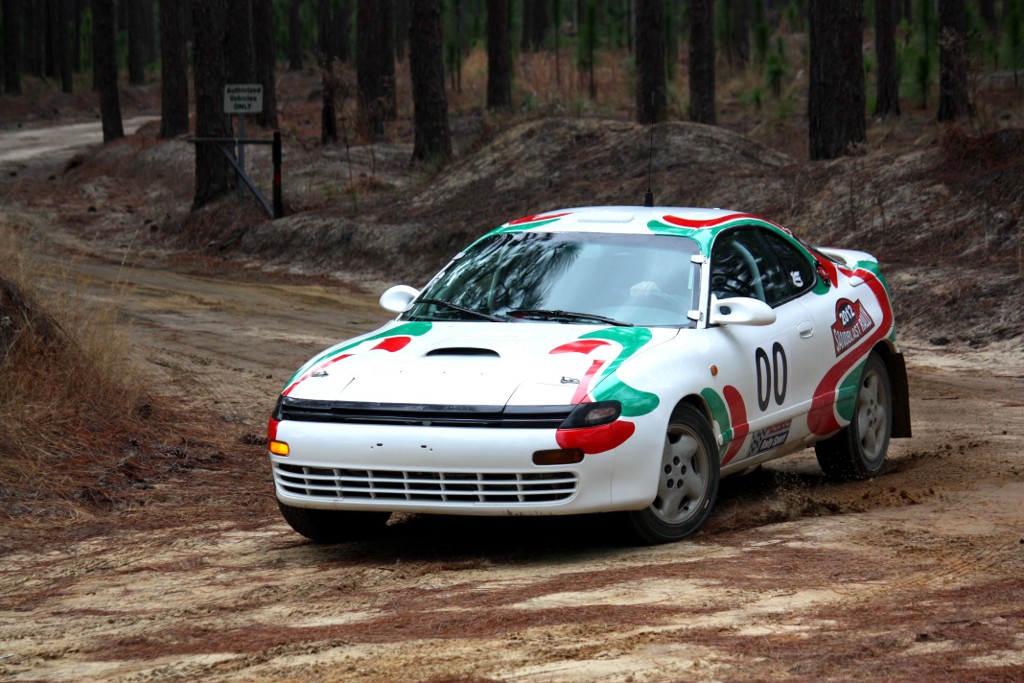 czwalga's car
'90 ST185 Rally Car
'90 GT-S
Club Member
Posts: 56
Joined: Wed Mar 28, 2007 2:50 pm
---
Looks like czwalga may be out with some engine management issues that resurfaced at Sno Drift. Bummed because I still haven't seen the car after it's new paint job/ repair.

The event is looking good and is "sold out" with a reserve of driver and rider on the waiting list, so it will be a full 60 minutes of competitiors to watch.
Newbie
Posts: 13
Joined: Fri Aug 26, 2011 10:25 pm
---
Awesome event!!
Full results with stage scores for cars and bikes are here:
http://www.nasarallysport.com//results/ ... detail.htm
Photo Gallery here:
http://photos.nasarallysport.com/2013SandblastRally
(check Chris Meegan's for some of the best actions shots or give him a follow/ like on FB: @MeeganRallyVideos)
Newbie
Posts: 13
Joined: Fri Aug 26, 2011 10:25 pm
---
---
Who is online
Users browsing this forum: No registered users and 1 guest