I just found a huge boost leak in a totally unexpected site so I thought I would do a writeup to celebrate. Hopefully my idle will return to normal now. Anyway.... boost leaks do not always happen at idle, some only leak when you have positive pressure. Other larger ones will cause a low vacuum idle 10-16 InHg etc. The best way to check for these is to make a leak tester. To do this you will need
1) An air compressor (I picked up a very cheap crappy chinese one brand new, it will be useless for high volume air tools but perfect for this purpose and filling up tyres and painting)
2) A plumbing end cap
3) Some air fittings of your choice- I used nitto, aro is a inferior (IMO) alernative.
4) Couple of hose clamps
5) Some 3" or 2.75" joiners
6) A air compressor hose- I made my own with brake vacuum hose for far less than an off the shelf one. It has a 350psi burst pressure and all you require are 2 barb fittings, some air plumbing tape for the threads, some crappy hose clamps and a male and a female nitto or aro fittings.
Firstly if you have a custom intake assuming it is 3" you will be using all 3" joiners etc. If you are using the stock intake you will have to go to 2.75 to 3" joiners or get everything in 2.75".
So first make your leak tester. Get your 3" or 2.75" plastic end cap ($4 at plumbing store) drill a hole in it to fit your male air compressor fitting in. You should then probably tap threads for the fitting to screw into. I decided against this favouring forcing the fitting in against its will instead. This turned out perfectly oddly enough.
Next get a hose clamp and clamp the joiner to the end cap. Now you can attach it to your air compressor and stick it in one of 2 places. I chose, since I have a different intake, to stick it right on the end where the pod filter goes. This meant that I did not have to remove everything to get to the turbo which is favourable if your intake looks like this mess.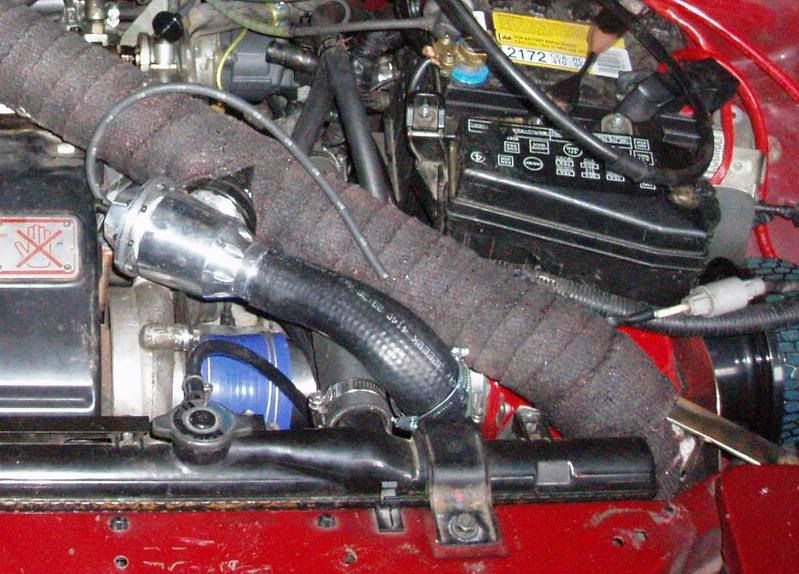 Much easier.
You will however have to remove the TB and PCV lines to the intake. I just hooked the 2 lines together. If you are stock you will have to remove the intake piping as that crappy black filter box will not be airtight.
Now put some air through the system. Probably no more than 20psi. Chuck the air compressor away from the car- out of the garage or down the driveway if it makes too much noise. Listen for leaks, mine was an obvious gushing around my steel intercooler to TB adaptor (the only time I used a non-RVT gasket maker) Feel around all IC joiners. Next bring the crank to top dead centre (to the 0 marker on the lower timing belt cover). This will "seal the engine". Now you can open the TB to find any leaks in the manifold or injectors. You may have to clamp the vac hoses from the TB if they are leaking into the valve cover etc.
Thomas, JDM 90 185, 06 350z
Established Member
Posts: 2909
Joined: Sun Dec 11, 2005 3:01 am
Location: Hamilton, New Zealand
---
I was going to build one of these with a tire valve stem but I like your quick release fitting better.

Good idea. Now to head to home depot so I can finish this car.
Coldiron
92 st185 (205 swap) | 03 350Z Track (sold) | 13 Pilot | 17 Mazda3
www.noritoy.com | noritoy.deviantart.com | http://www.alltrac.net/phpBB2/viewtopic.php?f=44&t=19891
GTSilver Member
Posts: 10395
Images: 7
Joined: Mon Aug 09, 2004 9:12 pm
Location: St Louis Area (IL)
---
I was also considering doing this but tyre valves do not flow very much air compared to these fittings so I was worried that I might not be able to build up enough pressure. Its probably not a problem.

For anyone interested the tester only costs about $6 to make. Saving up for a compressor was a bit different. Everyone with a low vacuum, poor idle, boost isssues should do this. After checking spark plugs, mechanical timing, ignition timing 100 billion (read 5-6) times, boost leak has to be ruled out.
Thomas, JDM 90 185, 06 350z
Established Member
Posts: 2909
Joined: Sun Dec 11, 2005 3:01 am
Location: Hamilton, New Zealand
---
---
Who is online
Users browsing this forum: No registered users and 1 guest