Just incase anyone apart from celica_gtx is interested. I didn't want to relocate to the boot/trunk since I wanted it to be fully usable. So yes you can cram all that shit in there even with a full size battery. I did this a while ago so I tried to find some photo's....
Parts list
Some stainless steel
Some 6-8mm bolts and nuts
Tools required
The normal stuff: socket set, screwdrivers etc
A hacksaw- very important.... and lots of blades
So basically I used two of the original 3 intake mount holes and the bolts which it used with their steel ~10mm spacers with rubber around the outside.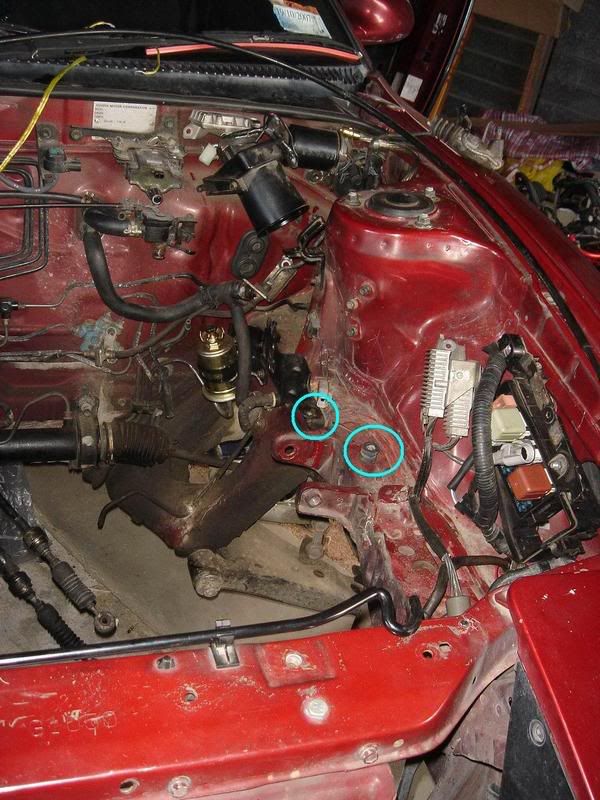 I then took a slap of 3mm stainless steel and cut it out to the desired shape for a battery base with a hacksaw.... yes with a hacksaw.... yes it took ages. Then I drilled a hole in it for the original battery clamp threaded rod. You can see the stainless base on the floor in front of the battery in this photo if you look really hard. I think I was rebuilding the head at the time?
So yeah then absolutely mangle and destroy the factory battery hold down clamp until it looks similar to mine. Use a suspension stud as one anchor point (torqued back down properly of course) and the rod as the other. Then I drilled and bolted a spot for the fuse box. It comes very close to the bonnet/hood but obviously isn't a problem. All original cables etc are long enough and do not need to be altered at all.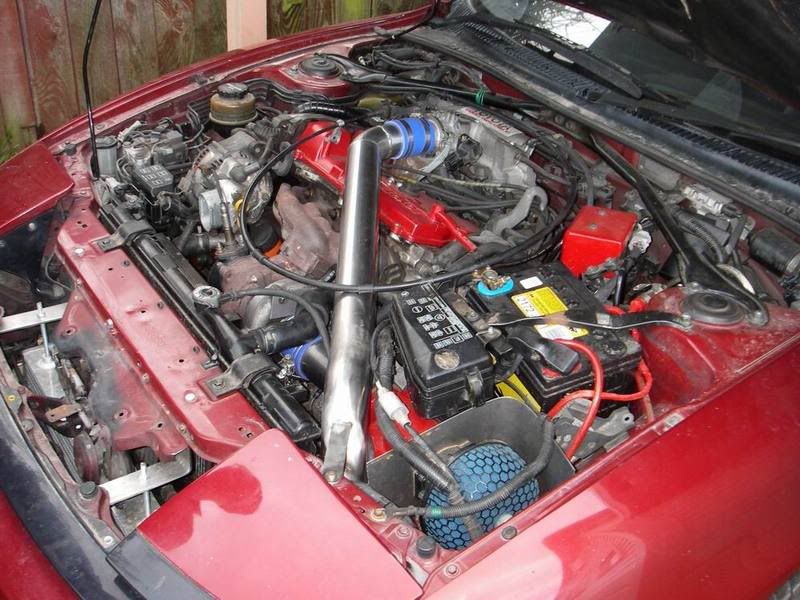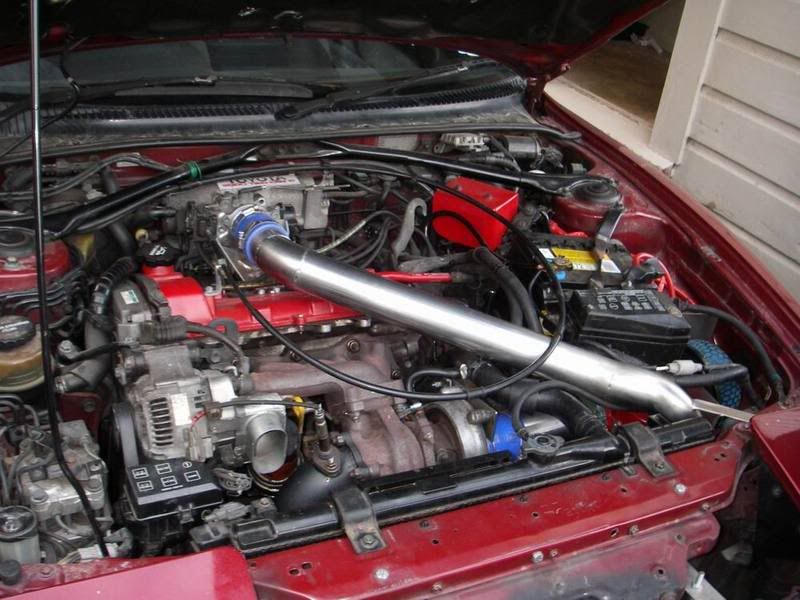 And there you have it. The $2.50 battery relocation depending on whether you stole your stainless from the scrap bin at the local stainless factory like I did or actually bought it and the number of hacksaw blades you went through.
Thomas, JDM 90 185, 06 350z
Established Member
Posts: 2909
Joined: Sun Dec 11, 2005 3:01 am
Location: Hamilton, New Zealand
---
thanks...
now i just need to find the time...
transformation has BEGUN!!!
90GT W/ 90 3SGTE/ SOLD
91 ALL-TRAC 215 w 205 swapd
87 Turbo 4runner-DD/ Expedition build
10 Scion Xb-kid hauler
Club Member
Posts: 653
Joined: Wed Jan 25, 2006 3:37 am
Location: az
---
i think this has earned a spot on the how to forum huh
? NICE JOB! looks clean i like it. ive been pissed at that damn battery/fusebox since i got the black one! i love new projects!
Adam 'Akiba' Armstrong
90 audi 80 quattro- new projekt
Stubborn ass '91 alltrac - traded!
dont let ANYONE fool you money CAN buy happiness...
OR at least SUPPORT it...
Established Member
Posts: 1054
Images: 4
Joined: Sun Oct 30, 2005 1:27 am
Location: a little hole in Michigan, USA
---
Nice. Much better than my relocation.

-Towels
2003 S2000
1985 300TD
Gold GTfour God
Posts: 6443
Joined: Tue Aug 17, 2004 4:30 am
Location: I live in a garage.
---
Moved to the appropriate forum.

Bryan
2017 Pilot Elite
2014 Juke NISMO RS
1994 Supra TT 6spd
1993 Alltrac - http://www.alltrac.net/phpBB2/viewtopic.php?f=44&t=37466
1977 Celica GT Liftback
2015 Grom
1977 GL1000
GTFour God
Posts: 6735
Images: 1
Joined: Wed Aug 11, 2004 5:51 am
Location: Oklahoma
---
Great mod! I've been pondering moving the battery and didn't want to got to the hatch area with it. Thanks!
Mike
92 All Trac - Daily Driver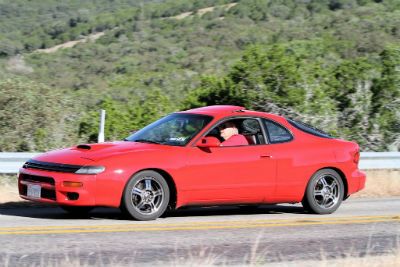 Gold Member
Posts: 1990
Joined: Mon Jun 26, 2006 9:13 pm
Location: Nitro, WV
---
Thanks for the feedback. Its definitely a tight squeeze with the fuse box on top of the AFM and now I have my recirc bov in the same area but its nice having it all in one space and I hate messing with that sort of wiring. As you guys can tell looking here and in the faq section, I am happy to do any write ups for any mods I have done.
Thomas, JDM 90 185, 06 350z
Established Member
Posts: 2909
Joined: Sun Dec 11, 2005 3:01 am
Location: Hamilton, New Zealand
---
Took some photo's today. Without me pulling anything apart this might show the base a little better. When you bolt it down it just rests on the tranny mount.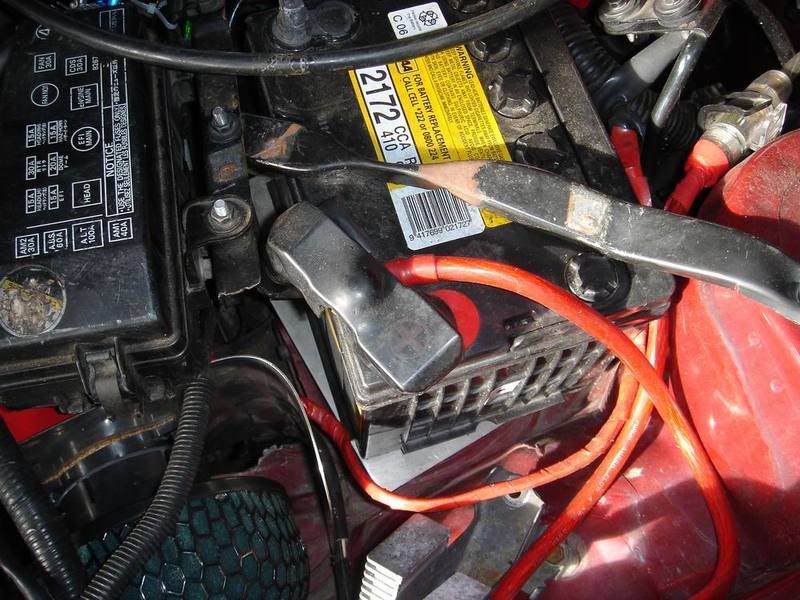 Thomas, JDM 90 185, 06 350z
Established Member
Posts: 2909
Joined: Sun Dec 11, 2005 3:01 am
Location: Hamilton, New Zealand
---
Do you have an AFM?
I can't see it for the life of me, big pipe in the way
Anyhow, nice job.
Tom
1990 ST185
1990 Corolla SR5
"The best way to predict the future is to invent it"
______________________________
Established Member
Posts: 1238
Joined: Wed Sep 01, 2004 1:04 pm
Location: SouthWest Ontario
---
Cheers. I sure do.... unfortunately. It is painted red and is under the fuse box. You can just see parts of it. It is lying up the correct way not on its side.
Thomas, JDM 90 185, 06 350z
Established Member
Posts: 2909
Joined: Sun Dec 11, 2005 3:01 am
Location: Hamilton, New Zealand
---
---
Who is online
Users browsing this forum: No registered users and 1 guest