Looks great.
Rob
1988 ST165 - 78K - Project ---> http://www.alltrac.net/phpBB2/viewtopic.php?f=44&t=31483&start=240
2000 Toyota Tundra SR5 - 165K - Thanks 97JZA80
2003 Toyota Camry - 155K - DD - Highway Runner
2007 Toyota Rav4 - 135K - My girls DD
Established Member
Posts: 2691
Joined: Tue Nov 25, 2008 2:44 am
Location: New Castle , DE
---
She is back: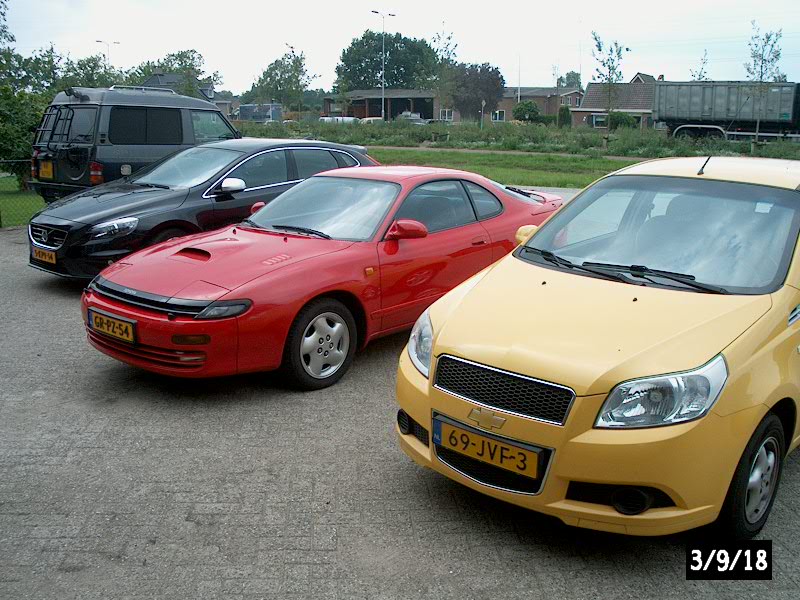 Club Member
Posts: 28
Joined: Tue Sep 29, 2015 8:53 am
---
Car is running strong, but massive boostcreep with the CT27. My old CT26 with upgraded T04E creeped to 0.75 bar, but now she sees > 1.0 bar.
Waste gate = 0.6 bar.
Print from Autronic. Second gear. First run without boostcontroller, second with:
Club Member
Posts: 28
Joined: Tue Sep 29, 2015 8:53 am
---
Gert, I've been to your site quite a few times in my life. Keep up the good work!
Wayne
1990 All Trac
Grumpy Moderator
GTFour God
Posts: 3968
Joined: Sun Aug 08, 2004 6:58 pm
Location: St. George, UT
---
Massive boostcreep was due to an sticky wastegate. Perhaps damage with shipping, dunno.
Anyway, solving the sticky wastegate did solve the massive boostcreep, but not the "normal" boostcreep. Next week the turbo is going to be removed and the wastegate ported. It must going te be something like this, found on the world wide web with some MR2 folks:
https://www.dropbox.com/sh/n595gbzv2bhb ... WyLNIAhcqa
On the other hand, I am surprised that ATS is selling an 'super' high flowing turbo, install an 0.6 bar wastegate but do not port the wastegate??? To me, it think that should be part of the deal/package.
Club Member
Posts: 28
Joined: Tue Sep 29, 2015 8:53 am
---
Somebody must do it: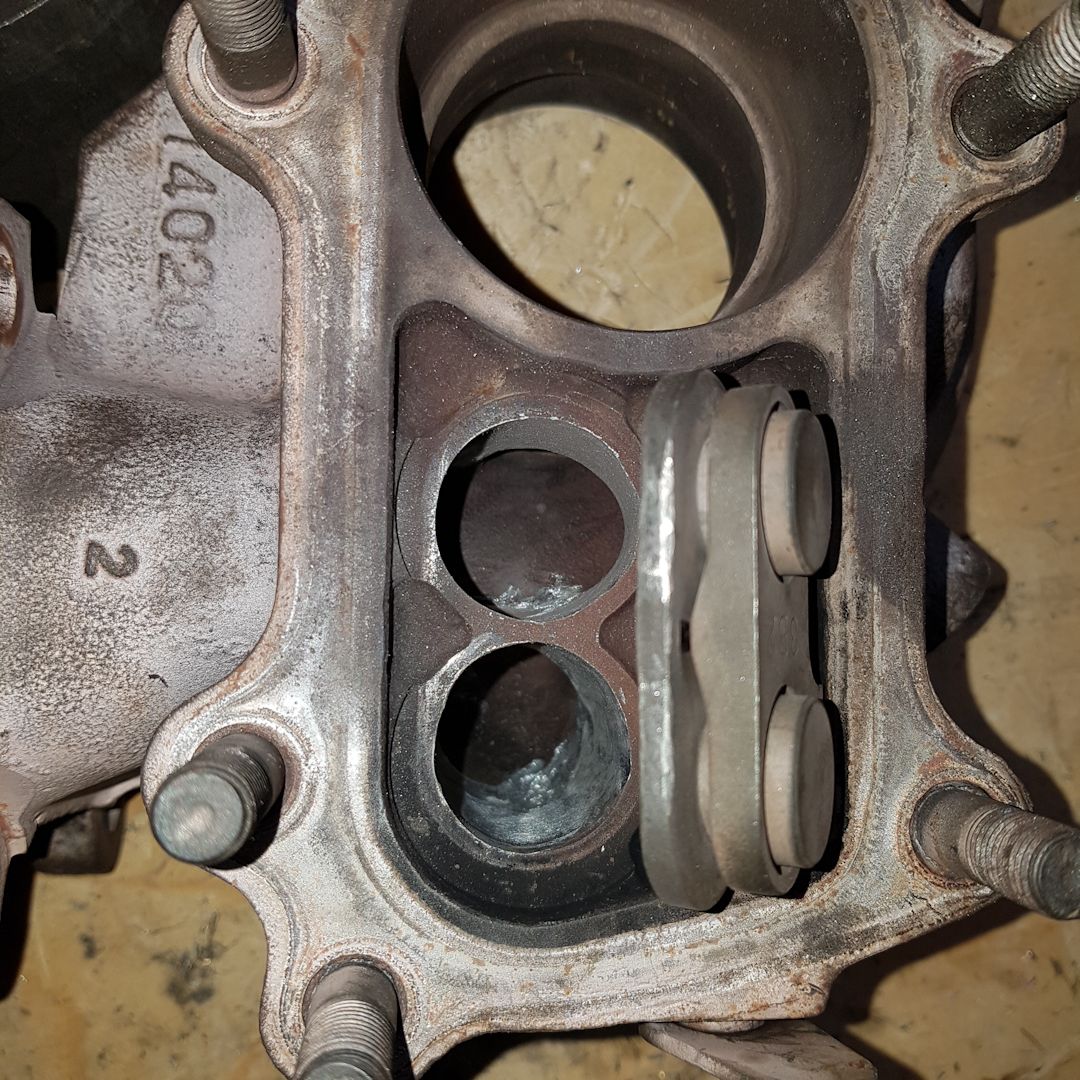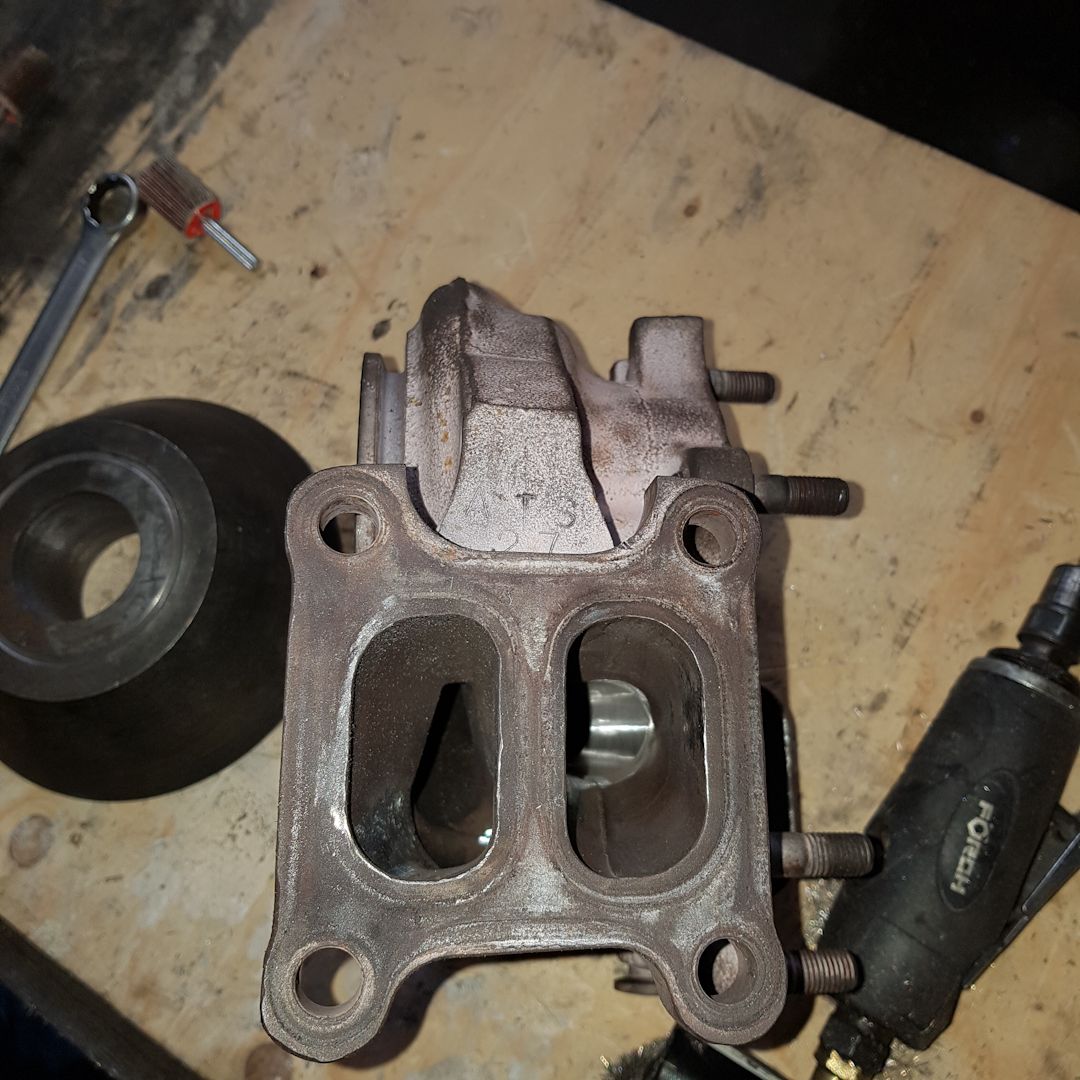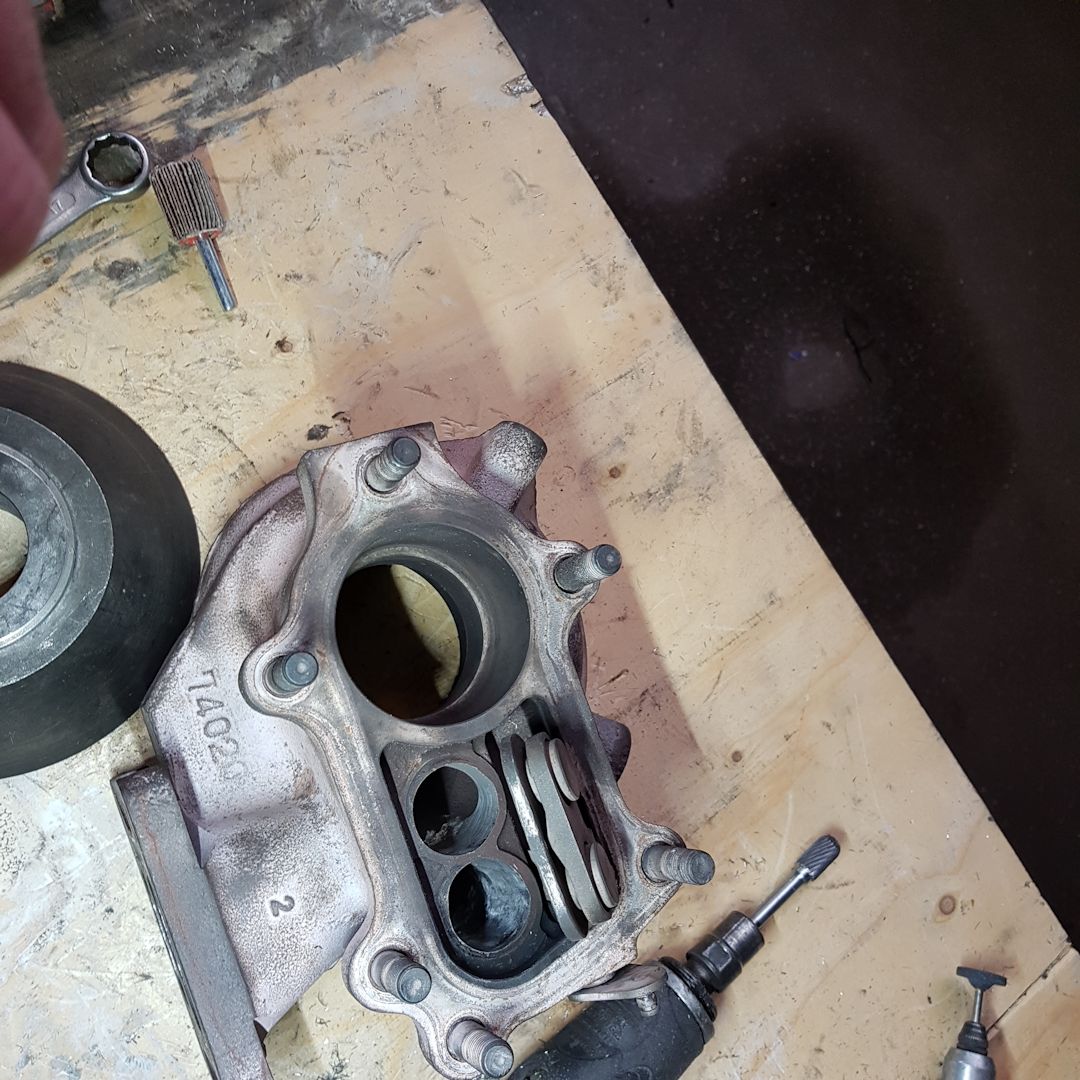 Now I did see the difference between de stock turbine housing and the CT27 one.
If time enough, I will post some pics later.
Club Member
Posts: 28
Joined: Tue Sep 29, 2015 8:53 am
---
Nice work! I'm curious to see how much the porting helps.
★ 1991
GTFour
RC
~ "Rebel Scum" ★
It's for sale!
http://www.alltrac.net/phpBB2/viewtopic.php?f=64&t=52181
Build thread http://www.alltrac.net/phpBB2/viewtopic.php?f=44&t=44216
GTFour God
Posts: 4245
Images: 0
Joined: Mon Apr 09, 2007 11:29 pm
Location: Kelowna, BC
---
Hmm, forgot to mention: the turbo was having an sticky wastegate. First post above I see boost creep was up to about 1.1 bar at 7.500 rpm, but later on, with mapping it was much worse.
She saw 1.4 bar at 5.500 and rising! So we quit mapping and tried to solve boost problems first.
So, we fixed the sticky wastegate, but that was not enough, still seeing 1.1 bar under wot.
Now, because of the bad Celica intercooler design, I installed an ERL waterinjection system, with an fail safe option. ERL is injecting from 0.7 bar, because the stock wastegate is 0.6 bar. Normally, no waterinjection required with 0.6 bar or less.
So, if I (or somebody else, wife, kids, everybody uses the GT4) are pushing with 1.0 bar and the ERL is going into error, boost is dropping to stock wastegate level. Untill now that always worked fine. But with this kind of boostcreep, the whole fail safe option is useless.
Ported the wastegate now, and hope that we can map the car soon, starting with normal boost levels.
Club Member
Posts: 28
Joined: Tue Sep 29, 2015 8:53 am
---
Glad to see you still working on the car !
Awesome job keeping it running with the rebuilding !
(I am rarely on here,
bmelket1@gmail.com
Gold Member
Posts: 1168
Joined: Mon Aug 16, 2004 8:12 pm
Location: Boston, MA USA
---
Busy lately, not much news.
Ported the wastegate. Ported too much. Burnt a whole in the turbinehousing while boosting and let it weld by an professional welder. Hope it holds.
Anyway, the porting went so good, boost is not getting higher than 0.7 bar now. Even if I disconnect the waste gate actuator: still 0.7 bar...sigh.
Probably the wastegate is not strong enough to keep the door closed. So, more testing to do, but no time left. Not really a problem since furtheron, the car goes strong and runs really well.
Strange problem: because the oilfilter adapter plate came loose on the highway, suddenly I saw a big cloud of blue smoke behind the car and massive oil loss. Car was towed away:
Luckily for me, I could switch off the engine immidiately and no further damage. No strange noises and good oil pressure. Drove about 5.000 kms since that happened.
As soon as I have time to modify the waste gate actuator I can test again. But, since I have an other project car with heating/airco problems, the Celica is second.
Club Member
Posts: 28
Joined: Tue Sep 29, 2015 8:53 am
---
Bummer, old cars is always something.
Since the engine is running on 3 cilinders with cold start, I checked compression. Well, cilinder 3 is having 6 bar and 4 is having 8 bar = not good.
If warmed up, the engine is running on four cilinders. Dunno why, nothing happened. I even was not able to reach high boost due to wastegate problems.... sigh.

Discovered water in the boot (under the sparewheel) too??? Used an garden hose to check where it is coming from. Appears to drip under the rubber seal. Removed the rubber and discovered a rust spot there. So, that needs to be fixed too. Double sigh.
Club Member
Posts: 28
Joined: Tue Sep 29, 2015 8:53 am
---
In the mean time, received an Forge actuator. Destroyed an old leaking CT26 actuator to test fit the forge on the old bracket: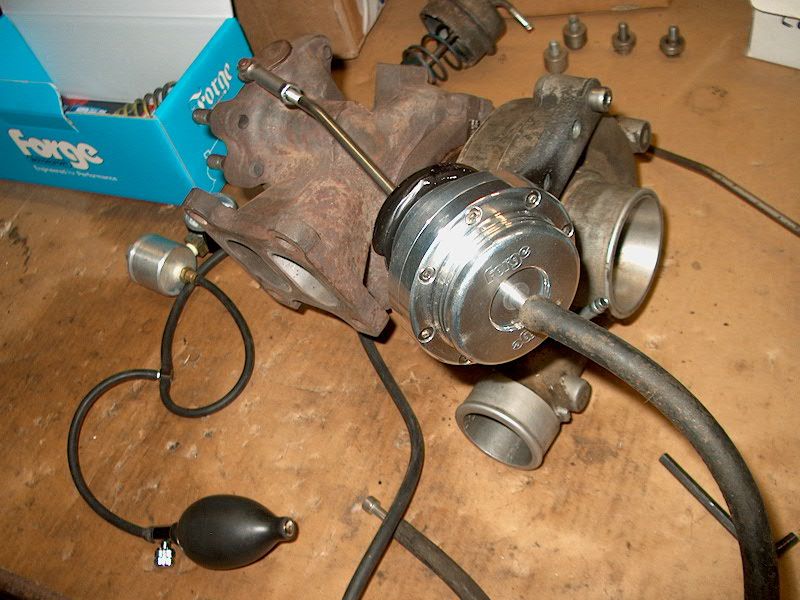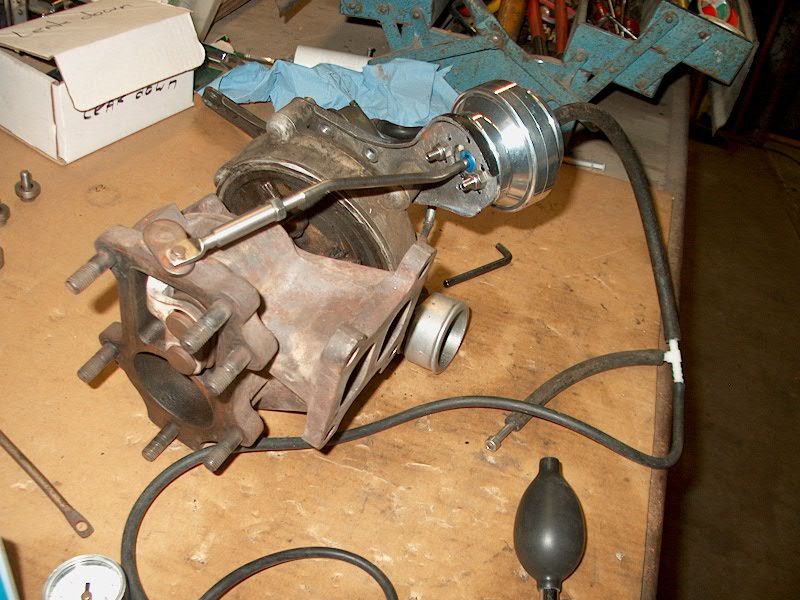 Club Member
Posts: 28
Joined: Tue Sep 29, 2015 8:53 am
---
---
Who is online
Users browsing this forum: No registered users and 1 guest