Tue Jul 08, 2014 11:07 pm
Sad moment today, got hit in my GT4!!
I was crossing an intersection when suddenly a crazy women ran her stop and hit me behind the rear wheel! My car did a full 180 degrees!!
Never had an impact so hard in my life. I'm okay, I have a small headache and feel a little shaken.
Could have been worse. I think it's fixable, doesn't look too bad, no? I will remove some parts this weekend, see what's broken or bent.
Here's the aftermath: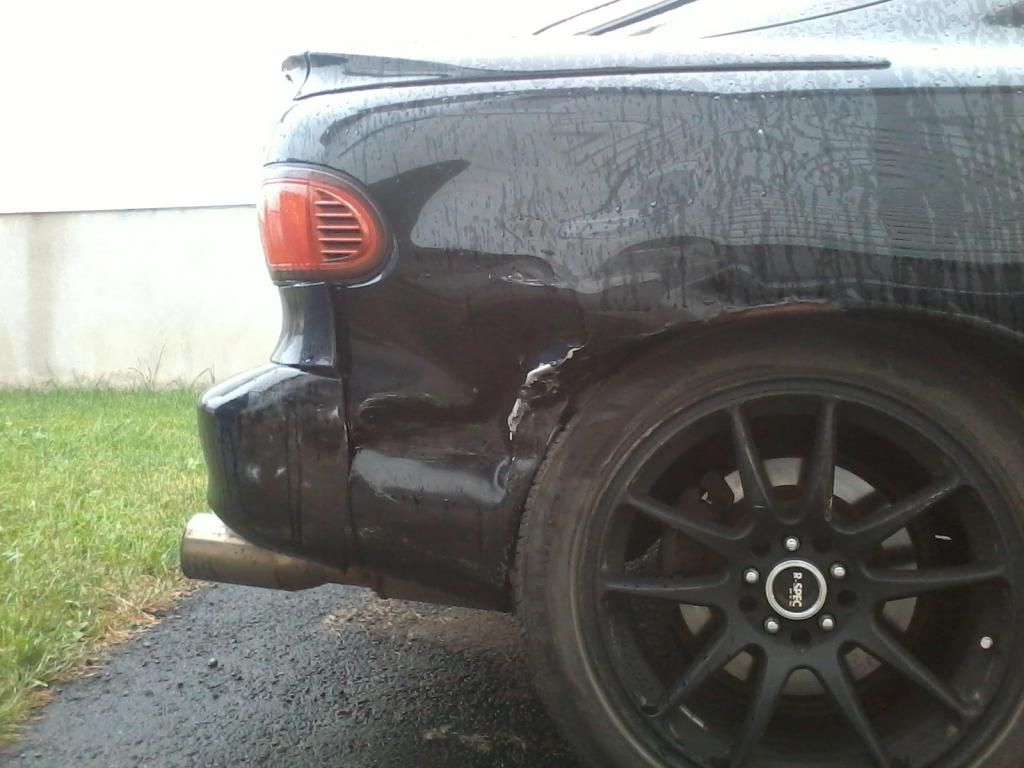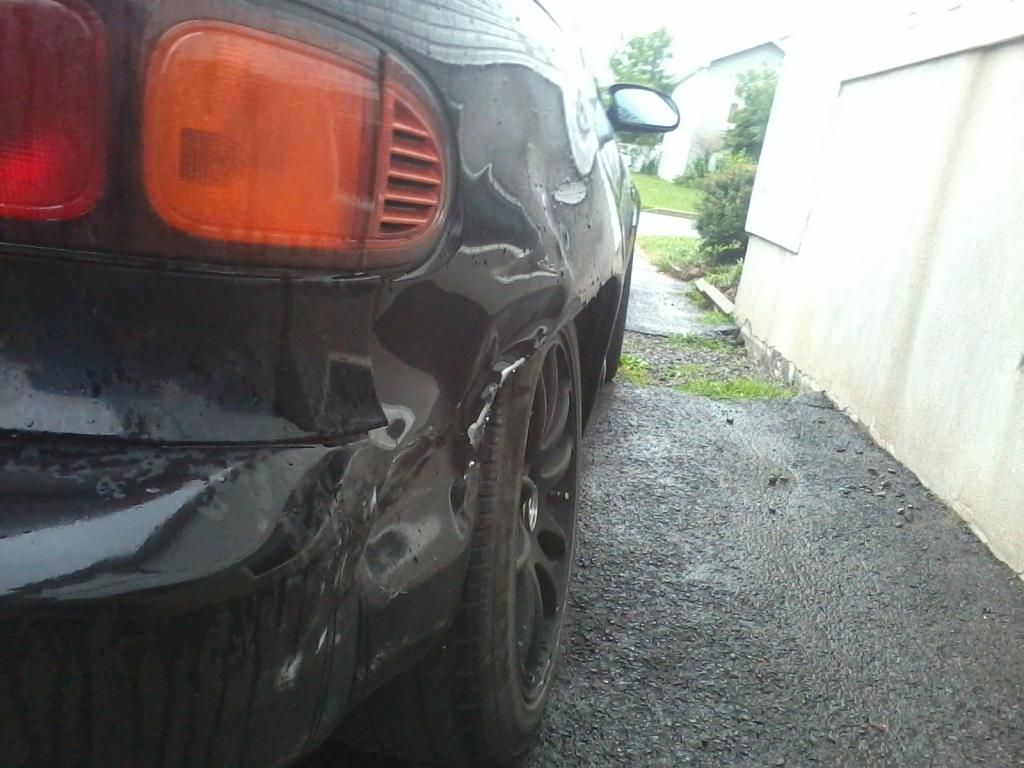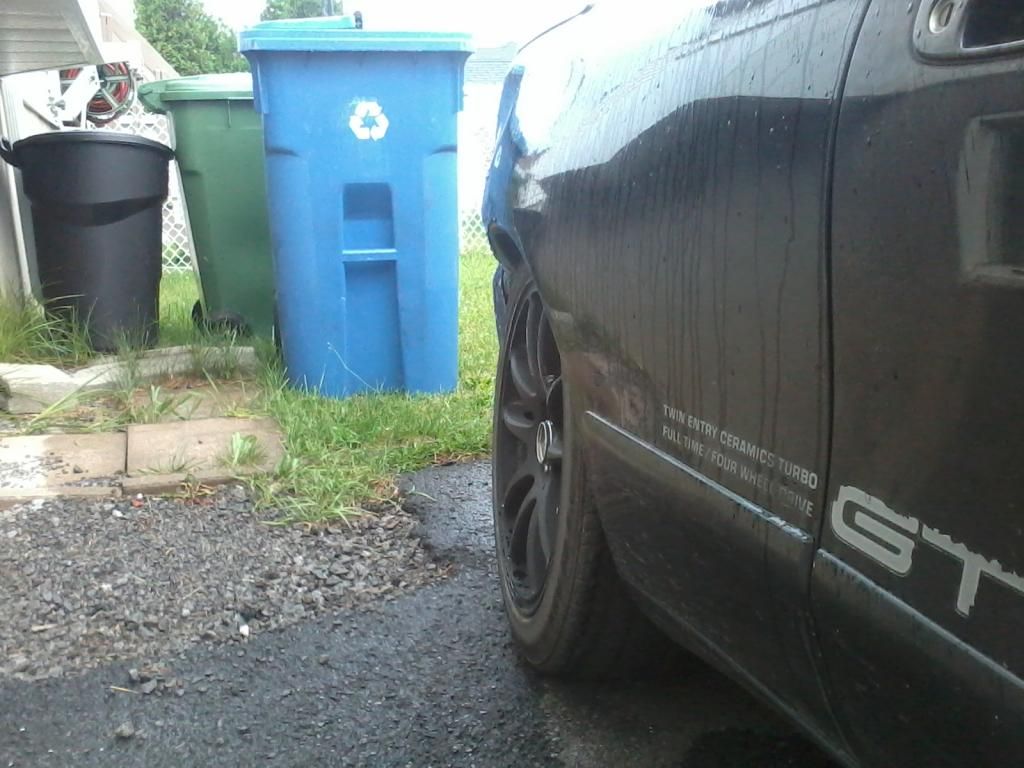 Now not just one non-running GT4, but TWO!
So unlucky with my GT4s...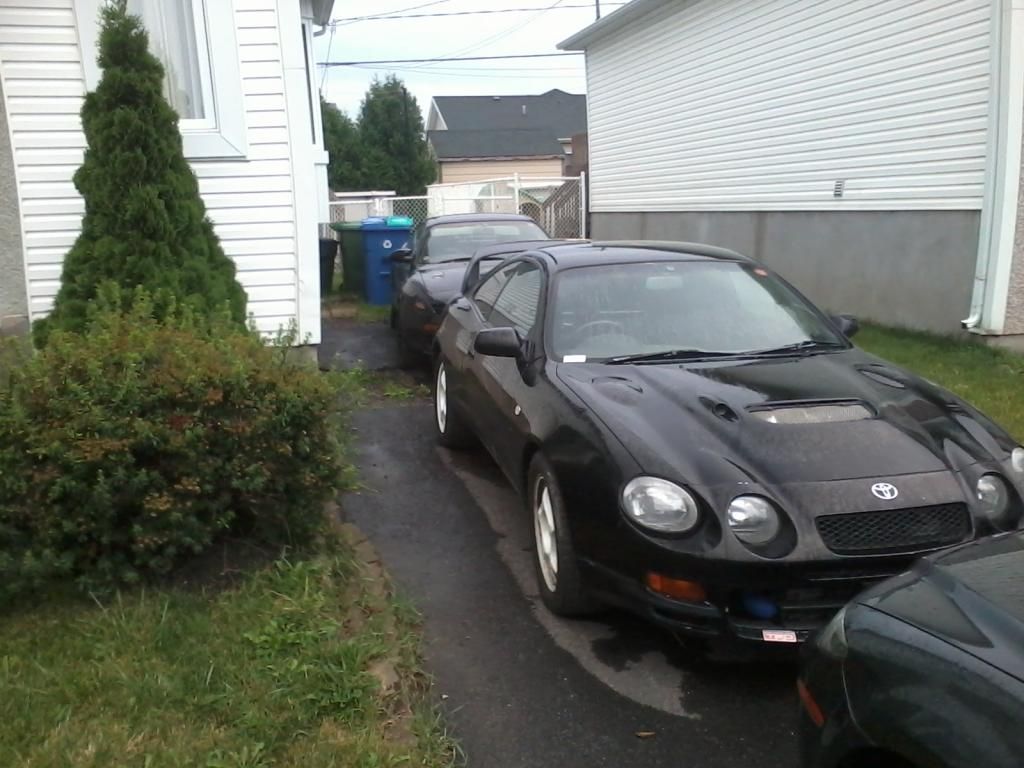 Tue Jul 08, 2014 11:37 pm
aww man! that sucks, hope insurance will pay
Wed Jul 09, 2014 12:22 am
Sad day, but this is fixable!
Thu Jul 10, 2014 1:42 pm
It's not too bad. Nothing a good body shop couldn't handle. Better than being totalled. Let her insurance handle it.
Thu Jul 10, 2014 6:00 pm
I would cry if someone hit my st185. Don't take the first offer the insurance company tries to give you. They always try to pay the absolute least
Thu Jul 10, 2014 7:49 pm
This will be expencive. ST185 rear quarter panels are no longer available. If you buy from a scrap yard very hard ro remove without damage. For a good shop just time.
Thu Jul 10, 2014 11:00 pm
IMHO that is one of the worst places to get hit. My ST185 has a hit on the drivers side rear quarter panel, but not as bad as yours. Try to find a good, honest body shop.
Fri Jul 11, 2014 3:05 am
I would do paintless dent removel, sand it smooth. A lil bit of shake can primer. Plasti dip it. Tell insurance nothing. Unless you like salvedge on your title.
Fri Jul 11, 2014 9:01 pm
Def got some suspension issues to deal with too .... as last post says beware of the total and buy it back deal ...
Sun Jul 13, 2014 3:42 am
Sadly it will total in the insurance company's point of view. You still have a lot of options. Just be sure to have yourself prepared. Get market value for your car and add any maintenance items or mods performed. Come up with a number that you would be willing to sell the car for and stand your ground. Then you can do an owner retain and they will deduct from that number and give you the balance. Sometimes it can be a silver lining of a very shitty situation.
If you find a good quality body shop you trust take it to them to do the estimate. If it does total that shop can charge the insurance company storage until a deal between your or her insurance is settled on. They (insurance company) will pressure you to release the car to them, DO NOT DO IT. Every day that your car costs them is motivation to make you happy and find a deal that works. There is sentimental value as well, an actual dollar value that can be applied to it, the dollar amount varies in every case I have seen.
Don't want to write a novel in your post, just want to help you out bud. Very sorry to see when a fellow owner goes through this. If you have questions you can PM me. I would also be willing to consult you if needed. I go to battle with insurance companies everyday at work, they are crooks. Take no prisoners when dealing with them.
Mon Jul 14, 2014 1:18 am
Be very carefully dealing with insurance if you do choose to do so, Quebec will be a bit different than BC but out here if you let them have the car you cannot, under any circumstances, buy the car back in any way. They also group a GTFour with an Alltrac which they value at about $500 and anything JDM will be written off at the slightest whiff of damage so again be careful when dealing with insurance.

Depending on what insurance says I'd just swap in a new rear subframe, get the damaged panel cut out and weld a new panel from a GTS in, paint it and call it a day.
Tue Jul 15, 2014 4:51 pm
Hi All, just a quick update. I suffered some kind of head trauma, so I have a terrible headache and had to go to the hospital twice. I have to stay away from TV s and computers. I am typing this without looking at the screen! Sorry for any typos. I have pass some tests at the hospital next week.
Tue Jul 15, 2014 10:16 pm
It must have it very hard! A week after and you still feel this way... I wish you to get well as soon as possible.
Wed Jul 23, 2014 4:15 pm
So, I had some time to look into it. The wheel is not even bent! I had it check and it's perfectly straight. That's great for a chinese wheel. The coil-over looks fine, only the bottom bolt hole snapped off, so it's a easy repair with a welder. The rear arm seems a little bent, but the others look straight. I was lucky to have removed the jack a couple of weeks ago, so it did not get stuck where I got hit. I will try to go to work next monday. I was lucky to get a new job that I can go by foot, so no hurry to fix the car!
Wed Jul 23, 2014 4:22 pm
If the jack was in there you could of just expanded it and popped that out haha jk. Sorry to hear about your car/s. Hopefully you can save up som money not buying gas and get them running