Alright...
I will start off with my overall impression... I am EXTREMELY IMPRESSED with this as a $150 radiator. Hell, I would be impressed if this was a $225 radiator. It is however NOT a $400 radiator, but would take very very very little to be of the quality of a $400 radiator...
Now Here's where I am going to be critical.
1: There is a slight twist to my radiator. I would guess 1-2mm from corner to corner. I am guessing this is due to being welded out of a jig, and the welding slightly warped it. This will NOT affect performance, and when fitting one may have to slightly lever it into place... but I will doubt this will cause ANY problems whatsoever
2: There is slight contamination on some of the welds. This is always at the last puddle, so I am assuming that the welder didn't post purge. Again, this light surface contamination will not cause any leaks or performance problem... and can be cleaned up with a scotch brite pad
3: ultra small bends in some of the fins... now here's where I am being a picky asshole. They are not even visible when looking at them from the side... only visible when viewed from top down.
4: Hand cut brackets... the aluminum brackets were obviously cut on Shear, then a band saw, they are not laser or waterjet cut. On one of mine, Chang must have started the cut, then went "Oh shit" and moved a bit and started over.
5: This was aluminum MIG welded by hand. Now, let me say, Chang did a very good job on this, but it's not a robotic, or professional TIG "stack of dimes" look
OK, now, I am not saying that any of the above will cause any performance drop at all. I am just mentioning them as a reason this is not a $400 radiator. I am very impressed with this radiator and very happy with my purchase. It's 100% aluminum, and will last the life of the car. It also has small mounting holes on the side that I can tie a shroud into, it also came with a 1.1 BAR radiator cap, so I am happy with that.
Now, there are a few things I will do, and suggest you do too before installation.
There are rubber O-rings on the drain plug, and the additional little port on the bottom. Mine are pretty dry, so I would recommend putting a light lubricant on it... silicone or white lithium. Also, (and this is because I am a paranoid asshole... I would put some thread sealant on the little plug at the bottom of the radiator (BTW, mine came only hand tight, so make sure to tighten that down.)
Also, Tape a piece of cardboard over both sides of the fins... This will protect the fins during installation. Put the radiator in the bottom mounts... lean it back, and pull off the front cardboard... them mount the top mounts. Hook up the radiator hoses, then remove the back cardboard.
Here's the pictures promised:
The engine side:
The front side:
Chang's bandsaw cut "oops"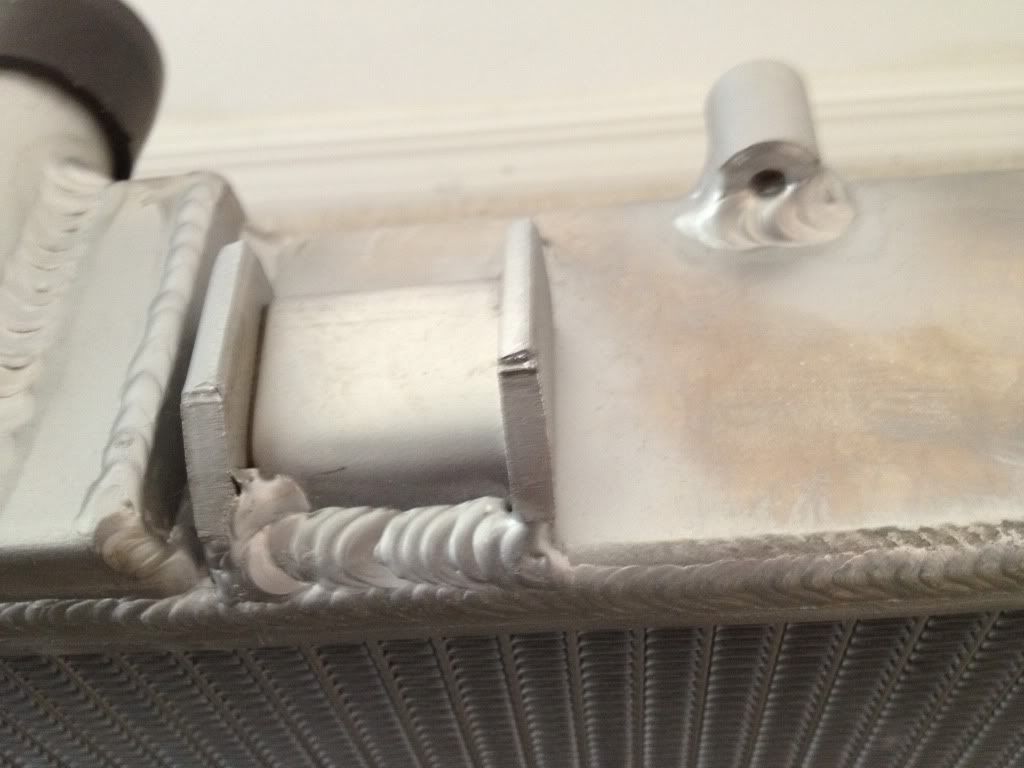 Drain plug, and additional "port" for temp switch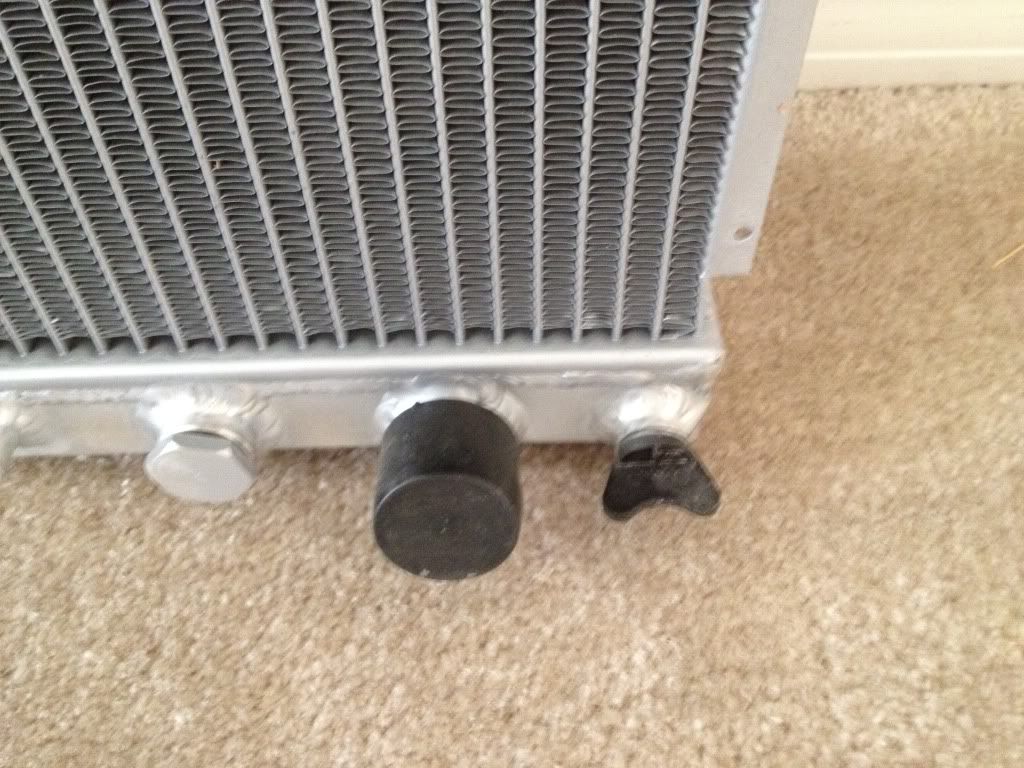 Light weld contamination:
1.1 BAR radiator cap: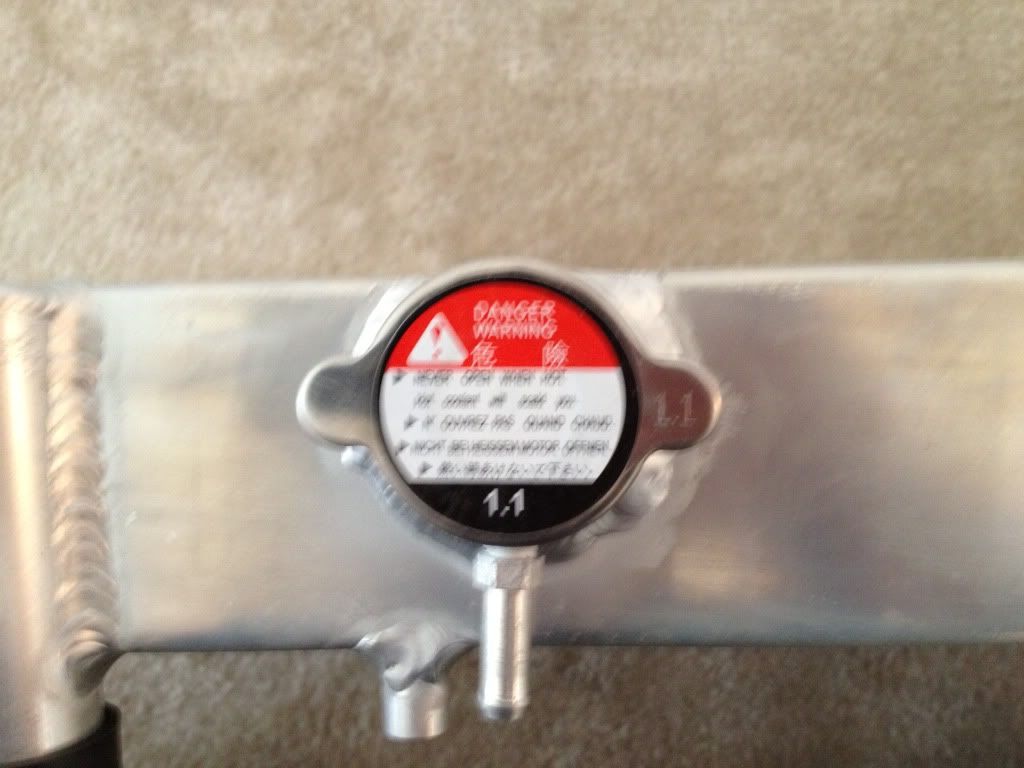 Now, again, I am being ultra critical I am VERY impressed with this radiator group purchase...
Thanks!