Anyone have an idea on how difficult it would be to switch to a side feed intake and still run a WTA ic. I want keep the wolf in sheep's clothing theme if at all possible. This of course would be for the 165.
Club Member
Posts: 145
Joined: Sun Feb 20, 2011 5:44 am
Location: Coos Bay Oregon
---
I've thought about doing this with an ST205 core. Would need to cutoff and weld shut the current outlet, cut open a new outlet, and then weld on the required pipe to connect to the side feed. However, I'm not sure how well the new setup would work. The flow would no longer be "across" the internal heat exchanger so there might be some performance loss, but only real way to find out is to test it.
Wayne
1990 All Trac
2017
SRT
Challenger Hellcat
Grumpy Moderator
GTFour God
Posts: 3949
Joined: Sun Aug 08, 2004 6:58 pm
Location: Syracuse, UT
---
why not just use an upgraded center fed manifold?
88 Celica GTS - RIP
87 Corolla - RIP(sold for parts)
93 Honda Civic - RIP
88 Celica AWD Turbo - Current Project "Racetrac"
85 Honda Civic - Sold
91 Honda Civic - Sold to ice racer
08 Mazda 3 - Daily
88 Celica Alltrac - RIP(sold then writen off)
Club Member
Posts: 145
Joined: Fri May 13, 2011 4:47 pm
Location: Winnipeg, Manitoba
---
Center feed I takes tend to cause cylinder 3 to run lean.
Club Member
Posts: 145
Joined: Sun Feb 20, 2011 5:44 am
Location: Coos Bay Oregon
---
Couldn't you just make an aftermarket WTA intercooler work, or are you trying to use a stock WTA?
80 Corolla Hatchback - Power (Waiting) http://www.3tcgarage.com/viewtopic.php?f=23&t=3208
88 Alltrac - Snow (Stable for now) http://www.alltrac.net/phpBB2/viewtopic.php?f=44&t=43482

My Car Projects - https://www.youtube.com/user/UtahSleeper
Established Member
Posts: 1925
Joined: Thu Feb 01, 2007 6:00 pm
Location: Magna, UT
---
See image
Attachments

SIDEFEEDWTA.jpg

(15.18 KiB) Not downloaded yet
ST165-PARTS-RED
ST165-SCCA STU ROADRACING-(RALLISPEC'S ST165)
NEED ONE MORE FOR STREET:)
https://www.youtube.com/watch?v=w-RCuV_Hmqk (ITS miata 6spd,4.78 rear, shitloads of fun!! multiple wins and track records in 2014)
Club Member
Posts: 519
Images: 6
Joined: Wed Sep 15, 2004 9:06 pm
Location: siny - 10304 / nj 07747
---
I thought the center feed was only an issue on higher power builds? I've heard of somebody settings up their EMS to run extra fuel to 3 to cancel out the lean issue, I think you would need individual EGT probes on each cylinder tho.
★ 1991
GTFour
RC
~ "Rebel Scum" ★
It's for sale!
http://www.alltrac.net/phpBB2/viewtopic.php?f=64&t=52181
Build thread http://www.alltrac.net/phpBB2/viewtopic.php?f=44&t=44216
GTFour God
Posts: 3963
Images: 0
Joined: Mon Apr 09, 2007 11:29 pm
Location: Kelowna, BC
---
I'm doing it on my car, but mines a 185. I have an rmr side feed and I'm doing a custom manifold moving the turbo farther to the drivers side. This will make the w2a IC more feasible and there will only be 1 90 degree turn after the turbo. I am also doing this to retain AC.

I am using a aftermarket IC core and fabbing my own piping, I don't like the idea of those barrel style IC's I feel the exchange rate would be insufficient

I'll post a picture when I have it done
1991 White st185
eternal project
2006 Silver Metallic RX8 6 Speed
Daily (until alltrac is done if ever)
1976 Copper Metallic Ford Gran Torino
Restomod Muscle-Boat
Club Member
Posts: 562
Joined: Sun May 18, 2008 3:47 pm
Location: Milwaukee, Wisconsin
---
transformation has BEGUN!!!
90GT W/ 90 3SGTE/ SOLD
91 ALL-TRAC 215 w 205 swapd
87 Turbo 4runner-DD/ Expedition build
10 Scion Xb-kid hauler
Club Member
Posts: 653
Joined: Wed Jan 25, 2006 3:37 am
Location: az
---
People only switch to side feed because they are going front mount. If you want to stick with the factory wta set up just stay with it. You don't have to worry about that when you are worrying about leaning out cylinder 3. That is your fuel rails problem. Go with a top feed fuel injection which will also aid you a better free flowing rail. They're are tons of people running Lots of AWHP using the stock intake and exhaust manifold. Just my 0.2
Club Member
Posts: 557
Joined: Sun Aug 17, 2008 11:47 pm
Location: California/NH
---
I was looking at the frozen boost and pwr WTA intercooler cores. I wanted to do something similar but I wouldn't route the cold pipe over the exhaust manifold. I also thought about getting a bigger core and mounting it where the battery is, and relocate the battery to the trunk...
1992 Toyota Celica GT-Four CS (#4025)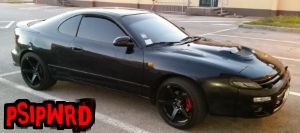 Club Member
Posts: 224
Joined: Sat Feb 18, 2012 10:02 am
Location: Germany
---
this has been done many times. most people use a barrel style intercooler where the air filter normally sits.
Gold Member
Posts: 5877
Joined: Tue Aug 10, 2004 10:56 pm
---
this is my fav set up if ur going that route.
viewtopic.php?f=14&t=46743
or this i originally bought this to run a set up like this but goin w an RC tmic
transformation has BEGUN!!!
90GT W/ 90 3SGTE/ SOLD
91 ALL-TRAC 215 w 205 swapd
87 Turbo 4runner-DD/ Expedition build
10 Scion Xb-kid hauler
Club Member
Posts: 653
Joined: Wed Jan 25, 2006 3:37 am
Location: az
---
---
Return to Performance and Power
Who is online
Users browsing this forum: No registered users and 1 guest