I just finished changing out my struts and did the conversion on the stock rear housing so I could use Koni inserts. I've got the adventure posted up in my project thread. I've got a minor issue now though that I'm not sure about. I've got a clunking noise in the left rear after I got everything back together. It happens when the suspension is compressed. I've checked all of the mounting hardware and it's tight. The best I can tell the piece I welded to the top of the housing is OK. I can't feel anything moving when I reach in through the spring and the boot cover. I measured the length I needed to add very carefully and the insert appeared to come up to where it should. The gland nut went back in OK and tightened down fine. When this corner is compressed and it makes this noise, I can also feel it in the rear wheel. Something seems to be hitting transfering tranfering the it through this suspension corner. I'm figuring I'm going to have to take the strut apart again but don't really want to if I can keep from it.

Anybody got any ideas?
Mike
92 All Trac - Daily Driver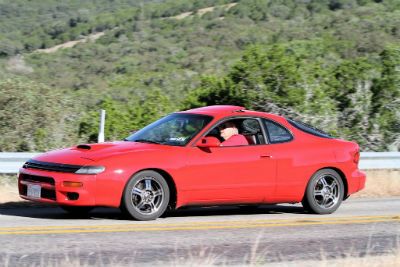 Gold Member
Posts: 1990
Joined: Mon Jun 26, 2006 9:13 pm
Location: Nitro, WV
---
still running stock springs? I would check that its seated correctly. If the spring isnt properly rotated into its little seat location, it may move around and make noise.

new strut mounts? Sturt mount bolt tight? insert locked into the strut mount plate? Its keyed.
1988 Chrysler Conquest
As seen on YouTube https://www.youtube.com/watch?v=YIY4wuwc8XA
1988 Toyota Celica All-Trac
Club Member
Posts: 585
Joined: Tue Jul 31, 2012 4:57 pm
---
Also, incase it was a problem before your strut change, load up the suspension then get a bar and see if there's any movement in bushings, swaybar links etc.
Vinnie,
1988 GT4 Celica
Club Member
Posts: 102
Joined: Sun Oct 09, 2011 9:46 am
---
---
Return to Handling and Braking
Who is online
Users browsing this forum: No registered users and 1 guest