For reference purposes, I thought I'd let you guys know of my suspension project going on currently over at Celicatech.com:
http://celicatech.com/forums/showthread.php?p=103412
I've got a good bit of work left to do, but this morning I test fit the strut components together on one of the struts and everything fit perfectly: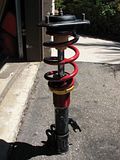 Front Strut Mockup
I'll post the finished pictures here and a list of part numbers for those that wish to pursue this option in the future since the only difference for you ST185 folks will be the rear strut body and spring choices. I hope to have the struts ready for install in the next 2 weeks.
Stay tuned.
Adrian
Adrian Avgerinos
90 Celica GT-V6
Club Member
Posts: 328
Joined: Fri Aug 13, 2004 8:36 pm
Location: San Diego, CA
---
looks nice, but you better not be keeping the rubber upper mount!!!
ST165, then ST165, then ST185, then ST165.

Yes I've been there.
Site Admin
Posts: 593
Joined: Fri Dec 19, 2003 6:45 am
Location: Sparta
---
robert@alltrac.net wrote:looks nice, but you better not be keeping the rubber upper mount!!!
I most certainly did.
I couldn't justify the funds needed for aftermarket aluminum mounts and their aren't any on the market I'm particularly thrilled about. Besides, with the upper rubber, the NVH is rather minimal. In fact, the ride is silent. My only complaint is that I may have chosen springs that are
too
stiff. If I find the camber bolts won't suffice, I'll probably make my own adjustable upper mounts in the future. Remember, this is a street car.
Here are some completion photos from the Celicatech thread: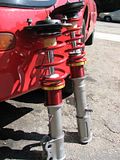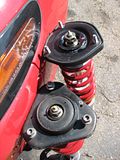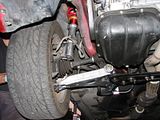 Front End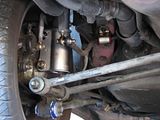 Rear End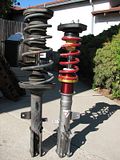 Rear Strut Comparison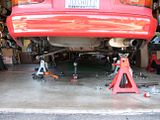 New shorter strut on right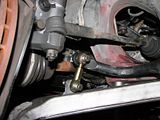 Front Endlink Installed
------------------------------------------------------------------
I had the vehicle lowered approximately 1.5" but forgot to trim the bump stops prior to installation: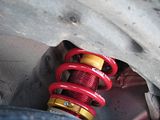 Front has approximately about 0.5" travel left.
Rear has about 0.75" travel left.
Oops! I found that rather than taking apart the entire thing, if I jacked up the vehicle I could trim the bump stops with a pair of dikes: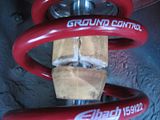 I took off about 1.25" leaving about 1", which should be adequate according to Koni. This leaves approximately 2" of compression travel, and at least 4 inches of rebound travel, which ought to be plenty.
------------------------------------------------------------------
Comparison photos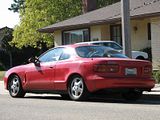 I thought I had taken a photo prior to this project, but I can't find it. Offhand, this is the best stock ride height image I have: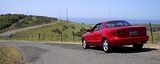 Also, for those that are curious, with a fake me in the driver seat (~170lbs), the corner weights came to:
Front
L 950lb /// R 920lb
Rear
L 512 lb /// R 481lb
Total(~11/16 gal of gas): 2864 lb w/ trunk stripped
The toe is set at just about 0 at all 4 corners and the camber is about -2.2 in the rear and -1.5 in the front.
At this point, it's just going to be a matter of getting used to driving the vehicle as it handles completely different now. I also need to work on the damper tuning. I've got the fronts at 1/2 turn and the rears at 1.75 turns. I may turn up the rears a bit if the ride improves.
Adrian
Adrian Avgerinos
90 Celica GT-V6
Club Member
Posts: 328
Joined: Fri Aug 13, 2004 8:36 pm
Location: San Diego, CA
---
---
Return to Handling and Braking
Who is online
Users browsing this forum: No registered users and 3 guests