Tue Jan 24, 2006 3:34 am
Well, I wired up my 185 ecu to my 165 harness and it started up in -10deg. celcius!
I have to wire the IC pump constant and then take it for a test drive tomorrow.
Here's a pic of the adapter harness i made so I didnt have to hard wire everything up in -20 to -35 deg. Celcius weather. Also it allowed me to switch back to my 165 ecu if it didnt work.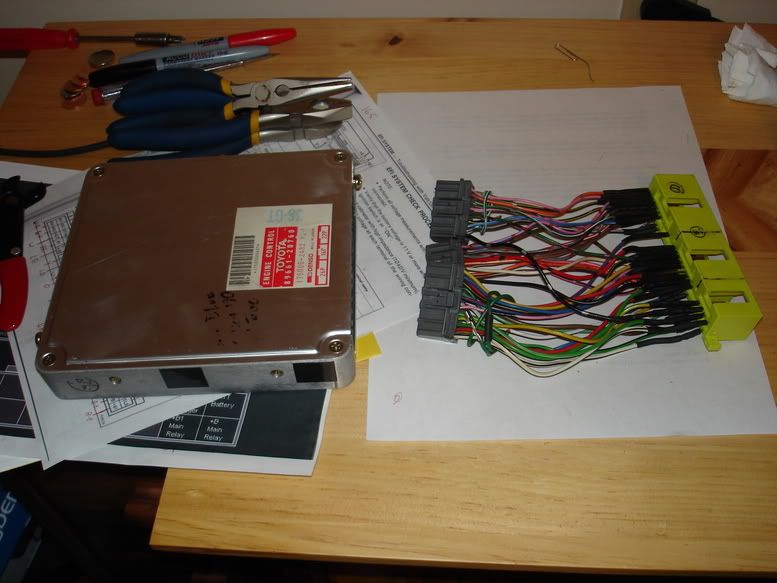 [/quote]
Tue Jan 24, 2006 3:40 am
What did you use to make the adapater harness? Aside from all the wire, I mean primarily the connectors..
Tue Jan 24, 2006 3:44 am
The green plug is the guts of a 3sge ecu, then i had to re-arrange pretty much all of the pins, then i soldered the corresponding wires to the 185 ecu plugs.
Ill have to see if my a/c still works as well.
No check engine light lit up either
Tue Jan 24, 2006 12:04 pm
wow good job dude.....thats alotta effort
Tue Jan 24, 2006 2:02 pm
wow really good job.... if all goes well maybe you should start producing these....
Tue Jan 24, 2006 3:14 pm
I would buy one.
Tue Jan 24, 2006 5:28 pm
The only trouble is finding all of the 185 harness plugs and finding a bunch of 1st gen 3sge/3sgte ecu's to take the female plug out of.

If you find both, I would probly be able to do it.

I still have to fully test it today though.
Wed Jan 25, 2006 3:49 am
Well i figure you could get the gen2 plugs from a 5th gen auto GTS, and a lot of Toyota ecus use the gen1 ecu connector. Good work Paul, can't wait to see it for myself.
Wed Jan 25, 2006 3:51 am
Ya, thanks Bryan, it was a team effort
Wed Jan 25, 2006 5:53 am
If you seriously consider producing these harness adapters, I am in very close proximity to 4 junk yards, and all of them have numerous Toyotas, and I know there are many cars in there with the plugs you need. Come this spring when everything isn't covered in a foot of snow, I can scout them out, see how many I can grab up and send them to you, I can prolly get each one for a few bucks
Wed Jan 25, 2006 3:32 pm
I'm also near some junkyards and since I'm in Florida snow isn't an issue. If you can tell me exactly what you need out of what car I can go down there this weekend and pull whatever you want.

This adapter may be super awesome if it allows me to run an AEM or E-Manage on my 165. So I'm down to help make another one and then experiment from there.
Thu Jan 26, 2006 9:29 pm
Well, I've seen people puttin the 205 ecu with the 185 harness, is there anyway to get it to work with the 165 without to many problems? It would be a way to get rid of the nasty AFM and use 540/550's relatively safely. Just wondering...

Thanks

Brian
Fri Jan 27, 2006 5:48 pm
You would need to get a lot of the 205 sensors.

If its been done with the 185 harness, it could be done with the 165 with about the same effort. The 2 165/185 ecu's and harnesses arent very different.

Bryan (Flyin'Bryan) Is using his 165 harness to wire his 205 ecu to the 205 motor, but it required a lot of the harness to be rewired.
Wed Feb 01, 2006 2:22 am
Why is putting a 185 ECU on a 165 motor better??
I think I may be missing something!!
Could you fill me in??
Wed Feb 01, 2006 3:48 am
Oh, sorry, i have the 185 motor, but i was runnin the 165 ecu, which i didnt like the idea of.