Megasquirt FAQ, writeup (Updated 30/10/09)
Posted:
Thu Jan 01, 2009 4:22 am
Small update 30th October 09, just added a couple of pics and updates some of the install knowledge. Please note there are more up to date wiring diagrams at this stage which have not been loaded. They will be up in the next few months once they have been finished and confirmed to be as correct as possible.
This is a work in progress which is coming along nicely. I am continually adding info as I find it. The basic knowledge in the first section is hopefully enough for anyone like me who had no idea, make an informed decision about whether this is the right system to use on their car. It would be fantastic if people with more experience than me ie those who have
actually
used it could PM me any info they have so I can include it also. All this info applies to the gen 2 st185 since that is what most people probably are driving and any extra st165 info which is different can be added also. I am by no means an expert and do not guarantee any of this info is correct. Please PM any corrections that need to be made.
Some old progress of my project can be found in my project thread here
http://alltrac.net/phpBB2/viewtopic.php ... c&start=75
The first 6 pages are my turbo ordeal, megasquirt starts half way down page 6.
What is it?
It is a full standalone ecu system. You will need to do this if you plan to upgrade your fuel system (ie bigger injectors) or you just want control over your fuel and ignition settings. The stock ecu has not adequately been hacked like nissan, honda people etc and at this stage cannot be chipped and burned with new fuel/ignition maps. Megasquirt is a DIY ecu and as such is a fraction of the cost of a full plug and play standalone of the likes of wolf3d v500, link g4 storm, AEM, nemesis, tec3 etc etc. Megasquirt can be purchased from
www.diyautotune.com
in a complete assembled form for ~$100 more or in a cheaper kit set. I recommend only getting the kit set if you have some decent soldering and electronic skills. You will easily spend $100 on a
proper
soldering iron and other tools to make it only to find you have done something incorrect somewhere and cannot work out what it is- I have read more than one story like this where people have ended up forking out twice as much after they needed to purchase another one or have repairs done.
One final thing to consider is using a Honda ecu. These can effectively be full standalones with the correct know how and hardware. They require a Honda ecu, modified distributor and tuning hardware. It will not be discussed anymore here other than to say there is more than one cheap option available for the 3sgte however I found that in my part of the world this option was going to be more expensive than megasquirt and less straight forward.
What is required?
To sucessfully use megasquirt on the 3sgte you will need
1) A fully assembled megasquirt II kit (megasquirt I only allows fuel control, not ignition also)
2) An alternative ignition system (explained later)
option items
3) Additional sensors
4) A megasquirt loom instead of cutting up your stock loom
5) A second loom if you can get/want one so your car can be returned to the stock ecu in the future
6) A stim device (this simulates a car engine: you plug it into your megasquirt to test it and play around with the features)
Hidden costs?
Megasquirt looks fantastic when you look at the assemled unit price online and then compare to other full plug and play units. However there are a lot of costs which are not immediately obvious.
1) The stock ignition system will not work and so add $30-200 to find acceptable components from a local wrecker or new parts
2) Once you have done that you will find out the stock leads will not work. Professionally made hybrid leads can cost up to $300, or factor in the cost of some new Ford or GM leads to convert yourself
3) Many people do not consider the cost of tuning which is required whatever ecu you get, minimum- wideband O2 sensor $200 and some way to monitor knock ie "$10 knock phones" for a street tune or $500++ for dyno time and a professional tuner
4) Some of the stock sensors are difficult to use and some GM replacements may be necessary. The stock air temp sensor is located in the AFM unit and a replacement GM one will be required when you remove the AFM.
What is required of you?
A lot of time and effort understanding how the system works. This system is not cheaper than a full plug and play standalone when you account for the time and effort you will need to put in to understand and use it. You will need to construct your own loom and make small changes involving soldering among other things to the megasquirt unit depending on what features you require. You will need to install new igniton components reliably in your engine bay. A lot of time will be required to calibrate megasquirt to correctly read the stock sensors or new ones. Creating a base map will also require a bit of work especially if you are using non-stock injectors which you cannot find a base map already.
Why wont the stock ignition system work?
Quite simply- it will, just not very well. Megasquirt does not have the appropriate hardware/software to decode the stock cam angle sensor. The 3sgte distributor has a 24-1 trigger wheel. This means it has 24 teeth and 1 tooth is missing so this can be read by a sensor so the ecu knows where the engine is and what it is doing. It also has a crank angle sensor included in the distributor. Megasquirt cannot read the stock signal very well due to (noise) electronic interference and so an alternative is required. People have used the stock system but find that it idles poorly and they get a lot of misses and very poor acceleration. There has been some talk of better ways to decode this signal properly but the alternative ignition systems are cheap enough that it isn't really an issue except if a proper plug and play megasquirt is developed someday.
This thread is a work in progress also destined to be a writeup on using the stock system-
http://www.mr2oc.com/showthread.php?t=3 ... ge=1&pp=30
What to use instead?
There are many many options but the most common is to use a distributorless ignition system from the likes of Ford EDIS (electonic distributorless ignition system) or general motors GMDIS. I personally have attained the parts to use Ford EDIS from a wrecker. It cost ~US$50. You will require-
1)
the coil
which is actually two coils in one unit. Each one drives two cylinders. Although it would be pointless, the coil can be taken from EDIS V8's also since they use two 4 cylinder coils although you cannot use the ignition module from the V8 so you might as well get it from the same 4 cylinder car as the rest of the components.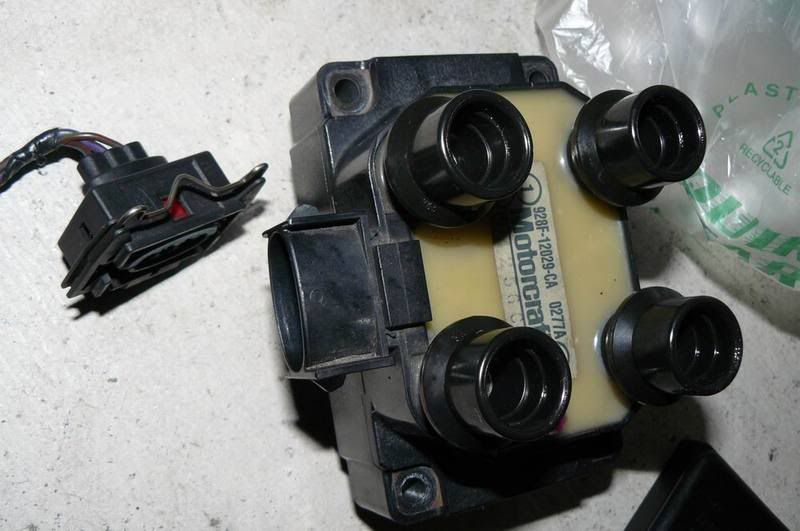 The coil I picked up.
2)
the EDIS 4 ignition module
Here is a sample part number 89FB-12K072-AC The first 4 digits indicate the year of the car and model and so are not important. The second group of numbers indicates the module and should match. I am unsure of the significance of the last two digits. EDIS was used in many 6 cylinder vehicles so obvously avoid these, V8's and carburator models also.
This is the best resource I have found with this info. I have saved the whole website incase if ever goes down.
http://www.jsm-net.demon.co.uk/megasqui ... uneed.html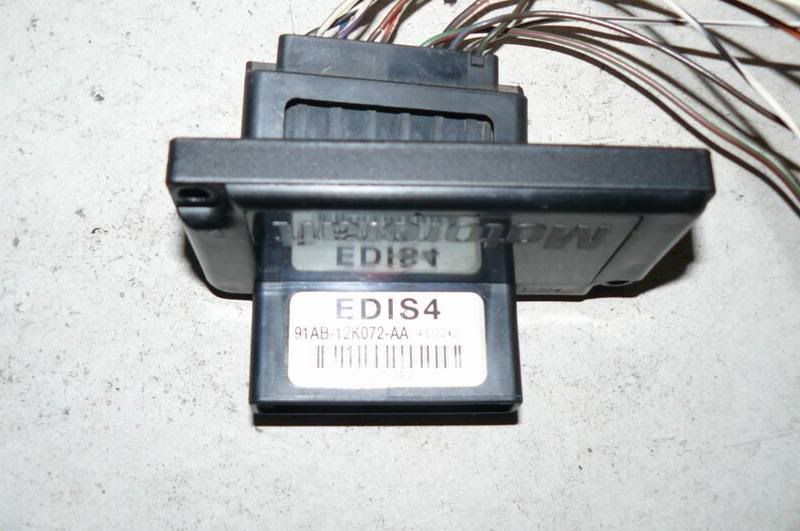 The EDIS4 ignition module.
3)
the trigger wheel sensor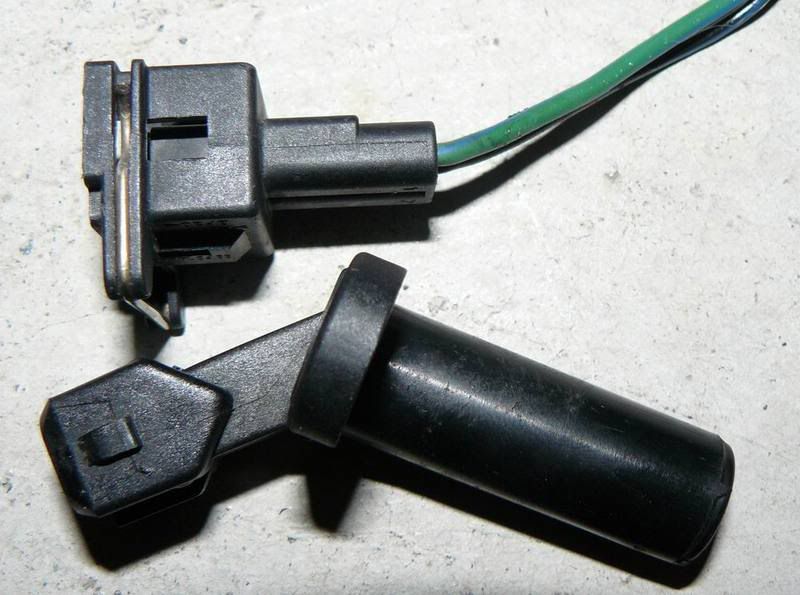 A VR sensor.
4) +/- optional
trigger wheel
- you will need a trigger wheel but they can easily be purchased in a variety of formats from
www.diyautotune.com
among many others. The come in many physical sizes and with different timing. The Ford ones are commonly a part of the flywheel and so are impractical to use for this application.
EDIS came out on vehicles from around 87-95 although many "1996-1997" cars from the 95 production year also have it such as the 96 Mondeo I got mine from. Beware of alluminium EDIS ignition modules as these will not work. Also obviously avoid carbs' from the earlier models as these will definitely not work. Mondeo's sierra's escort's are all good donor vehicles. Part numbers for brand new components from a variety of manufacturers can be found in the megamanual and complete packages can be purchased from ebay and other MS websites.
http://www.jsm-net.demon.co.uk/megasqui ... uneed.html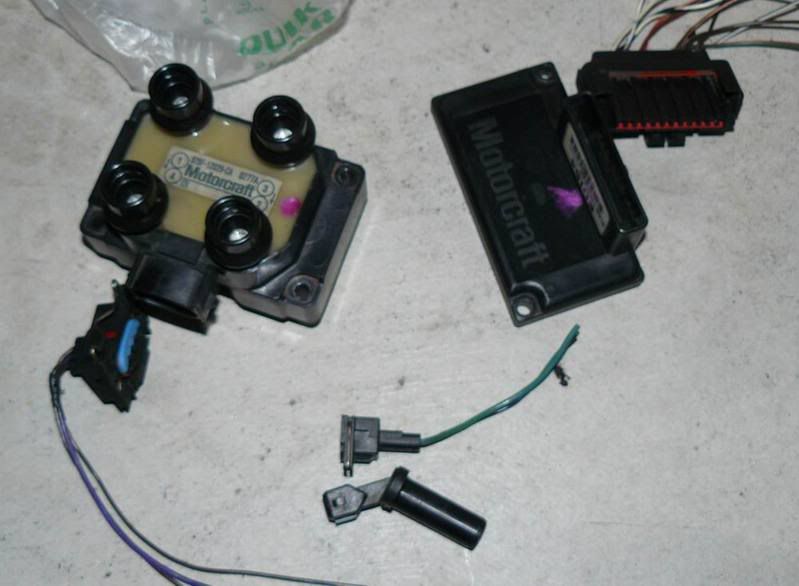 The whole lot. Try and take as much of the wiring pigtail as possible. The VR sensor uses a standard electrical connector so you can take one from other parts of the engine if need be. The ignition module and coil have unique connectors as far as I could see.
If you are happy with all the info above then the next step is to read everything here under megasquirt 2
http://www.megamanual.com/index.html
And finally after you understand the general principles of megasquirt you need to purchase all the necessary hardware.