So, I bought a set of top feed injectors, 750cc. Had the ST165 fuel rail bored out to accept them but he has obviously gone too big, gone through the wall and has stuffed it, which just guts me. I thought MAYBE the o-ring may sit below the hole but no, I tried it and it leaks fuel.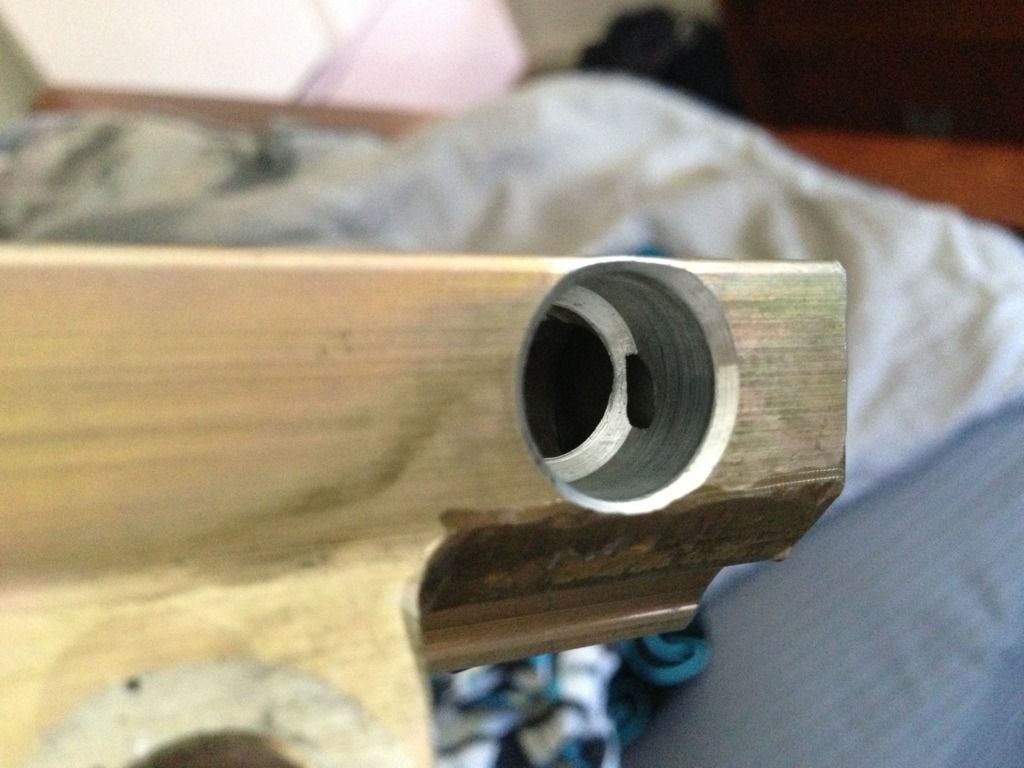 So I'm after a new fuel rail. I would prefer an aftermarket one that I can order and it will just bolt straight on with my new injectors (14mm) but if I need to get a standard one and try again I'll just have to make sure he doesn't go as big next time..
So, can anyone help me with either a) aftermarket fuel rail options, will a Wolfkatz top feed rail fit?
or b) have a spare rail I can buy?
Thanks...
Club Member
Posts: 99
Joined: Fri Mar 19, 2010 7:45 am
---
Club Member
Posts: 312
Images: 36
Joined: Thu May 10, 2012 7:17 pm
---
Maybe. I've emailed KO Racing, ATS Racing and Wolfkatz all about whether their Gen 2 kits would fit the Gen 1 so we'll see what they say
Club Member
Posts: 99
Joined: Fri Mar 19, 2010 7:45 am
---
i have a spare 1st gen rail i can sell you if you decide to go that route.
mine is the red one on the left
authorized AMSOIL dealer @ www.jpautomotive.org
Club Member
Posts: 597
Images: 0
Joined: Sun Jun 27, 2010 5:43 am
Location: Bay area CA
---
5sfe and 1st gen 3s fuel rails are some of the best you can get for top feed. The mounting points are at different angles so even if you got one of their kits you would have to fab another bracket and for that you might as well do the rail again. Ive gone through the trouble of putting my gen 1 fuel rail on my new gen 2 head and it wasnt too bad. But i wasnt gonna switch to a crappy fuel system to get it to fit but i also couldnt justify spending ~400 on a new fuel rail
Club Member
Posts: 372
Joined: Wed Oct 26, 2011 7:27 pm
Location: Lima, oh
---
I'm just worried that it'll happen again and waste another rail, I haven't been able to find anyone else willing to touch it and I've lost faith in the company that did it originally. Ideally if I can get a rail that will fit the injectors perfectly I'll be happy to fab a couple of brackets - that's easy. So I'm just waiting on emails back from Wolfkatz, ATS Racing and KO Racing. I sent them pictures and details so hopefully I get a good response. Thanks for the help guys
Club Member
Posts: 99
Joined: Fri Mar 19, 2010 7:45 am
---
How big is the hole to start. I thought dsm/honda/bosch injectors were a direct drop it. Maybe thats only on a gen 2 head though. I think you should try test fitting your injectors in the head to see if they will mount in there and seal correctly, otherwise you are going to be doing a lot of mods for injectors that don't need it.

Also, those are all companies that specialize in mr2 modding. I realize they are the same engine and theoretically everything should fit together somehow but no offense to any of the companies, but they are about clueless with gen 1 3s's/st165s. (i contacted them about fuel rails when i did my gem 2 head swap)

Go to mr2oc.com or another Mr2 forum and look for a 5sfe rail. They are drop in as far as I've read and maintain top feed.

Another option if your willing to fab is just getting some extruded fuel rail and just make your own fuel rail from scratch.

Btw, what EMS are you running for 750s
Club Member
Posts: 372
Joined: Wed Oct 26, 2011 7:27 pm
Location: Lima, oh
---
Consider different injectors. The newer style high impedance Bosch injectors are really quite good, and an improvement over the RC injectors.
Club Member
Posts: 437
Joined: Tue Feb 16, 2010 4:18 pm
Location: Colorado
---
I applied the factory rubbers to the bottom of the injector and they push in nicely and feel secure so I'm fairly confident with that.

ATS recommended reusing another Gen 1 rail and using a proper injector hole bit. I'm waiting on hearing back whether they would be willing to take a rail and perform the work for me.

As for engine management I'm running a Haltech Platinum Sport 1000 with 1ZZ coil on plug ignition.
Club Member
Posts: 99
Joined: Fri Mar 19, 2010 7:45 am
---
yeah whoever drilled that is a moron.
Gold Member
Posts: 5877
Joined: Tue Aug 10, 2004 10:56 pm
---
That's the thing it was a proper precision tooling workshop. I certainly won't be taking my next one there I'm happy to send it away to get done. I have to wait a couple of weeks for my new dump pipe to be fabricated and coated anyway so I'm in no hurry
Club Member
Posts: 99
Joined: Fri Mar 19, 2010 7:45 am
---
yeah I drilled my own rail and had no problems at all.
the other thing you can do is use a thinner "o" ring on top if that makes life easier.
Gold Member
Posts: 5877
Joined: Tue Aug 10, 2004 10:56 pm
---
I'm considering buying the proper bit from Ross Machine Racing and doing it myself in the press

Edit:
Decided to buy a Wolfkatz Gen 2 rail and I'm going to make custom mounts for it. I'll let you know how it goes
Club Member
Posts: 99
Joined: Fri Mar 19, 2010 7:45 am
---
---
Who is online
Users browsing this forum: No registered users and 1 guest