> BlaznToyo
> Posted: Tue Dec 18, 2007 7:30 pm Post subject: Re: towing.
> I have an 88 CAMRY ALLTRAC 5spd and it has the button for locking the center diff.
Thanks for the info. I have Never seen a 5spd (88-91 ) Camry ! The AT is rarest of the rare
There are Several 3sgte and awd swaps into Camries.
! solarinsocal
! Location: Ontario, California
! Posted: Thu Dec 20, 2007 2:39 pm Post subject: Re: AWD/4wd ?
! Skyline GT-R straight six AWD.
You got me There. Nissan did it. It Is possible to do I6 & awd.
Toyota Did have an IS version in AWD in Japan. Not sure what engine it had though ? (As I mentioned there is a JDM Aristo/GS (auto) w-V8&awd) Toyota JDM got AWD in Nearly Everything.
But the discussion started as a "ALL_Trac Supra"
I have never seen any info on 'It' !
Thread necrophelia !
Regards;
Gold Member
Posts: 1168
Joined: Mon Aug 16, 2004 8:12 pm
Location: Boston, MA USA
---
i guess you can consider the Caldina GT-Four a All-Trac
2013 Hyundai Genesis Coupe 2.0T
1992 Toyota Celica All-Trac Turbo
Club Member
Posts: 198
Joined: Tue Sep 08, 2009 9:13 pm
Location: San Antonio, TX
---
I have an 89 corolla alltrac sedan looks and runs pretty good too bought it a few months ago for 1200 alltrac still works to has 225k on it now
Newbie
Posts: 3
Joined: Thu Apr 24, 2014 11:52 am
---
Seeing as this thread just got necro-d. It is not trivial to convert a regular camry into an alltrac, the rear floorpan, trunk, and gas tank are different. Tank is Fing impossible to find AFAIK.
1988 Camry Alltrac 5speed
Club Member
Posts: 75
Joined: Fri Nov 08, 2013 5:17 pm
Location: SF Bay Area, CA
---
I'm disappointed in the lack of pictures in this thread...
All-trac/4WD Corolla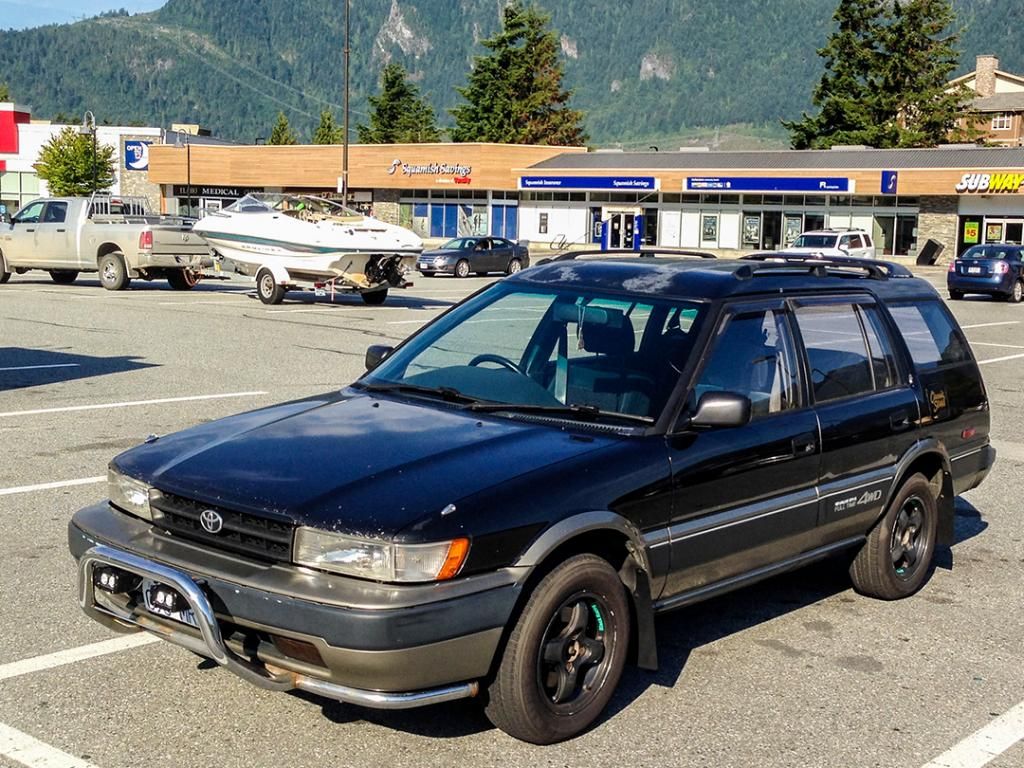 I want to throw this in here, its not an All-trac but its badass... Toyota Gracia 4WD (Camry)
All-trac Camry
All-trac Previa
Celica All-trac
AE95 - 1992 Sprinter Carib 4WD - intake, exhaust, 14" Black Racing wheels
owned vehicles
92 LN130 | 76 MX13 | 87 Civic | 87 AE86 | 93 VZN105 | 81 TE72W | 85 RA64 | 85 AE86 | 93 RN130
Club Member
Posts: 31
Joined: Thu Nov 26, 2009 4:51 pm
Location: Squamish BC Canada
---
They make an All-Trac corolla sedan they are just unicorns! My buddy has two mint tercel wagons believe they are just classified 4wd though.
Newbie
Posts: 2
Joined: Tue Sep 27, 2016 9:05 pm
Location: Portland Oregon
---
---
Who is online
Users browsing this forum: No registered users and 0 guests