so i'm replacing my stock 3sgte with another 1st gen(jdm)
i'm following the sticky post about engine removal. im not sure if its for the st185 or 165, just doing what applies to mine i guess.ive removed all the air cleaner, starter alternator, charcoal can, slave cylinder. various hoses and connectors, i've done more also, etc. i'm getting close to pull her out is where i'm getting at. question: when it comes to the tranny on the 1st gen, what needs to be unhooked to free the tranny? where are the tranny cooler lines if they got them, the shifter cables, and how hard is disconnecting the driveshaft to the rear and the front half-shafts?
i assume i'm only a few work hours away from pulling it out.

also, i read that many drop the motor out the bottom, but with the turbo/mani/dp and radiator removed, the top looks so much easier... any suggestions?
88' St165 #7114
91' Ford E250 Econoline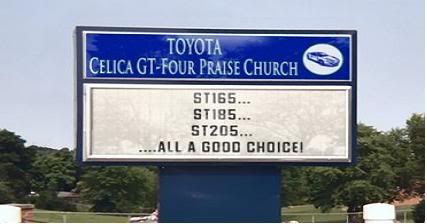 check out Myspace.com/Machinegunvendetta !
Club Member
Posts: 462
Joined: Thu Sep 06, 2007 5:14 am
---
with the first gen all you need to remove is:

-crossmembers and motor mounts
-intake
-battery if its still in the engine bay
-shifter cables
-clutch line
-fuel line from filter to rail
-p/s lines
-a/c comp if you still have it and dont want to unhook the hoses
-grounds
-radiator
-midpipe
-axles
-driveshaft
-unplug any sensors attatched to the firewall
-any vac hoses attached to the firewall like the brake booster vac line
-unplug the ecu and feed the wiring harness through the firewall



then lower the engine down onto a furniture dolly or something similar. then hook the hoist chain up to the car at the side motor mount locations via the bolts and raise the car high enough so you can roll/slide out the engine. thats how i do it and with two people its only a few hours to get out.
Red st165 - Garage Queen turned wannabe track rat
White st165 - slapping back together and hoping for the best
Black st165 - gone
2011 FA5 - Family Truckster
Established Member
Posts: 2362
Images: 2
Joined: Sat May 14, 2005 4:09 pm
Location: Chicago, IL
---
Pulling through the top is actually more complex, as the engine/tranny combo is wider than the frame rails. The process shouldn't be much different than for the 185 I suspect.
1988 Toyota Celica Alltrac
Club Member
Posts: 972
Joined: Sat Jun 30, 2007 1:33 pm
Location: KCMO
---
---
Who is online
Users browsing this forum: No registered users and 1 guest